Looking for trade show ideas that will elevate your booth and make this event your best yet? Read on to discover 12 top-notch ideas, from captivating booth designs for trade shows to engaging activities to impactful marketing.
We'll walk you through everything you need to know about having a successful trade show. Whether you're looking for trade show booth ideas that will blow your competitors out of the water or trade show set up guidance to ensure smooth sailing, you've come to the right place!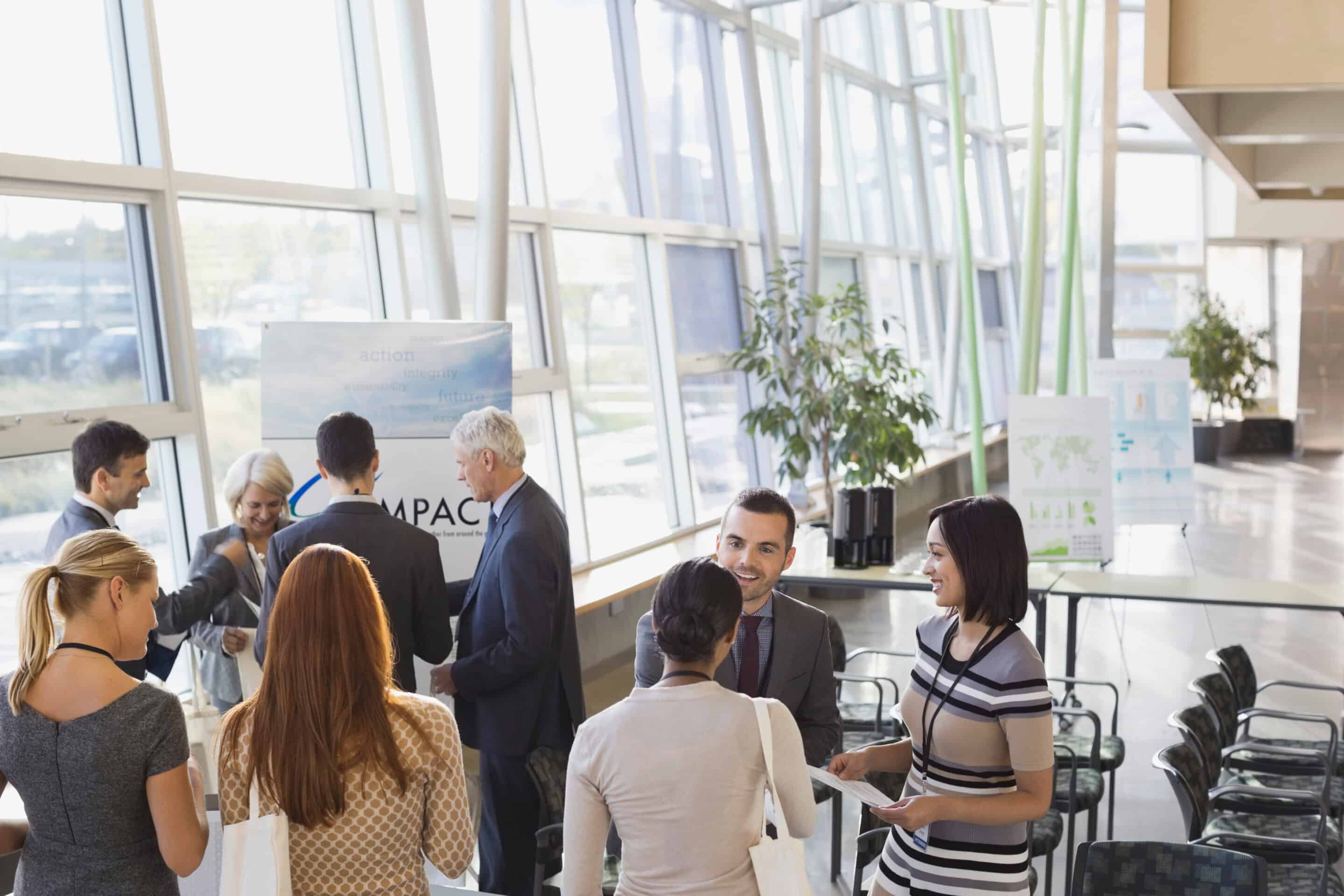 What Should I Have For A Trade Show?
The elements you'll need to be prepared for a trade show vary depending on your role: Are you a trade show coordinator, or a trade show exhibitor? Both roles will require advanced planning and strategy, plus some consideration of marketing elements, to be successful.
Trade Show Coordinator
Clearly Defined Event Goals:

Before any progress is made in planning your trade show, you should sit down with your planning team and determine your goals for the event. What are you trying to achieve? What should exhibitors expect to gain from their experience? 

A Great Venue:

Your choice of venue is particularly critical to the success of your trade show. Choose a venue that suits your event goals and can

easily accommodate all your exhibitors and attendees

comfortably.  

Strategic Planning:

Planning a successful trade show is all about preparation and details. Develop a comprehensive plan that includes all aspects of your event, including the venue, target audience,

budget

, marketing strategies, necessary rentals or vendors, volunteers and staff, etc. You may consider making an event planning checklist or timeline to help you and your team visualize everything that must be done. 

Strong Marketing & Exhibitor Management:

You'll want to employ a multi-channel marketing strategy to create awareness about your trade show, draw in potential exhibitors and attendees, and drum up excitement for the event. As your event date nears, turn your attention to your exhibitors to ensure they have all the information they need for a successful and stress-free experience before, during and after the show. 
Trade Show Exhibitor
A Prime Location:

You know what they say in real estate — it's all about location, location, location! If possible, choose a booth location on the exhibitor floor that maximizes visibility and foot traffic. 

Eye-Catching Booth Branding & Design:

Trade shows have come a long way from the poster-board displays of yesteryear. Invest the time and resources into creating an attractive, professional-looking booth that aligns with your company's branding and your goals for the event.

Knowledgeable Staff, Engaging Displays & Great Take-Homes:

Once attendees have approached your booth, you'll want to ensure they're greeted by a friendly, knowledgeable member of your team who can converse with them about your company and answer any questions they may have. Any product displays should be engaging, informative, and interactive. Finally, you'll want to have plenty of well-designed printed materials on hand for attendees to take home, in addition to any

envy-inducing freebies

you want to offer.

Lead Capture & Follow-Up Strategy: Whether you're encouraging attendees to use your in-booth tablet to sign up for your email newsletter or simply having them drop a business card in a bucket, it's critical to have a strategy for capturing leads and following up. Work with your team beforehand to develop a post-event plan to nurture leads and convert them into customers.
Best Trade Show Booth Ideas: The Top Considerations
To stand out in a sea of booths competing for the attention of attendees, it's crucial to have an eye-catching design for your trade show or conference booths. By taking the time and resources to create a visually striking, well-conceived booth design that includes captivating displays and engaging elements, you'll increase the chances of attracting and engaging attendees, leaving a lasting impression, and ultimately achieving your trade show goals.
Trade Show Booth Set Up
The time window for booth setup is typically specified by the trade show organizer, and is often scheduled a day or a few hours before the trade show opens to the public. The duration of booth setup can vary based on booth complexity. Smaller, simpler setups may only take a few hours, while larger, more elaborate booths can take a full day or more. 
Captivating Trade Show Display Ideas
Great visual displays come in all shapes, sizes, colors and fonts, but they have one thing in common: They are crucial in attracting the attention of trade show attendees who will pass by your booth. There are tons of booth display ideas that will help you visually stand out from the crowd: 
Utilize eye-catching banners and signage that clearly and prominently display your brand name, logo, and key messages.

Choose a vibrant, harmonious color scheme that aligns with your company branding.

Select fonts that are easy to read from a distance and reflect your brand's style.

Choose professional, high-resolution images to showcase your company or offerings effectively.
Interactive Product Demos or Service Videos
Interactive elements or videos are a surefire way to capture and hold the attention of visitors to your trade show booth. To incorporate an interactive demo or video into your booth offerings, you'll need to consider the requisite equipment and technology, which may include display screens, audio systems, computers or tablets, internet connectivity, and any necessary software or applications. You may also need to train staff to present live product demos in an approachable, informative manner and to encourage audience participation effectively. 
Your demo or video should invite the audience in and showcase the features, benefits, and value of your products or services in an engaging manner. Don't forget to build support for your interactive demos or videos into your booth design through the inclusion of a dedicated demo space and comfortable seating.
Engaging Technology
If an emerging technology like AR or VR can enhance your audience's experience of your products or services — and you have the budget to obtain the necessary equipment, like VR headsets, touchscreens, monitors and more — this trade show booth idea can pay dividends in terms of audience interest! 
Any technology utilized at your booth should support content that is relevant to your products or services. A VR driving simulator wouldn't be the best choice for a medical tools manufacturer's booth, but it could be a great addition to a booth by a company that creates safety products for NASCAR racers! Your tech equipment should be set up to maximize accessibility and interaction, and you'll want to ensure your booth staff is properly trained on operating and demonstrating the technology safely and effectively. 
Popular engaging technologies for trade show booth displays include:
Virtual reality (VR) experiences:

Fully immersive simulations that allow attendees to virtually explore products, environments, or scenarios.

Augmented reality (AR) experiences:

AR applications overlay digital content onto the real-world environment, allowing attendees to interact with virtual elements.

Interactive touchscreens:

Touch-enabled displays that allow attendees to navigate through digital content or control interactive experiences.

Interactive kiosks:

Self-contained units with touchscreens or other interactive elements that provide information, demos, or personalized experiences.

Product simulations:

Virtual or physical representations that allow attendees to interact with product prototypes or experience product functionality.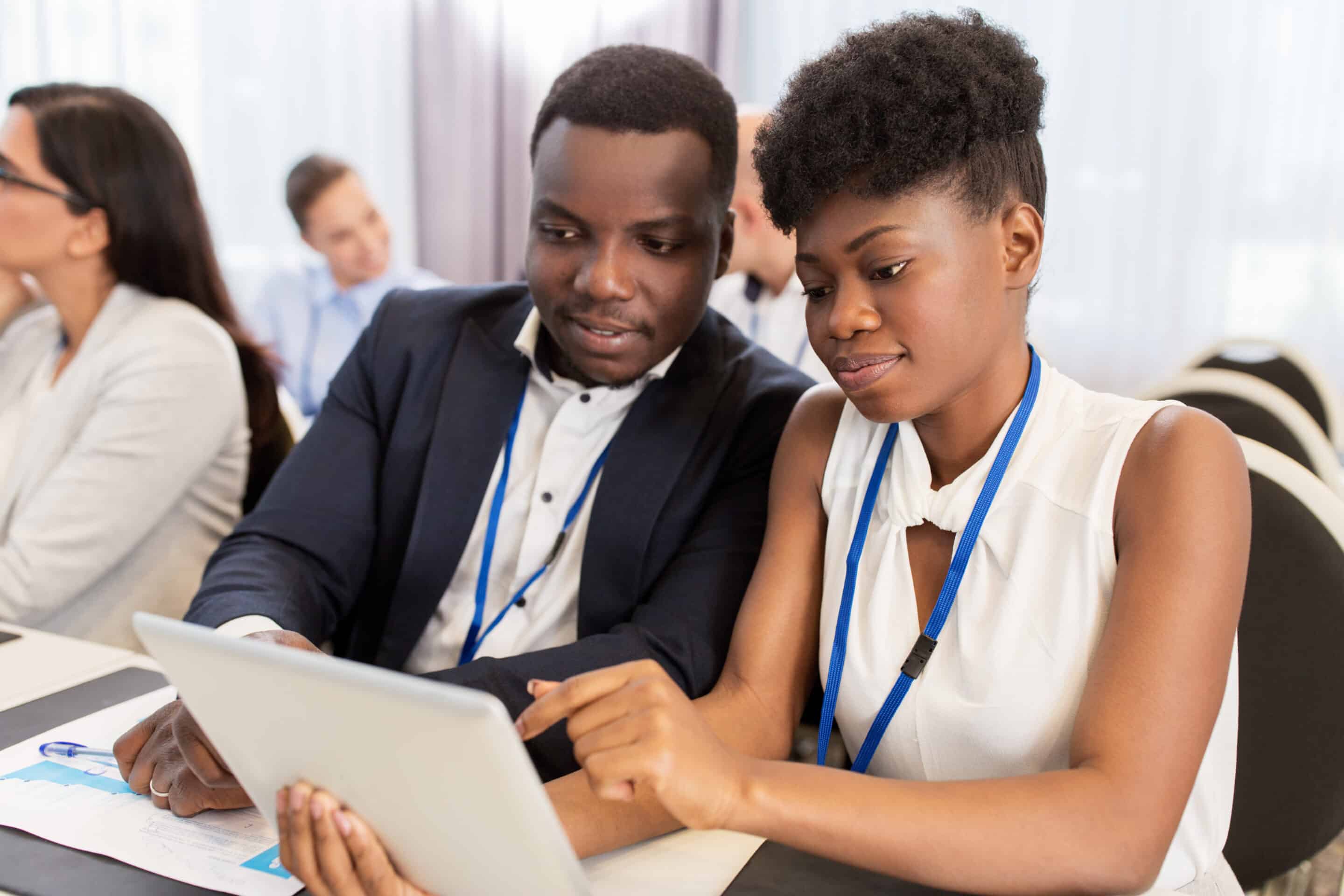 Event Activities & Promotions
Excitement, interactivity, value: Trade show activities and promotions can provide all this and more to your target audience! They provide a break from the typical booth experience, attracting attendees with engaging demonstrations, contests, or interactive games. Promotions, like giveaways, discounts, or exclusive offers, incentivize participation and generate buzz. 
By offering unique and memorable experiences, event activities and promotions can capture attendees' attention, encourage them to visit your booth, and leave a lasting impression — all  increasing your chances of lead generation and brand recognition.
Live Demonstrations & Product Sampling
As mentioned above, live demonstrations are a great way to get trade show attendees excited about your products. Choose personable, knowledgeable and charismatic staff members to host your live demonstrations, prioritizing messaging that supports your goals for the event. You will likely want to consider writing a presentation script or guidelines to help ensure everyone who sees the demo has a similar experience. 
If your product demonstration can safely be made hands-on for audience members who'd like to try your product out for themselves, even better! Just be sure to have staff on hand to guide their experience and answer questions. If you are including product sampling as part of your demonstration, be sure to have enough samples on hand to cover every attendee who might want one — then pack a few extra, just in case! 
Contests & Giveaways
Who doesn't love the chance to win free stuff? Contests and giveaways are an easy way to attract attendees and create buzz. Determine the type of contest or giveaway you'd like to host and prepare enticing prizes. Be sure to promote your contest or giveaway well in advance to make your booth a must-visit destination, and leverage social media platforms to extend your reach. Make sure the time of any drawings or contests are clearly stated across all messaging. 
Social Media Engagement
The smartest trade show exhibitors harness the power of social media to connect with their audience and bring in visitors to their booth. Interactive social media campaigns that encourage attendee participation are a low-cost, high-reward strategy for drumming up engagement. Create a dedicated event hashtag and encourage its use by offering incentives or featuring user-generated content on your company's social media channels. Your campaign could include contests, giveaways, polls, live Q&A sessions or streaming from your booth — anything that will connect with your audience and support your goals for the event!  
Networking Opportunities
Trade shows are all about networking: With potential clients, with peers in your industry, and with attendees and exhibitors you may not otherwise have a chance to meet. Take advantage of all available networking opportunities at your next trade show to boost your professional connections and broaden your brand's reach. Even if you're working at your brand's booth, it's important to also walk the exhibition floor, visit booths, and network with others at the trade show to spread brand awareness. Trade show coordinators may even schedule a networking event as part of the show's programmed offerings to encourage connections. 
Customized QR Codes
The recent boom of AI technology has transformed the digital landscape, and trade show marketing is no exception. Consider using a custom QR code generator tool like StockImg.AI or Stable Diffusion to create an aesthetically pleasing, brand-relevant QR code for booth visitors to scan. 
Your custom QR code can feature a picture of a product, your brand logo, an image of your team or headquarters — the only limit is your imagination! Make sure your QR code links users to a page on your company website that supports your goals for the event, like a "View Products" page, video demo of a product, or a "Request a Consultation" page.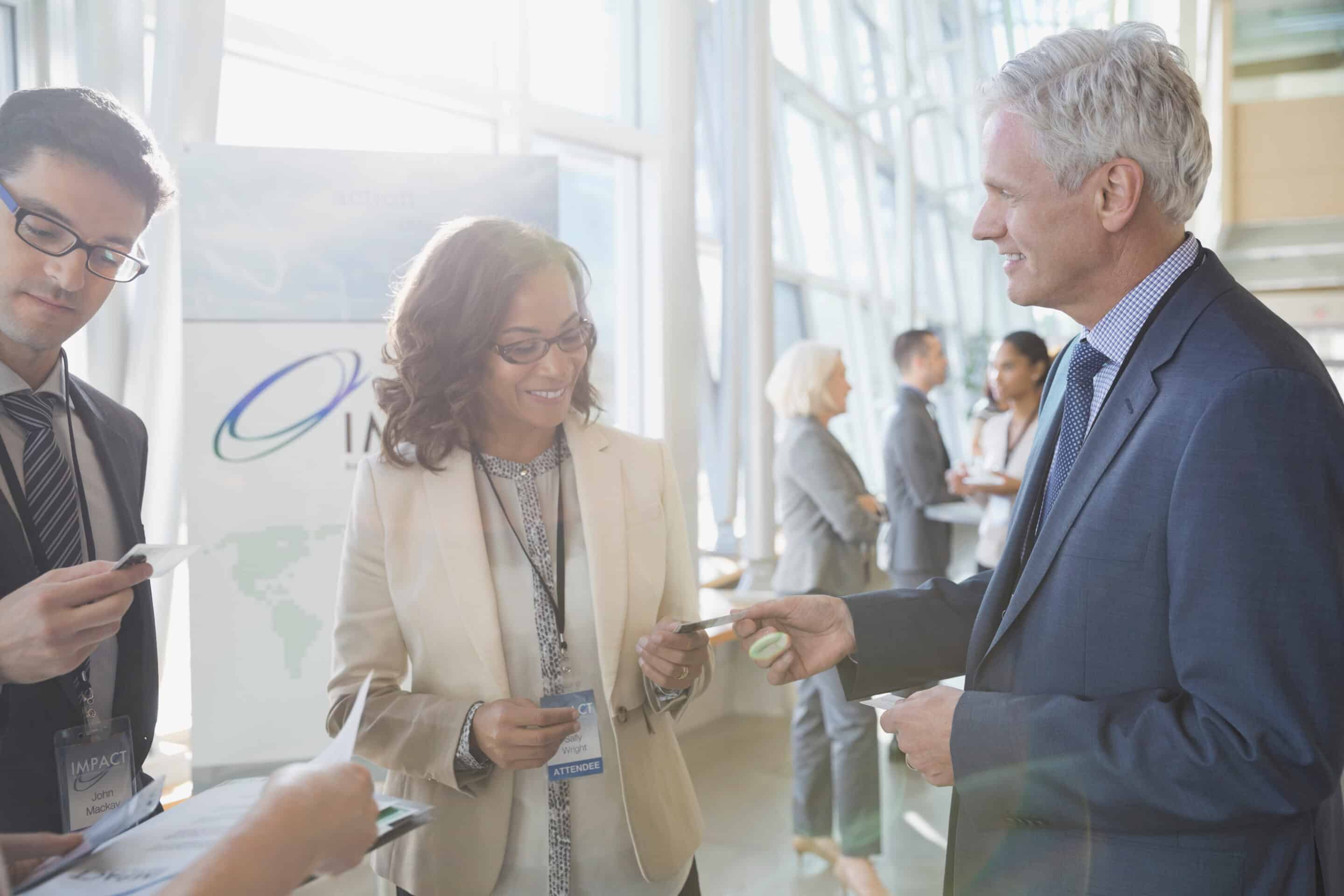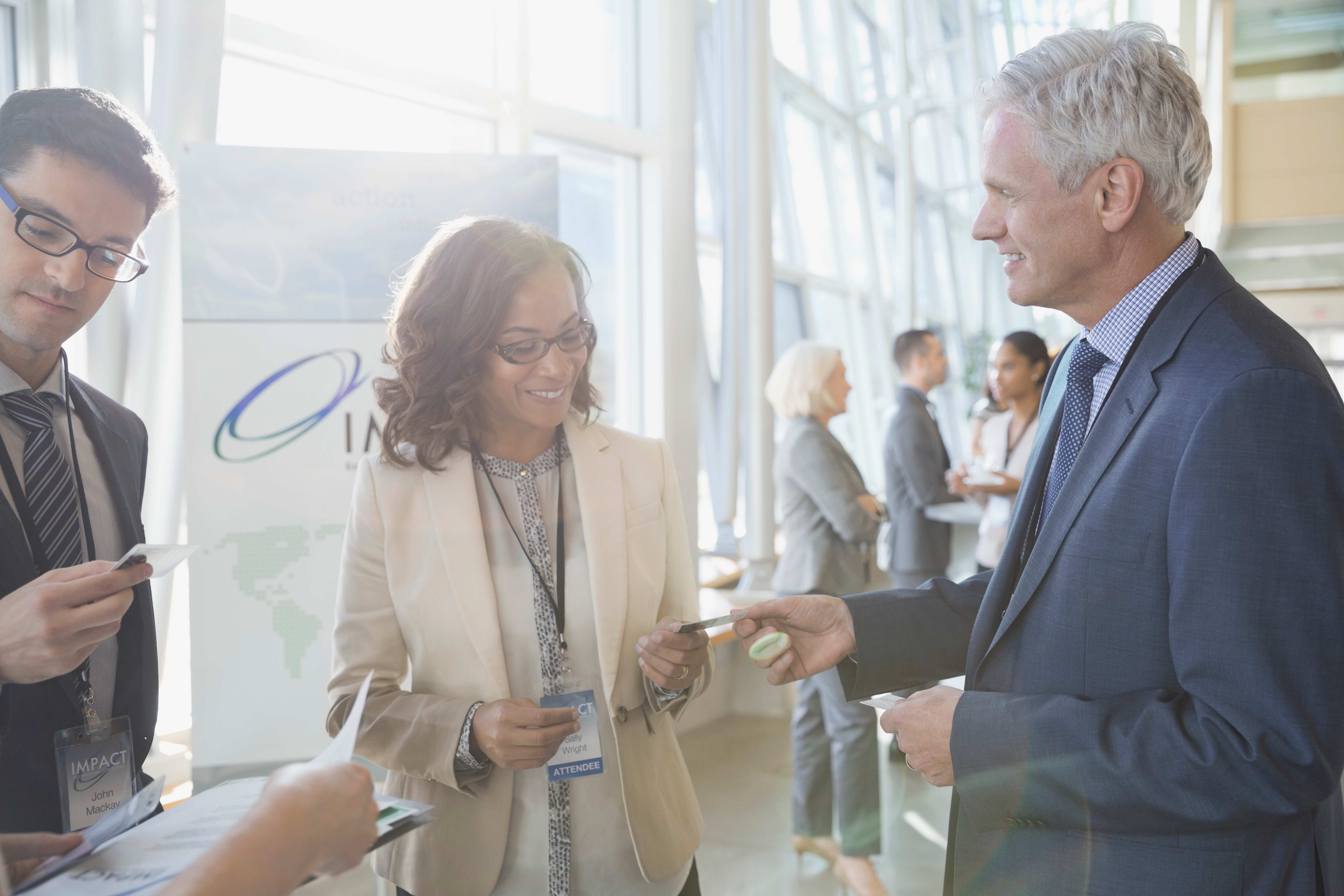 Branding & Marketing Ideas
Marketing your brand and sharing information about your products and services are the most important things you'll do at a trade show. Leave a strong, positive impression on visitors and broaden your brand's visibility with these trade show marketing ideas! 
Branded Swag
Offering branded swag at your trade show booth is a time-tested, attendee-approved way to get folks interested in your display. By giving away free promotional merchandise emblazoned with your company's name, logo, messaging or other branding, you're giving attendees a tangible reminder of their experience and increasing their positive associations with your brand — all while effectively turning them into a walking billboard for your business! 
Some popular choices for branded trade show swag include: 
Tote bags:

Practical and versatile, tote bags provide a large surface area for displaying your logo and can be used long after the trade show as functional accessories.

Pens, pencils or highlighters:

A classic choice, pens, pencils and highlighters are practical and widely used, making them ideal for showcasing your brand every time they're put to paper.

Drinkware:

Eco-friendly reusable water bottles, coffee mugs, or tumblers offer everyday utility and provide ample space for prominent branding, ensuring your logo is seen regularly.

T-shirts or other apparel:

Wearables like t-shirts, hats and other apparel are forever popular in the world of trade show freebies. Simply pop your logo onto the swag of your choice and turn booth visitors into brand ambassadors!
Informative Brochures & Flyers
This trade show idea is a no-brainer: You must have informative brochures, flyers or other take-home promotional materials at your booth! Your printed promo materials should cover topics that support your goals for the trade show, whether that's generating interest in your services, selling a specific product, or increasing brand recognition in the marketplace. 
Whatever messaging you choose, be sure to include all the most important information while remaining concise and engaging in your copy. Lean on striking visuals to illustrate products and processes, and to help readers visualize themselves as your client. Your brand's contact information should be prominently displayed somewhere on the brochure or flyer, with a call-to-action encouraging readers to reach out to your team. 
Unique Business Cards
At trade shows, business cards flow like water. A unique business card can not only help trade show visitors remember your name and brand, they can also boost your differentiation among competitors and start meaningful conversations with potential customers. The sky's the limit to the innovative and creative designs you can utilize, so here are a few of our favorite options for unique business cards to hand out at trade shows: 
Die-cut Business Cards:

Non-traditional shapes, like round cards, custom shapes related to your industry, or intricate designs, can make your card visually distinctive and uniquely tactile.

Folded Business Cards:

Space on a business card is at a premium, so why not try a folded business card? Folded cards offer more space for information, visuals, or even small inserts like coupons or product samples.

NFC-Enabled Business Cards:

Talk about living in the future: Near Field Communication (NFC) technology can be integrated into business cards, allowing recipients to tap the card against their phone to access additional information or content, increasing engagement.

Eco-Friendly Business Cards:

Using sustainable materials for your business cards or incorporating eco-friendly elements, like seed paper or recycled materials, demonstrates your commitment to the environment and leaves a positive impression.

Interactive Business Cards: Adding interactive elements like QR codes, augmented reality (AR) markers, or scannable elements that link to videos or other interactive experiences can transform a boring business card into something innovative and memorable.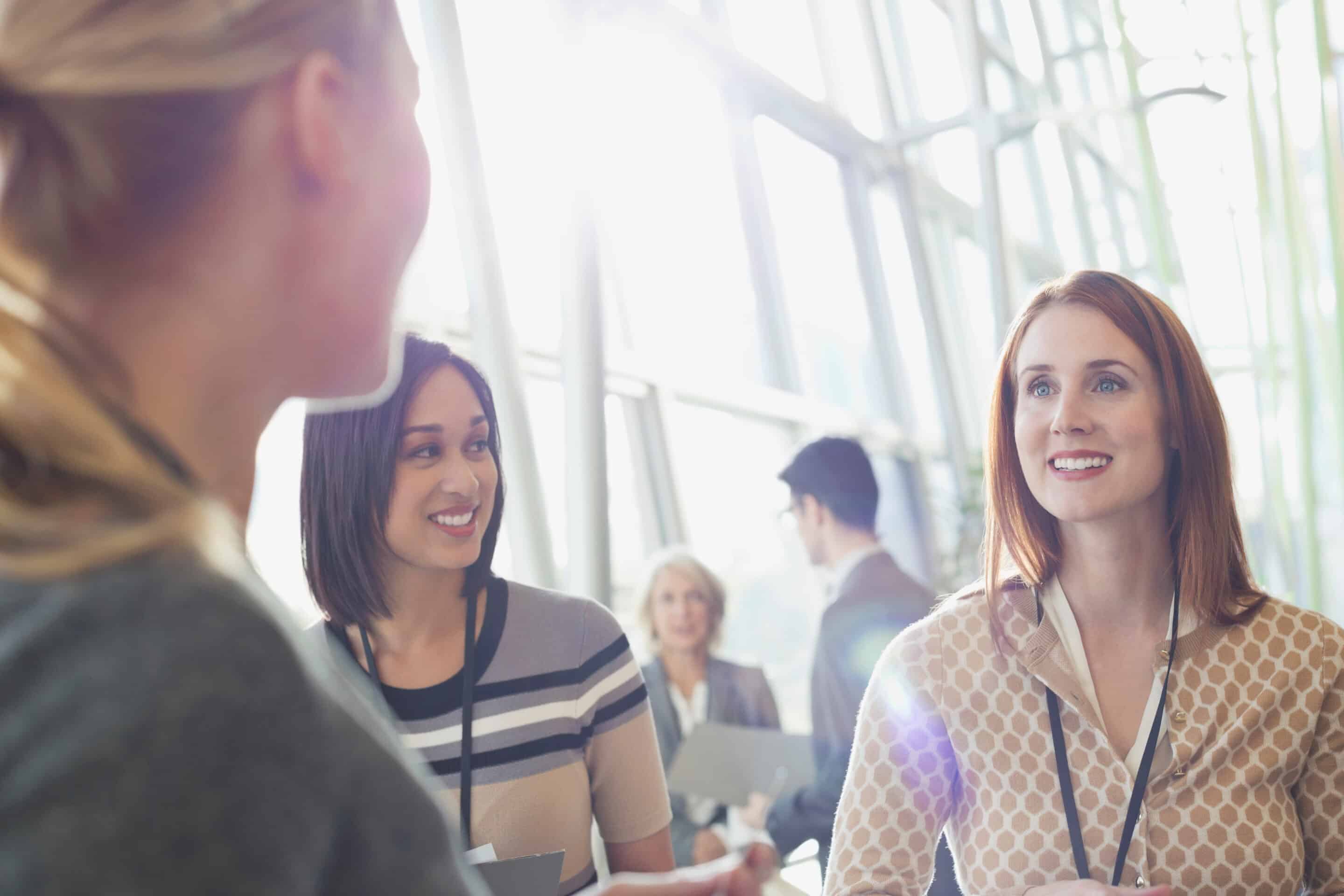 Host Your Trade Show At The Heritage Center Of Brooklyn Center
When you're ready to select a venue for your next trade show, we hope you'll consider The Heritage Center of Brooklyn Center! From mapping out your exhibition floor to designating rooms for expert talks and product demos, you can trust our experienced planning team to help you every step of the way! Contact us today to learn more about hosting your trade show at the historic Heritage Center of Brooklyn Center.