Minneapolis and St. Paul are among the most vibrant, creative cities in the country, so it's no wonder that the Twin Cities boast a variety of exciting activities to engage your team and strengthen your interpersonal relationships. Since there's no shortage of fun group activities in the area, it can be a little overwhelming to try and narrow down the right option for your corporate team outing—which is why we've compiled a list of our favorite activities to do in the Twin Cities, from axe throwing to cooking competitions and beyond. We've also included some social-distancing friendly options for fun team "outings" your Twin Cities-based group can participate in from the comfort and safety of their own homes! So, don't wait: Gather up your coworkers and let's get to team building!
The Mystery Bus is a fully customizable traveling event that provides surprise trips to groups of all sizes. And they really do mean "mystery": Your group won't know where you're going until you get there! Each event includes a physical activity, a culinary experience and a cultural experience; locations are chosen based on information you provide regarding your group's interests, budget and goals for your corporate team building event. The thrill of the unknown and experiencing new activities together will help bring your team closer together and build shared memories they'll truly cherish.
Game show team building activities are all the rage these days, so why not jump on the trend? Inspired by the
TV game show
, Virtual In It To Win is the socially-distanced way for your team of corporate coworkers to work together and battle it out in a series of 60-second challenges. Before the day-of, participants will be provided a list of household items to have on-hand for the In It to Win It virtual team building event. A "TeamBonding facilitator" will then virtually guide you remotely through each challenge before teams divide into virtual break-out rooms to practice, brainstorm and assign roles. Then, with just one minute on the clock, the pressure is on and team (and company) pride is on the line!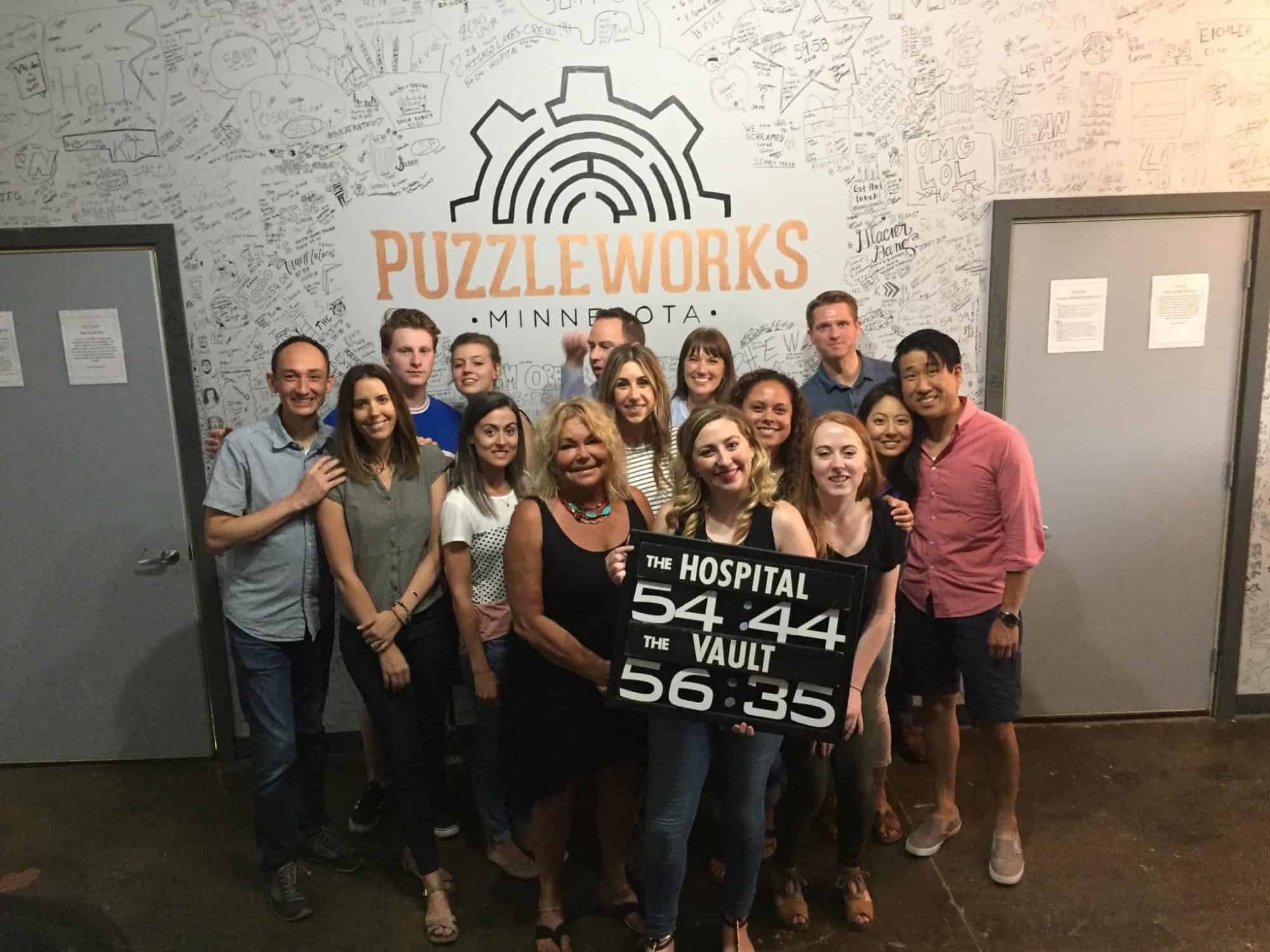 3. Solve an Escape Room at
PuzzleWorks
As far as Twin Cities group activities go, escape rooms might be among the most adrenaline-pumping and brain-tingling! This St. Paul escape room site is the perfect place to put your team's problem-solving skills to the test. Act as
super sleuths, bank heist masterminds or high-stakes hospital infiltrators
as you work through a series of puzzles, riddles and games to complete your mission before time runs out. These escape rooms are best for corporate groups of 4-10 people.
In the age of social distancing, a happy hour at your favorite watering hole may not be a viable or safe option for your corporate team. But there's a simple (and tasty!) solution: Bonding over a
virtual happy hour with a professionally-organized and run mixology course
! Stocking up for your virtual happy hour is easy: Prior to your event, the company will ship participants cocktail kits that include the premium ingredients you need to craft and enjoy a top-notch cocktail or mocktail. Then, using Zoom or the platform of your choice, an expert bartender and virtual happy hour facilitator will blend together tips, tricks, and trivia for you and your team. And, when you think about it: The way cocktail ingredients combine harmoniously together to create a single delicious end product has tremendous parallels to team dynamics!
Bring your corporate crew into the great outdoors! Eastman Nature Center in Maple Grove (still
technically
the Twin Cities area, folks!) offers
outdoor education programs
for organized groups of any kind, including corporate team-building excursions. While you can customize your event to your group's interests, we like the idea of opting for their survival skills course, in which you and your team will put your primal instincts—not to mention your teamwork and problem-solving skills—to the test and learn to build shelter and fires. Don't forget the bug spray!
Looking for a team bonding activity that will keep your group engaged over a longer period of time? A virtual team wellness challenge might be exactly what you need! Companies everywhere are discovering the benefits of engaging their employees in activities so they can become happier, healthier, and more energetic at work, even if "at work" is also "at home!" TeamBonding's virtual wellness challenges consist of daily activities that give participants the opportunity to get healthy together as a team, regardless of whether they're in the office or working from home. Team members share their progress and encourage one another in a friendly competition that lasts a full week. As they participate in the challenges (a mix of videos, photos, social media, and trivia,) employees will earn points that are added to their overall score. Winners are determined based on the trivia leaderboard, the number of completed challenges, and how creative their media content is. No matter where your team members are located, a virtual wellness challenge is a perfect way to bring everyone together! 
Way Cool Cooking School, Inc. in Eden Prairie specializes in "culinary team building," which includes cooking challenges and competitions, classes and chef-led dinner parties for corporate parties and team-building events. Event options include TV-inspired challenges (including the
Chopped Challenge
,
Cupcake Wars Challenge
,
Food Truck Wars Challenge
and
Nailed It! Challenge
,)
workplace wellness cooking classes
,
global cuisine courses
, and much more. Bring your team together to strengthen your group bond, improve communication,
and
eat what you make. What could be better?
8. Say Farewell to Your Comfort Zone & Hello to the Twin Cities with
Urban Fear Factor
Urban Fear Factor is a scavenger hunt-style activity that will encourage your corporate team to think outside the box, bond as a group and explore Minneapolis or St. Paul!
Outback Team Building
offers a variety of hosting options for this app-led activity, including an on-site host, a virtual (in-app) host, and a self-executed, no-host version of the event, so you can choose the level of participation and investment that suits your group. It works like this: You'll split your group into teams and all download the event app, which will prompt teams to complete daring and outrageous challenges. Complete each challenge by taking photos and videos of your antics throughout the city. The team that completes the most challenges before time is up wins the day! 
Explore the battlefield at Tactical Urban Combat, a laser tag and Nerf arena with locations at the
Mall of America
(both events) and
Eden Prairie Mall
(Nerf only). Choose your weapon (laser tag has no projectiles; Nerf foam balls are soft enough not to leave a bruise) and suit up to play  a variety of five-minute games like Capture the Flag and Search and Destroy while navigating the obstacles in the arena. This team building activity is perfect for larger groups, as the games themselves can accommodate up to 20 players. 
10. Experience Virtual Reality at
Voxel
Voxel Virtual Reality Parlor in St. Paul offers
corporate groups
the opportunity to immerse themselves in new worlds and experiences without leaving the Twin Cities! Choose from nearly 30 incredible VR options, like floating through space or diving deep into the ocean, puzzle rooms, archery, arcade games and beyond. Then don your VR headset and get ready to have your mind blown! The venue has six VR bays where you and your party can choose your experiences, with monitors for the non-active participants to see what you're doing and how you're interacting with your virtual environment. Voxel also provides snacks, refreshments, and other amenities so you can relax, socialize with your party, and enjoy your stay. Additionally, you may choose to arrange private 3-bay events for 6 or more people, or arrange for large special events with 40+ guests.
11. Embrace Your Inner Child at
Extreme Sandbox
Extreme Sandbox is possibly the wildest team building experience on our list, and we think you'll see why: This Roseville-based "Heavy Equipment Adventure company"
allows you and your team
to drive bulldozers, crush cars, and ride in fire trucks! Choose a more laid-back (but still safety-focused!) experience centered on having fun, or go for a more formal training experience that sees teams of 6-8 complete one large team-building activity using the equipment. Achieve your childhood dream of operating life-size sandbox toys while getting to know your coworkers and crossing an item off your bucket list. Your team will walk away from the experience eager to tell everyone they meet, "Oh, your company threw an ice cream social? That's nice.
My
company let me crush a Prius with a 26-ton excavator."
Gather a group of 10-45 coworkers for a relaxed, fun team building experience at Painting With a Twist in Roseville. At your private corporate team building painting event, an artist will lead your group through a painting of the host's choosing and help everyone recreate the image step-by-step. Enjoy social time with your group (plus wine, beer and snacks available for purchase) and take home your completed masterpiece at the end of class. This is a great option for teams looking to build camaraderie without the adrenaline rush of a more active event, and would also help more right-brained groups get out of their comfort zones and into a creative mindset!
Tap into your inner Arthurian warrior or Viking shieldmaiden in Bad Axe Throwing Minneapolis's axe-throwing lanes. For your axe throwing corporate team building event, you'll get a private lane (or lanes depending on group size) to practice and throw. And you don't have to be a bona fide lumberjack to enjoy this activity—you'll have an axe throwing coach (or coaches) on hand to instruct your team on how to throw an axe and act as host of axe-throwing games. Then, play round-robin and compete in a tournament to crown the axe throwing champion of your company! Bad Axe Throwing Minneapolis also serves food and drinks to keep the good times flowing. While you or your team may have to step outside your normal comfort zone to wield an axe, Bad Axe assures they've been accident free since inception. Kick-start your team's growth into a super-charged, super-tight crew—just pick up an axe to get started!
Team Building Activities For Corporate Event Venues
If you'd prefer to run your own, private team building event, Earle Brown Heritage Center is the ideal venue. Our knowledgeable, seasoned planners can help you come up with creative team activities and exercises to take your event from "Eh …" to "Extraordinary!" Consider some of the following fun team activities that would work well in Earle Brown's spaces: 
Host Your Next Team Building Event At Earle Brown
Earle Brown Heritage Center is proud to offer a variety of adaptable
indoor and outdoor spaces
perfect for your fun group outings in Minneapolis. We stand out from other corporate event venues with our stunning historic site, expert event planners and dedication to making your event extraordinary!
Contact us today
to begin planning a team building event your coworkers will rave about for years to come.