Entertaining activities that employees and guests enjoy can make a corporate event memorable. Explore entertainment ideas for your next work party in our latest blog post!
Corporate Event Entertainment Ideas
There's a huge variety of activities, performances, and other event elements that fall under "entertainment." From large-group corporate entertainment ideas to food-focused fun and beyond, here's what we'll be covering below: 
Large Group Activities
Small Group Activities
Food Activities
Event Locations
Music Entertainment
Large Group Activities
To please a large audience, you'll need to plan entertainment that has wide appeal. Interactive games, contests, and activities are the key to keeping your guests engaged and excited during your event. Here are some unique entertainment and activity ideas for corporate events that will help you create a memorable experience:
Dunk Tank
Who wouldn't want the chance to dunk their CEO, company president, or boss? Rentable dunk tanks are fun interactive entertainment for corporate events, especially when there's a fundraising element involved. Guests can pay per attempt to hit the bullseye and drop an executive or fellow team member into the tank. Just be sure the volunteer victims pack a change of clothes!
Raffles & Silent Auctions
Everyone loves to take home a prize or two! Raffles and silent auctions are extremely popular and effective ways to engage event guests and raise money for charity or another cause. After all, people are much more likely to buy raffle tickets or bid on an enticing item at a great party! We recommend keeping the barrier to entry relatively low—i.e. set raffle ticket prices and auction starting bids reasonably—to encourage more people to get in on the fun.
Casino Night
Roll up, roll up! A casino night is fun for players and spectators alike. For this event entertainment idea, all event planners need to do is rent a few popular casino games like blackjack and roulette from a vendor, many of whom can also provide professional dealers for the night. The funds that are raised can go to charity or another good cause; alternatively, you can set up a token system to forgo gambling with real cash.
Photo Booths
Photo booths or backdrops are a great corporate entertainment idea for any size event, especially when they have the physical footprint to accommodate groups of guests in one photo! You can rent one or more photo booths from corporate entertainment service providers, or set up a backdrop and smartphone tripod on your own, depending on your budget. Be sure to include props to encourage guests to get goofy in their photos! If your event has a theme, like a beach party or the Roaring '20s, carry that theme through in your photo booth prop ideas—think pool inflatables and sunglasses or flapper headbands and plastic coupe glasses.
Petting Zoo
Animal encounters are always memorable for both kids and kids at heart, so why not treat your guests to a petting zoo to indulge their inner child? This entertainment idea is best for outdoor events, or events hosted at venues that are accustomed to accommodating animals larger than, say, your average cat or dog. There are many petting zoo companies and animal rescues that will happily work with you to bring their friendly goats, sheep, ponies, pigs, and other adorable animals to your venue for a meet and greet with your guests.
Small Group Activities
Smaller groups deserve great entertainment, too! In fact, smaller events often lend themselves well to activities that simply wouldn't be possible with large groups. For more intimate groups, here are some of our favorite unique event entertainment ideas: 
Pub Quiz
For smaller to mid-size event groups, a pub quiz (AKA team trivia) is a creative DIY entertainment option. Simply plan a series of questions about your event theme, company, or pop culture for your guests to answer in teams. Dividing guests up by table is the easiest way to quickly create some competition in the room! Whichever team has the most correct answers can win a prize, a round of drinks, gift certificates, credit for the company swag store, or whatever reward you see fit. 
Kitten or Puppy Play Pen
Having an employee appreciation event, wellness event, or team de-stress event? There's nothing more soothing and delightful than a kitten or puppy playpen! Similar to a petting zoo, this corporate event idea is best for smaller groups, as it will be less overwhelming to your littlest, furriest guests. 
Many animal rescues, humane societies, and animal shelters will arrange to bring a few puppies or kittens to your event to play and socialize within a portable playpen. Guests can snuggle their stress away, and maybe even take home a new family member—animal rescue staff say meet and greet events like these increase the chances of the visiting animals finding a forever home! 
White Elephant Exchange
If your corporate event has a small guest list—like your immediate work team, department, or another small group—and is happening around the holiday season, consider having a white elephant gift exchange! This classic corporate party entertainment idea combines the joy of gifting with a little friendly competition, as players vie for the best gifts and swap away the silliest ones. The rules of a white elephant exchange can be adapted to your specific group, but the basics are as follows (per WhiteElephantRules.com): 
Each player brings one wrapped gift to contribute to a common pool. They can be "good" gifts like gift cards, gift baskets, liquor, etc., or silly/prank gifts. The best white elephant exchanges have a good mix of both, so the event organizer should provide information to each guest on what type of gift they should bring. You may also set a dollar amount limit to ensure no one goes overboard or under-spends.
Players sit in a circle or line where they can see the gift pile.
The first player selects a gift from the pool and opens it. Make sure everyone can see the gift!
Going around the circle or down the line, the subsequent players can choose to either pick an unwrapped gift from the pool or steal a previous player's gift. Anyone who gets their gift stolen in this way can do the same: Choose a new gift or steal from someone else.
After all players have had a turn, the first player gets a chance to swap the gift they are holding for any other opened gift. Anyone whose gift is stolen may steal from someone else (as long as that person hasn't been stolen from yet). When someone declines to steal a gift, the game comes to an end.
Office Superlative Awards
Create your own awards show by giving out office superlatives! This is an interactive and fun idea for smaller, more manageable groups, and is especially good for teams or departments. Pre-determine superlatives for every guest; think "Most Likely to Arrive Late with Coffee,"  "Most Team Spirit," "Never Has a Case of the Mondays," etc. Host a small, informal "awards program" during your event and give each winner a prize. Bonus points for the event planner who coordinates each prize to a corresponding award!
Food Activities
The way to your guests' hearts? Through their stomachs! Food brings people together, it starts conversations, and it just plain makes people happy—so why not plan some corporate party entertainment around it? Here are some of the most popular and exciting food entertainment ideas for events:
DIY Cocktail Bar
A DIY cocktail bar guarantees two things: Your guests will have fun, and their drinks will be made exactly how they like them! You can easily set up a DIY cocktail bar on your own by choosing a signature cocktail, like an Old Fashioned or martini, and assembling a table featuring various ingredients with which guests can personalize their drink, like flavored liqueurs, garnishes, etc. If you want a truly five-star experience, you can also hire a bartending service to ensure there's a professional bartender on-hand to guide guests through the cocktail creation process. 
Cooking Class or Demo
Learn to cook at your next corporate event! Hire a professional chef to walk guests through a delicious dish from start to finish. What's the difference between a cooking class and a cooking demo? In a cooking class, guests will participate in the creation of a dish, getting their hands on ingredients and putting in some work. A cooking demonstration, by contrast, is exactly that: A demonstration, in which the chef-instructor will show the steps of preparing a dish without guest involvement. Choose whichever version is best for your group size and venue—either way, the results will be delicious! 
Strolling Tables
Strolling tables or champagne dresses are a fun and exciting way to serve your guests. In this unique entertainment idea, the food and drink will come to your guests—literally! These skilled performers stroll across your event space wearing tiers of appetizers, cocktails, desserts, or other tasty treats, interacting with guests and bringing a touch of whimsy to your event.
Event Locations
While not entertainment, per se, some outstanding event venues can be a draw for guests all on their own. Here are just a few of our favorite ideas for event venues that surprise and delight: 
Aquarium
Who wouldn't want to dine, sip, and socialize against a backdrop of underwater beauty? Make a splash with your next corporate event by hosting it at an aquarium. Guests will be dazzled by the ambiance and after-hours access to world-class collections of live tropical fish, sharks, dolphins, and more. This venue idea is especially well-suited for more formal corporate events like fundraisers, galas, etc.
On the Farm
Keep it casual and fun by hosting your event down on the farm! Many hobby farms or small working farms also double as event venues, offering pastoral charm, local food and drink, and even friendly animals to keep you entertained during your event. Hire a live musician, like a singer-guitarist or folk band, and invite guests to bring blankets for a picnic-style event. 
Want the farm feel without the farm animals (and their smells?) Consider hosting your event at a venue like the Heritage Center! Our historic property will provide you with that quintessential farm aesthetic without the inescapable "working farm" elements that may put less outdoorsy guests off.
Brewery
Cheers! Many breweries and cideries have dedicated indoor and outdoor event spaces that are perfect for a corporate event. Depending on the size of your group, you may choose to rent a room at your favorite local brewery or rent out the entire operation for the length of your event. Guests love brewery events for the laid-back atmosphere they provide—not to mention the beer on tap. Bring some classic board games like Scrabble or Yahtzee and let the good times roll!
Music Entertainment
It goes without saying that music is integral to creating an extraordinary guest experience at an event. Live music in particular can help an event feel vibrant and vital, rather than phoned-in and dull. Here are some of our favorite out-of-the-box live music ideas for corporate parties: 
Bandeoke
What's bandeoke? The live entertainment idea you never knew you needed! Bandeoke bands are professional musicians that specialize in playing live backing music for karaoke singers—i.e. you and your coworkers after a few beers. Name your song and they'll play along! This is an awesome corporate party entertainment idea that none of your guests will have seen before. They'll be talking about the time they sang with a live band for years to come! 
Swing Band
Swing bands are a classic crowd-pleaser. There's just nothing like some good old swing or jazz to get guests off their feet and onto the dance floor! Look for a swing ensemble that includes a singer and that plays a good mix of dance-worthy tunes, slow numbers, and zippy jazz. Alternatively, seek out a group that does Postmodern Jukebox-style swing covers of modern hits. Your guests will be jumpin' and jivin' in no time! 
Live DJ
The key to hiring a great DJ for your corporate event is to look for DJs that actually curate their music experience live—not just play a playlist and turn on some funky lighting. You'll also want to find a DJ with emceeing experience if you'd like them to make announcements or introductions of any kind during your event. With the right DJ spinning, any corporate event can turn into the hottest nightclub, if only for an evening! 
Roaming Violinist
A roaming violinist is a professional violin player who will stroll from room to room throughout your event, mingling with guests and taking requests. This music entertainment option is particularly well suited for more formal events, fine arts events like fundraisers and galas, and any event taking place in an arts-centered space, like a gallery or museum. If your event venue is especially large, you may want to consider hiring multiple musicians to ensure everyone gets a chance to experience this magical bit of entertainment.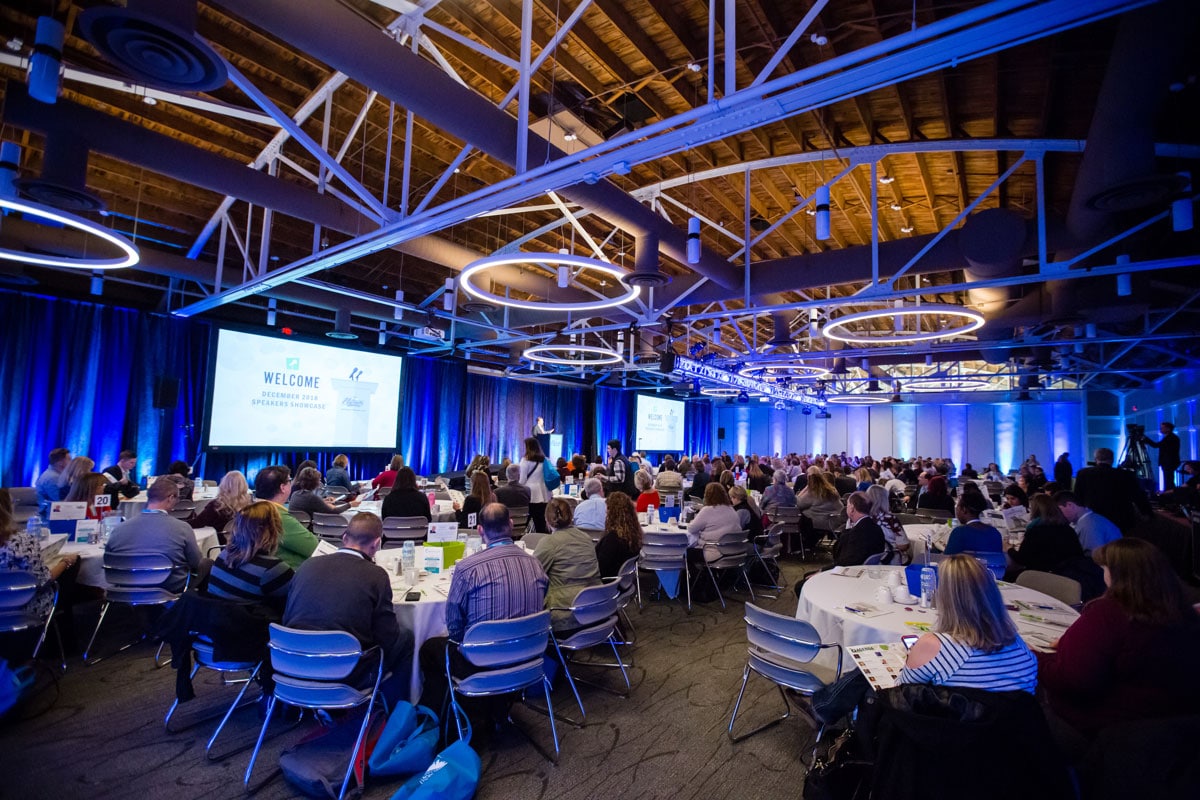 Host your Corporate Event at the Heritage Center
Excited to entertain your guests at your next event? We're excited to help you! The event planners at the Heritage Center are experts in executing professional events of all sizes and purposes. We'll walk you through our versatile event spaces on our historic grounds and help you visualize your next extraordinary event here. Contact us today to learn more about hosting your corporate event at the Heritage Center of Brooklyn Center!