Volunteering at work can be a great way to bring your team together! Whether you work in an office, remotely, or a mix of both, chances are your team could benefit from a bonding activity, and organizations in Minneapolis and St. Paul could benefit from your time and energy! In this blog, we've put together some of our favorite ideas for corporate group volunteer opportunities in the Twin Cities.
Employee Volunteering Ideas
Encouraging employees to volunteer can have a major impact on your community, not to mention your company's employee wellbeing and satisfaction. Studies have shown that employee volunteer programs can boost productivity, increase employee engagement, and even improve hiring and retention rates. Volunteering as a company, or as individual employees on behalf of a company, is an effective way to support your community, help your employees feel fulfilled in their work, and shed some positive light on your brand.
Volunteer Events For Companies
A volunteer event is a one-time volunteering opportunity that can be attended by or hosted by a company. Because it is a single event, it can be appealing to companies and employees looking for volunteer opportunities that require a less substantial time commitment.
If a company has the means and desire to host a volunteer event, it can also help to establish the company within their community, generate positive press for the brand, and attract potential job seekers to the company. Popular types of volunteer event ideas include:
Fundraising runs/walks for a cause
Fundraising galas for a cause
Highway clean-up events
Holiday gift wrapping for a cause
Holiday meal preparation and donation events
Volunteering Activities For Employees
Volunteering activities are often tied to a specific goal or organization, like cleaning up public parks or delivering Meals On Wheels to local elders. Companies may contribute their time to these activities on an ongoing basis, or individual employees may participate in these activities and earn volunteer hours from their employer.
Volunteering activities can be done on a one-time basis or as a monthly or semi-regular commitment.or example, a company may host an employee Habitat For Humanity day in which all interested employees can help build a home for the housing-insecure.Common types of employee volunteer activities include:
Giving blood
Walking shelter dogs
Helping to "makeover" a local school through painting, gardening, etc.
Picking up litter on a stretch of highway or in a park
Packing book bags for underserved students in your community
Assembling personal hygiene kits for shelters
Tutoring or teaching community education classes for no fee
Sorting donations for a local charity or organization
Large Scale Community Service Projects
A large-scale community service project may be undertaken by a company or organization, or a community organization may contribute to the project by donating employee time or through corporate sponsorships. These projects aim to reach a larger goal than events or activities can achieve alone, usually through an extended project timeline and a larger budget or fundraising goal. Sometimes, a company or corporation may choose to start its own foundation or organization to help support the long-term goals of the project.
If a company chooses to involve itself in a large community project, it can be beneficial to both the organization and the community in the long term. The company will generate all the benefits of regular employee volunteerism in addition to the positive brand boost of being associated with a major improvement to the community. In turn, the project coordinators benefit from the company's donations of time and/or money, and the community benefits from the completion of the project. Common large projects for companies to take on in some form include:
Building a community garden, library or other public resources
Raising money to install elements like play areas, landscaping, benches, trails and signs in public parks
Working to establish a local food bank, shelter for the housing insecure, women & children's shelter, animal shelter, or similar
Community recovering and rebuilding after a natural disaster
Long-term efforts to make a positive change to specific local issues, like championing community mental health care, advocating for better safety in schools, or outreach to underserved members of the community.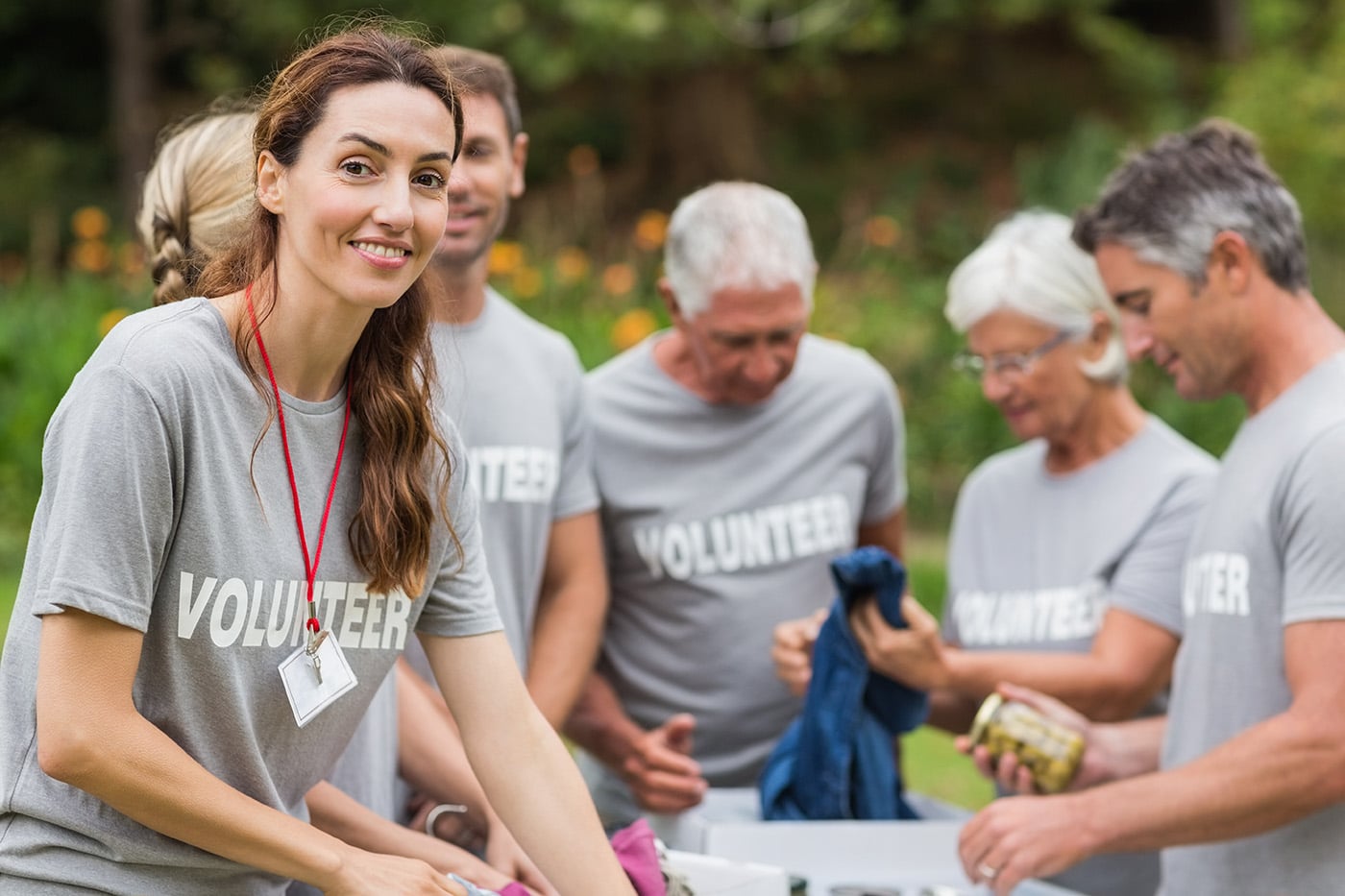 Group Volunteer Opportunities Around the Twin Cities
One of the many benefits of living and working in and around the Twin Cities is that the Metro area is absolutely bursting with incredible organizations, charities, and volunteer events that would love to have your employees' time and talents for a day or more! Whatever your company's interests, group size, or availability, there are tons of group volunteer opportunities in the Twin Cities that could meet your needs.
Volunteer Opportunities in Minneapolis
Again, with so many outstanding Twin Cities volunteer opportunities and places to volunteer in Minneapolis, it can be difficult to narrow down our list to just a few! Finding the right opportunity for your corporate group will largely depend on what types of causes or organizations you'd like to support, in addition to the level of commitment your group is open to maintaining. Below, you'll find three of the best volunteer opportunities in Minneapolis for corporate groups looking to do some good — but know that there are many other worthy causes and organizations suitable for group volunteering in Minneapolis, too!
Some other great ideas for group community service opportunities and volunteer activities in Minneapolis include:
People Serving People: For 40 years, People Serving People has focused on ending family homelessness in Hennepin County. Volunteer opportunities include meal delivery and off-site group volunteering tackling a project of your company's choosing, like assembling infant feeding kits, teen wellness kits, or snack packs.
Rebuilding Together Minnesota: This organization serves low-income homeowners who are seniors, individuals living with disabilities, families with children, and veterans and their families in need by providing home repairs and community revitalization. Volunteers can participate in the Safe at Home program completing small home projects for needy homeowners, work on a home repair crew, or help with community outreach, event organization, mailings, data entry, graphic design, event planning, and other projects.
Washburn Center for Children: The Washburn Center for Children has strengthened the Twin Cities community for over 125 years and is the state's leading children's mental health center. Volunteer opportunities include helping with special events for the center and sponsoring collection drives for vital items for families, including diapers, gift cards, art materials, school supplies and toys.

The Twin Cities Ronald McDonald Houses provide housing, meals, schooling and activities to families who have children experiencing a health crisis. There are three Ronald McDonald Houses in the Twin Cities metro area, including two in Minneapolis. This charity is a time-tested favorite for corporate volunteering due to its unimpeachable mission and suitability for larger groups.
Volunteer as a team in the Cooks For Kids program, through which you can purchase, prepare and serve a meal to families staying in the Ronald McDonald House. Individuals can also volunteer their time for other opportunities with the organization by completing an application and attending an orientation session.

Habitat for Humanity is known not only for its incredible work to end chronic housing insecurity, but also for its multiple group volunteer programs, which makes it easier than ever for your team to volunteer their time and skills for a cause. 
While the classic Habitat for Humanity group volunteer project is building a home for a needy family, your corporate group doesn't need to literally get their hands dirty on the jobsite if they don't want to! Groups can also help low-income homeowners make household repairs and maintain their homes through the A Brush With Kindness program, or help out with a variety of tasks at the ReStore, where the organization sells discount building materials. Other Habitat for Humanity group opportunities include landscaping shifts, assisting older homeowners, and more.

Children's is one of the largest freestanding pediatric health systems in the country, and is dedicated to improving children's health by providing the highest-quality, family-centered care advanced through research and education. Your group can be a part of this life saving initiative by volunteering through one of Children's many on-site or off-site programs specifically for corporate volunteers.
Volunteer opportunities on-site at Children's Minnesota, such as serving a snack or lunch to families, are reserved for groups ranging in size from two to 15 individuals. Large group volunteer opportunities are off-site and include activities such as building kits, making blankets, or toy and food drives.

St. Paul Volunteer Opportunities
St. Paul boasts just as many volunteer opportunities as its twin city of Minneapolis! If your company is based in St. Paul, you'll be glad to know of these exemplary organizations and charities just around the corner. Below, we've highlighted three of our favorite team volunteer opportunities in St. Paul in greater detail, along with a few other organizations and employee volunteering ideas we love:
Wingspan Life Resources

:

A non-profit organization that offers residential care in group homes and in-home programs to adults with developmental disabilities.

Volunteering activities

include gardening for group homes, group home maintenance, activity buddy shifts, and event planning opportunities.

Spare Key

:

A St. Paul-based organization providing assistance to families in crisis with critically ill or seriously injured family members.

Volunteer opportunities

include event planning and execution and the unique Spare Key Ambassador program, in which individuals or companies involved in a transactional business (like mortgage loan officers, realtors, title companies, etc.) designate a donation amount per transaction closed.

Minnesota Historical Society: This state-wide society has five St. Paul sites fostering historical education for Minnesota residents, students and visitors. Volunteer opportunities include specialist-based volunteering (like grant-writing, marketing, website development, etc.), customer service positions like greeting or visitor relations, and project-based opportunities like events, craft prep work and digitization.

Second Harvest Heartland works to end hunger through community partnerships and distributes enough food for over 100 million meals annually. The organization offers single-shift and ongoing volunteer opportunities in addition to group-specific shifts for 20-40 people. 
These team shifts see volunteers assist with sorting, labeling, weighing, and packing various food items to meet immediate needs and help feed hungry neighbors. Volunteer shifts are available in the morning, afternoon, and evening Monday through Saturday at the organization's Brooklyn Park facility. Donations of food are accepted at both the Brooklyn Park and St. Paul locations.

The Boys & Girls Clubs of the Twin Cities work to enable all young people, especially those most in need, to reach their full potential as productive, caring, responsible citizens. There is a variety of volunteer opportunities available for groups both on-site at a Boys & Girls Club in St. Paul or Minneapolis and off-site via donation drives or virtual events, though currently on-site volunteering has been limited due to COVID.
In the meantime, there are still plenty of ways your group can donate their time and energy to the benefit of local youth! The organization is currently looking for volunteers to host donation drives for various needed items such as hygiene items, household items, school supplies, games, and educational activities. There is also a need for companies and businesses to host virtual career days for Boys & Girls Club members to learn about different career paths. However you choose to support Boys & Girls Clubs of the Twin Cities, you can rest assured that your group's contributions will make a difference!
Since 1995, St. Paul-based Great River Greening has engaged organizations, communities, businesses and volunteers in hundreds of land and water restoration projects in Minnesota. These projects typically include the removal of invasive plant species and/or planting native species, both in the Twin Cities metro and beyond. This eco-minded organization's restoration efforts are a worthy cause that requires no previous experience or training to get involved.
Small groups are welcome to join the organization's public events on Saturday mornings in the spring and fall. Larger corporate groups looking for a hands-on opportunity to give back to their community and boost team morale can organize a private volunteer event for a sponsorship fee. This volunteer opportunity is ideal for groups that care about sustainability, green energy, natural restoration or other environmental causes, as well as groups that would prefer an outdoor opportunity.
Planning for Corporate Volunteer Opportunities
There is a lot to consider when planning a corporate volunteer event, from choosing a cause to scheduling to organizing people! We'd suggest treating your team community service like any other corporate event and utilize our helpful planning checklist. Using a checklist will help you ensure all the details are seen to in a timely manner and prevent you from overlooking important elements of your volunteer event. 
More Corporate Event Planning Ideas from the Heritage Center of Brooklyn Center.
Looking for more corporate event planning tips, tricks and ideas? Sign up for our email newsletter! We'll keep you up to date with our latest corporate event planning blogs so you can feel prepared and confident heading into your next volunteering event, corporate gala, meeting or luncheon. Click here to sign up now!