Barn weddings are wildly popular thanks to their romantic vibes and heaps of character. Our list of barn wedding ideas is sure to help make your wedding day the rustic-chic dream you've always envisioned! 
With a little creativity, you can turn your barn venue into a stunning ceremony or reception site that will delight your guests. In this blog, we'll cover 20 of our favorite barn wedding ideas, from decor to photography and more. Read on to discover all our best ideas for barn weddings below!
Barn Wedding Ideas
Planning a barn wedding? Having your wedding in a barn presents a wonderful opportunity to personalize your venue—a barn is a blank slate for your wedding style and theme! Whether you're dreaming up a rustic barn wedding or an elevated and elegant barn wedding, the sky is truly the limit when it comes to barn decor ideas that will bring your vision to life. 
We've gathered up our favorite barn wedding decorating ideas, ceremony ideas, reception ideas and picture ideas to help you start brainstorming your perfect big day in a barn! 
Barn Wedding Ceremony Ideas
Having your wedding ceremony in a barn can be intimate and picturesque. Your barn house wedding ceremony can—and should!—be as unique as you and your spouse, right down to the decor. From simple, rustic barn wedding decorations to more modern barn wedding decor, here are some of our top tactics for adding personality and style to your ceremony.
Get Ready in the Farmhouse
If your barn wedding venue also has a classic farmhouse on the property, see if you and your bridal party can use it as a cozy pre-ceremony primping place! Not only will it set the mood for your walk down the aisle, it will make for incredibly atmospheric getting-ready photos. 
Sparkling Strings & Chandeliers
Barn venues typically have soaring ceilings, so take advantage of that added height by stringing up lights or hanging chandeliers. Exposed Edison bulbs or fairy lights are warm and welcoming, and they'll bring an inviting glow to your space. Chandeliers, on the other hand, add a touch of glitz and glamor to your ceremony. Either way, you can't go wrong with this surprisingly simple way to elevate your ceremony space! 
Create a Focal Point
Speaking of aisles and lighting: Use your lighting to guide your guests' eye to the focal point of your wedding ceremony. Position your aisle so it ends at your barn venue's best feature, whether that's a stunning view from beyond the barn doors, a unique architectural feature, a fireplace, or a floral installation. Use fairy lights or lanterns as drape for the rafters to draw the eye and frame your vows perfectly! 
Bring the Outside In
Barn weddings are inextricably linked to the beauty of the landscape that surrounds them, so why not bring the outdoors into your ceremony decor? Use an abundance of greenery, wildflowers and tall arrangements to evoke the great outdoors in your ceremony space and backdrop. Consider lining the aisle with rambling floral arrangements and a draped canopy adorned with foliage and soft florals to bring a natural romance to your indoor space. 
Hanging Greenery
You can hang much more than lighting in your barn ceremony space! Try suspending bold greenery, floral arrangements, or traditional pine wreaths from the rafters to add visual intrigue and drama overhead.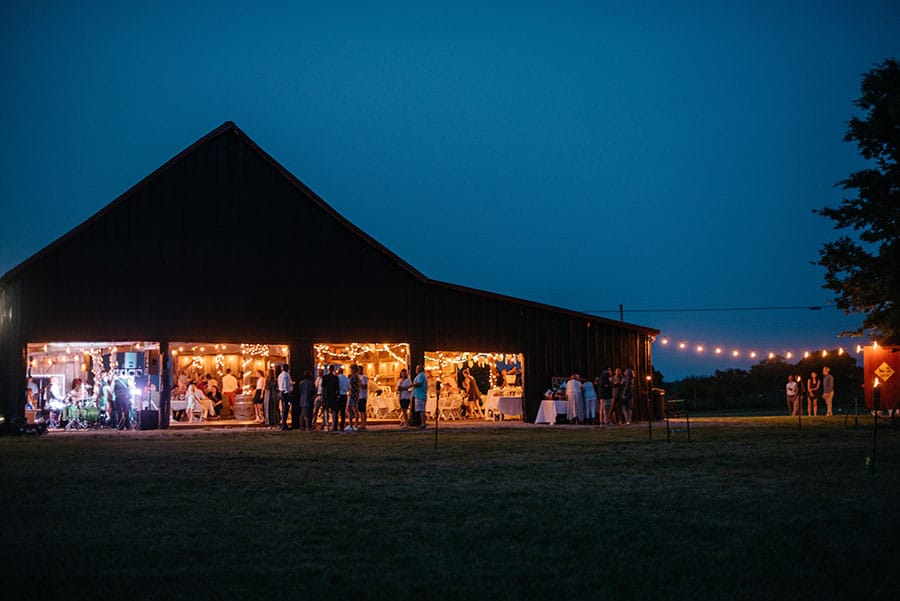 Barn Wedding Reception Ideas
Barn receptions have been popular for well over a decade, thanks to their versatility and effortlessly fun atmosphere. If you're having a barn reception, there's no limit to the ways you can personalize the decor, activities and more! From tips and tricks to elevate your barn wedding to out-of-the-box barn wedding decor ideas, here are some of our favorite reception ideas.
Outdoor Games During Cocktail Hour
Take your cocktail hour up a notch—and take advantage of all that outdoor space!—by setting up some outdoor games for your guests to enjoy. Cornhole is always a crowd-pleaser, as are adult-sized childhood favorites like Connect Four, ring toss or giant dice. 
Create an Intimate Space
For a small barn wedding, the interior barn space may feel a bit cavernous. Create a more intimate reception space by "lowering" those sky-high ceilings with hanging fabric drape. This will add a softer touch to your space while making the room feel less oversized. 
Elevate Your Menu
Sure, barbecues, buffets and family-style meals fit a more rustic, down-home vibe, but if you want your barn wedding to feel more upscale, look no further than your menu! Choose a caterer that specializes in modern, contemporary plated dishes and look for trendy options like dressed-up charcuterie boards, cheese plates or sashimi. 
Use the Barn as a Backdrop
Try this twist on a barn reception: Use the barn interior for your ceremony, then use the exterior of the barn as the backdrop to our outdoor reception! Accent it with string lights or colorful paper lanterns and opt for long, family style wooden tables with neutral linens and florals that complement the barn's wood tones.
Give Your Bar Some Barn Vibes
The bar at your barn wedding reception doesn't have to be a basic walk-up counter. Lean into the rustic feel of your venue by transforming themed decor into a drink station! Try filling a (cleaned!) kayak or canoe with ice and cans of soda or bottles of water or beer. Make a "makeshift"-looking bar with bourbon barrels and wood slats. Or, get a funky collection of weathered ladders for cheap at your local thrift or vintage store and line the rungs with bottles. 
Barn Wedding Decoration Ideas
These days, your decoration options go way beyond basic rustic barn wedding decor. Whether you're keen to juxtapose the earthy exposed wood of your venue with a super-modern approach to decor or you're all about those country-chic vibes, think of your barn venue as a neutral backdrop for the stars of the show: You, your new spouse, and your personal wedding style! 
Decorate Your Barn Door
The barn door is a huge focal point of your venue, so consider playing up its strengths by giving it a little TLC! You can decorate your barn door in myriad ways, from string lights to floral installations to stick-on wallpaper or colorful paint cards! Choose the barn door decoration that best suits your personality as a couple and the theme or tone of your wedding. 
Illuminate The Aisle
The ambiance of a barn wedding is bar-none, so amp it up with some atmospheric aisle lighting! While live flame is likely not allowed in the space, consider faux candles, lanterns, fairy lights or other creative lighting solutions to illuminate your aisle. The lighting will bring a warm, romantic glow to your entire ceremony!
Rent On-Theme Furniture
Ah, the wonderful world of wedding rentals! There's rental furniture to fit every wedding theme and vibe, from rustic wood chairs and farm tables that match the barn rafters to whimsical vintage settees that will create the perfect lounge area for tired dancing feet to rest. You can even go completely contemporary with modern, clear plastic seating and tables! Whatever your wedding style, browse some local wedding rental companies' catalogs to find some inspiration for your big day. 
Go for Greenery
Opting for greenery-heavy florals throughout your barn wedding decor effortlessly elevates your wedding. This trend prioritizes seasonality and brings the outdoors in, while also providing a pop of much-needed color to an otherwise greige venue. You could also choose to do a total 180 and focus your floral on tropical blooms and big, bold leaves for an uber-modern aesthetic. Or, lean into the on-the-farm feel and decorate with colorful produce like apples, eggplant and artichokes mixed into your greenery.
Transform a Non-Barn Venue
Okay, so maybe your dream barn wedding venue didn't work out. No worries! With a little ingenuity, you can have a barn themed wedding in a non-barn venue. Set the tone with rustic floral and decor, then add some weathered-metal lamps or lanterns. Try burlap or muslin and greenery as your table runners, and choose non-traditional place settings that may include mismatched vintage plates, aluminum chargers, and copper accents. Your barn style wedding can be a success virtually anywhere!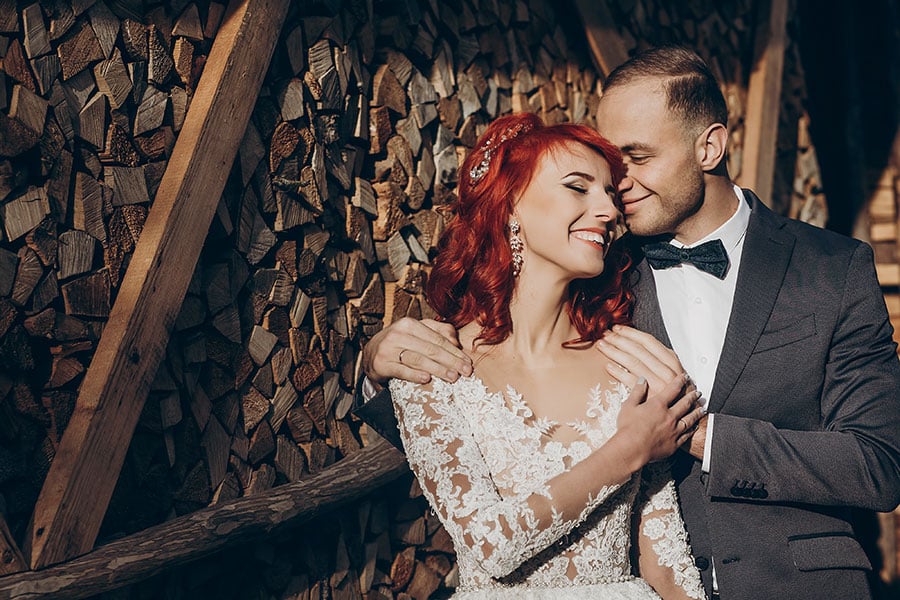 Barn Wedding Picture Ideas
The romantic setting of a barn wedding lends itself perfectly to incredible wedding photos. Here are some of our favorite barn wedding picture ideas to help you create beautiful, timeless wedding photos of you and your wedding party. 
Make a Wall of Lights
Twinkle lights have gotten a lot of play in our list of favorite barn wedding ideas, and for good reason! They mimic the sparkling stars of the night sky overhead. Consider making a striking statement with a wall of twinkling lights that hang from the rafters or a wall and using it as a photo backdrop! Every snap will scintillate with modern-meets-romantic character. 
DIY Photobooth
Make a DIY photobooth at your barn wedding by combining elements like distressed picket fencing or wood slats, greenery, hay bales and signage in your wedding style. Guests can help themselves to selfies, or place a disposable camera at each place setting to encourage guests to start documenting your big day! 
Use the Farmhouse (Again!)
Yep, the farmhouse is making another appearance! Try using the front porch of the venue's farmhouse as a backdrop to your first photos as a married couple. The front steps and porch swing are great spots for both posed and candid portraits! 
Go Natural
It's more than likely that your barn wedding venue is surrounded by some amount of natural splendor, whether that's amber waves of grain or picturesque ponds straight out of a children's book. Take some time to duck away with your photographer and grab some intimate shots of you and your new spouse in the embrace of nature! 
Under the Starry Sky
Don't forget to take some shots after dark — the photography kind! Sunset will splash some stunning colors across the sky, complementing your barn venue, and after dark, your atmospheric lighting will help illuminate all the fun and festivities. We love when photographers incorporate the starry skies into these photos, and when couples choose to have a sparkler send-off at the end of the night. The light up water fountain in our courtyard is the perfect spot to take these photos!
Have Your Wedding At The Heritage Center of Brooklyn Center's Barn
Imagining your dream barn wedding? Host it at the Heritage Center of Brooklyn Center! Our historic venue was once a working farm, and is now the Twin Cities' premier event venue. Our red and white barn exteriors and beautiful grounds are ideal for brides and grooms with tons of barn weddings on their Pinterest boards! Contact us today to connect with one of our expert wedding planners. We can't wait to meet you!