Not all wedding venues are created equal! Every wedding venue offers different amenities, services and experiences, so your wedding venue tour is an important opportunity to ask questions and learn what to expect from that venue.
Before you head out to your top venue contenders, explore our ultimate guide on questions to ask a wedding venue during a tour. 
Questions To Answer Before A Wedding Venue Tour
There are a few questions you and your partner should already have answered before touring a wedding venue. Having answers to these questions will make it easier to determine whether a specific venue is suitable for you and your needs.
What seasons, dates, and times are you interested in having your wedding?
How many people are you considering inviting?
How many people do you think will come?
What style of venue do you want to have?
Do you want an indoor or outdoor wedding?
Are you wanting a wedding with or without alcohol available?
Is the venue for just the ceremony or the reception or is it for both?
What is your overall wedding budget?
What is your budget for a wedding venue?
What To Look For In A Wedding Venue Tour
For some, wedding venue tours can be overwhelming—there is so much to see, consider and ask about—but it doesn't have to be. If your wedding venue representative guiding your tour is experienced and professional, they'll likely provide you with the answers to most of the questions we've listed below without you having to ask! 
With that said, it's still a good idea to have a list of questions either printed or on your phone to refer to throughout your tour. While on your tour, take note of how the venue representative presents themselves. Do you feel they want you to have a great experience? Do you feel welcomed and encouraged to ask questions? Your comfort level with your venue representative is a good indicator of how you may feel working with them or other venue staff in planning your wedding day. 
You should also keep an eye out for any quirks regarding the venue spaces—does the dance floor have a massive load-bearing beam in the center? How are the sightlines in the ceremony space? These seemingly small details can have a major impact on your wedding day if they go unnoticed. 
Finally, remember to go in with an open mind. Try to get comfortable with the idea that you may choose a venue space that meets most of your needs, but not all. Wedding venues, especially the most popular ones, book up fast, so there may not be a "perfect" venue available in your chosen month or season. Prepare yourselves for your tour by sitting down with your partner beforehand and having an open, honest conversation about areas in which you are willing to compromise and where you refuse to budge. 
Types of Questions to Ask Wedding Venue During A Tour
It's time to dive into all the questions to ask a wedding venue during a tour! We've broken down these wedding venue questions by category to help you understand what to look for in a wedding venue. Read on to begin with our general wedding venue questions, or jump to a particular area of interest below! 
General Wedding Venue Questions
No idea how to approach making a list of questions to ask when touring a wedding venue? Start here! These are general wedding venue questions to ask on any venue tour, or even in your preliminary call or email with the venue's staff prior to any tours. These questions will give you a good base understanding of the venue's capabilities and amenities. 
Remember, your wedding venue tour is your opportunity to "interview" a venue and determine if it is a good fit for you and your vision of your wedding day, so don't hesitate to ask as many questions as you need to feel confident making your decision! 
How many people can the venue accommodate?
What dates are available in the month/season we're considering?
What wedding packages do you offer? What is included? 
What is included in your basic venue rental?
How many event hours are included in the venue rental?
What restrictions are in place?
Is there a separate space for cocktail hour? 
Can we have our ceremony here in addition to the reception?
If yes, would the ceremony and reception be held in the same room or in different rooms?
If they are hosted in the same room, what should we expect in terms of set-up/take-down to transition from the ceremony to the reception? How long does that usually take?
Do you provide seating for ceremonies?
What is your cancellation policy?
Do you have liability insurance?
Would there be other events happening here on our wedding day?
What does a typical layout look like in this space?
Do you have photos or videos of other receptions in this space?
Can we come back to see the space set up for another wedding?
Financial Questions
Nobody enjoys talking about money and budgets, but it's an unavoidable necessity in wedding planning. It's important to only tour venues you generally believe to fall within your budget, so you don't end up falling in love with a venue that you can't afford. While on your wedding venue tour, it's important to ask for transparent details about pricing, payment plans and other financial elements to determine whether those costs fit into your budget. Most venues will be able to offer you a printed overview of space rental costs, fees and taxes to take home and compare to other venues. Don't be afraid to ask financial questions while on a wedding venue tour—if your contact is cagey about providing that information, it is likely a red flag and an indicator that you should look elsewhere.
How much is it to rent the venue?
How much is the initial deposit? When is it due?
Is our deposit refundable?
What is the payment plan for the full bill?
What forms of payment do you accept?
Are there additional fees for certain services?
Are there additional fees for using vendors outside of your partners?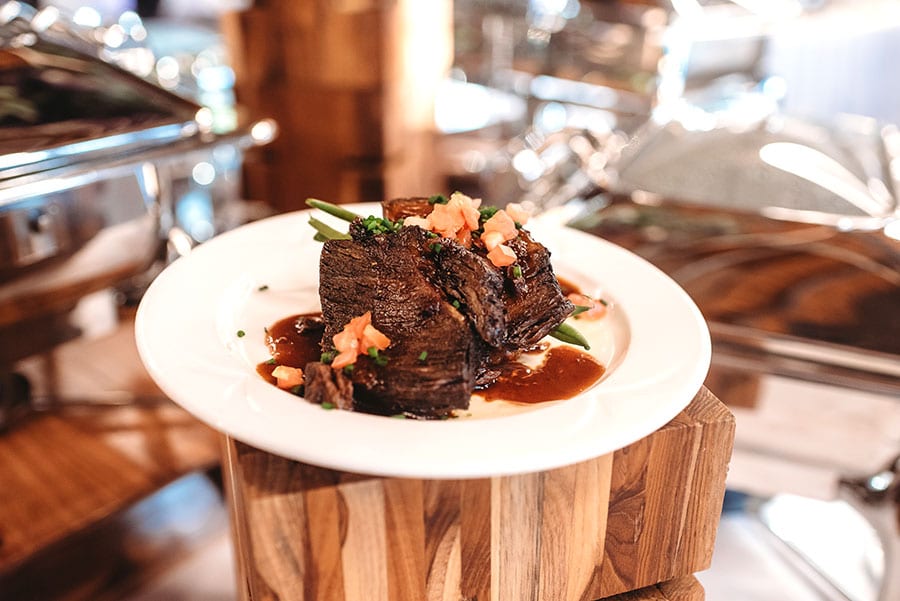 Food & Drink Questions
Food and beverage options, costs and restrictions can be make-or-break details when choosing a wedding venue. If food is especially important to you and your partner, you'll want to pay special attention to each venue's approach to catering and bar services, including their menu offerings and options. 
We recommend making a list of questions to ask wedding venues regarding food and drink while on each tour so you can compare answers across all your potential venues. Here are our top picks for food and beverage questions to ask while on a wedding venue tour: 
Do you have an in-house catering and bar?
Are third-party food vendors allowed to cater?
Do you have a list of preferred caterers you regularly work with?
If there is an in-house caterer, do we still have the option to use a third-party vendor?
If we hire our own caterer, is there a kitchen on-site available to them?
Is there a food and beverage minimum? What is it? Is it a static minimum, or does it change per number of guests?
What's the tax and service charge?
What are your options for style of dining? Buffet, family style, plated meals? 
Can we see your menus for wedding receptions? 
Can we do a tasting before we finalize our menu selection? Is that an additional charge?
Can you accommodate special diets?
Are tables, linens, chairs, plates, silverware, and glassware provided?
Can we bring in a cake made by a third-party baker, or do we have to have a cake baked on-site?
Is there a cake cutting fee?
Can we bring in our own wine, beer and liquor?
Is there a corkage fee? 
How is alcohol priced? Do you offer bar packages?
Is there an alcohol minimum? What is it? Is it a static minimum, or does it change per number of guests?
Are there additional charges for bar staff?
Decor & Rental Questions
Whether you're a minimalist, maximalist or something in between, you'll undoubtedly have questions to ask your wedding venue about decor! Every venue has its own rules and restrictions regarding decorations, rentals, vendors, floral and more, so be sure to ask about these details on every wedding venue tour. 
Are we allowed to bring our own decor?
What decor does the venue provide for no additional charge?
Do you offer decor or furniture rentals?
Do you have preferred decor and/or rental vendors you regularly work with? 
Do we have to use one of your preferred florists or event designers, or can we work with another third-party vendor? 
When can we start decorating?
Are there decorating restrictions?
Can our centerpieces contain candles?
Can we use floral petals, confetti, etc.? 
What do you use for table settings?
Do we have to provide our own place cards?
What table options are available?
How many people can be seated at each table?
Are booster seats or high chairs available for children?
Can we move things around in the space?
Do you have signage or other aids to help direct our guests to our event?
Do you provide heaters or umbrellas for outdoor spaces?
Vendor & Staffing Questions
Vendors are usually a major part of any wedding day, so it's critical to know how a potential venue handles vendors, vendor coordination, and all the nuances that come with bringing various third-parties into their space. It's also important to understand how the venue staffs wedding ceremonies and receptions, particularly in terms of day-of coordination and points of contact, bar staff, A/V tech, and other more specialized aspects of your big day. 
Are third party vendors allowed?
Is there an on-site coordinator available through the venue?
What time can vendors begin setting up?
Can this venue accommodate a DJ or live band? 
How many people can the dance floor accommodate?
Are there restrictions on music past a certain hour?
Will there be a staff member on hand to troubleshoot any A/V issues we may have?
What security services do you offer?
Do you provide a coat check? 
Is there a secure room for wedding gifts and other valuables?
Do you provide any assistance with getting gifts and decor back to a designated location after the wedding?
What type of staffing do you provide day-of?
Miscellaneous Questions
These miscellaneous questions to ask a wedding venue cover tons of the smaller details, from parking availability and ADA-compliance to transportation and emergency backup plans. While you might feel that your wedding venue checklist is getting long, it's important to ask these questions on your tour so you and your partner have a full understanding of what it would be like to host your wedding at that particular venue.
Is there a parking lot associated with the venue? If so, how many parking spaces are there?
Are there changing areas available for the couple and our wedding party?
Is the venue ADA-compliant and accessible?
Do you have a sound system available for speeches and toasts?
Are cabs and/or rideshares easily accessible from the venue?
If we require a shuttle service for our wedding party and/or guests, can you provide assistance in arranging that transportation?
How many restrooms are there?
Is there a private area for nursing parents?
Are overnight accommodations available? Do you offer discounted rates on room blocks?
If there are no overnight accommodations onsite, do you have partnerships with any nearby hotels?
What sustainability options are available to us for our event?
Are there any photography or videography restrictions?
Do you have a backup generator for power outages?
What is your weather contingency plan for outdoor spaces?
Have Your Wedding At The Heritage Center of Brooklyn Center, North Of Downtown Minneapolis, MN
Visit us on the farm! We'd love to give you a tour of our historic grounds at The Heritage Center of Brooklyn Center. Our planners are experts at listening to your wants and needs to find the perfect event space, catering package, and more for your big day. Contact us to connect with a friendly member of our staff and schedule your tour!