While many brides choose to carry traditional floral bouquets down the aisle on their big day, there's no rule that says you must. In fact, more and more brides are ditching the roses and baby's breath and opting for wedding bouquet alternatives that better suit their unique style. If you're interested in breaking with tradition and experimenting with alternative bridal party bouquets, you've come to the right place!
Read on to check out 20 wedding bouquet alternatives you'll fall head over heels for!
15 Bridesmaid Bouquet Alternatives
These days, brides are choosing to get creative with their bridal party bouquets! From whimsical themes to unusual shapes, sizes and textures, there's an out-of-the-box bouquet idea for just about every taste and personality. Explore these unique wedding bouquet ideas below to get your own creative juices flowing!
Hoop Bouquets
Hoop bouquets are the trendiest alternative wedding bouquet of 2022, and for good reason. These dynamic, strikingly different bouquets make use of negative space by clustering all the florals and foliage at the bottom of a simple metal hoop, which can be held from the top like a handbag. Another variation of this trend is the hanging bouquet, which hangs flowers vertically to create movement and visual intrigue. Hanging bouquets are especially popular for outdoor ceremonies, where a light breeze will animate the hanging blooms beautifully!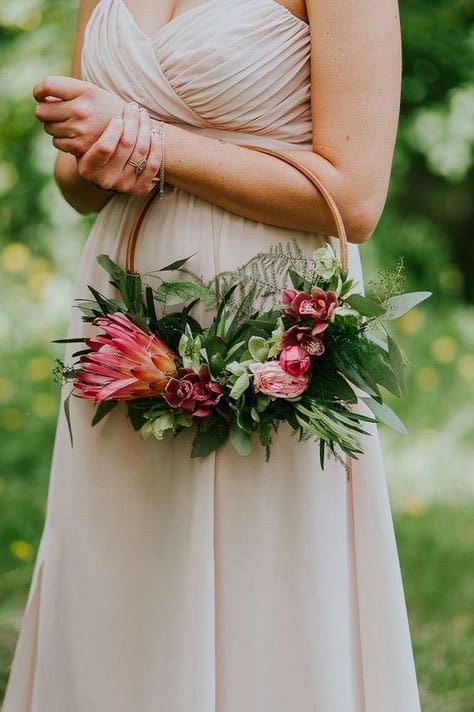 Gorgeous Greenery
A bridesmaid bouquet with no blooms at all? It may seem quirky, but this trend is as visually stunning as it is unique. Modern brides are opting for lush greenery as an alternative to flowers for their wedding day, selecting ferns, leaves, olive branches, herbs, and other greenery to create exciting, textural bouquets.
Not all-in on an all-green bouquet? Add a pop of lavender or citrus stems to pull in a touch of color. Want to go bold for your beach wedding? Carry one to three monstera leaves instead of a bouquet!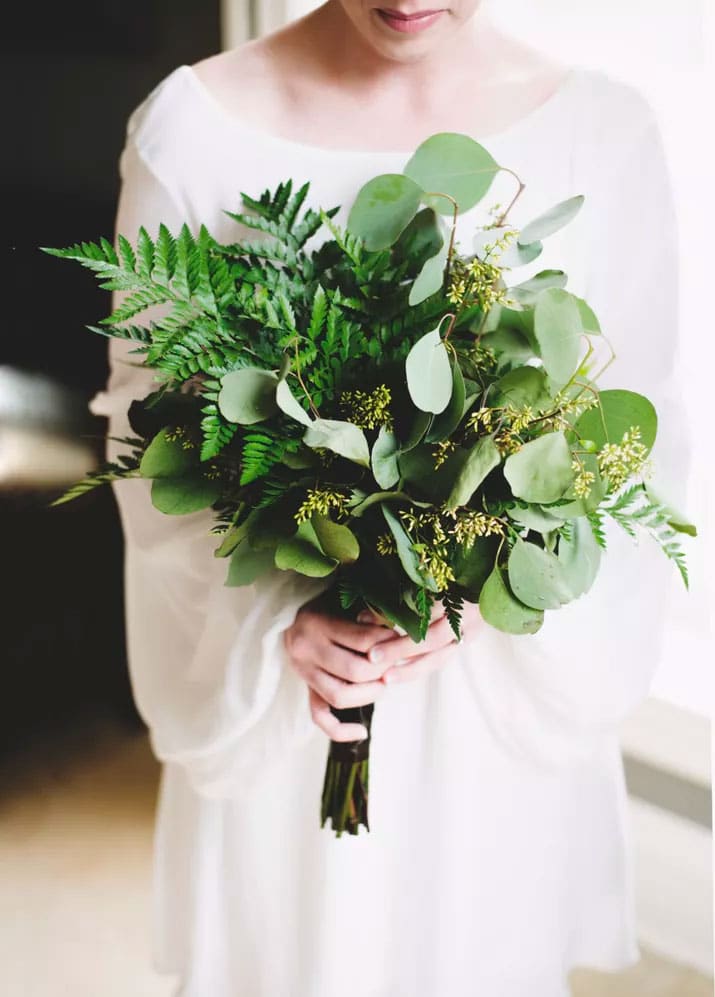 Single Stem
For a minimalist bridal party, consider a single flower bridesmaid bouquet. Select a stand-out bloom, like a rose, lily, sunflower, King Protea or your favorite flower, and have each bridesmaid carry a single stem. The final effect is elegant and aesthetic!
Book-uet
For all the bookworms out there, a "book-uet" is a fun and unique wedding bouquet alternative. Have every bridesmaid carry a copy of a book beloved by both you and your partner, or allow them to carry their own favorite! As the bride, your book-quet may be a stack of books bound together with ribbon and a few small florals.
Paper Florals
Choosing this eco-friendly flower substitute means your bridal flowers will never fade! Paper florals are beloved as bouquet alternatives for many reasons: They're budget-friendly, better for the planet, endlessly customizable, and much easier to preserve than fresh flowers. Make your own or shop the truly dizzying array of paper flowers available online.
Like the "book-uet" idea above, but still want your bridesmaids' bouquets to have that floral feel? Choose paper flowers made from the pages of real books to get the look you're after and the bookworm stamp of approval!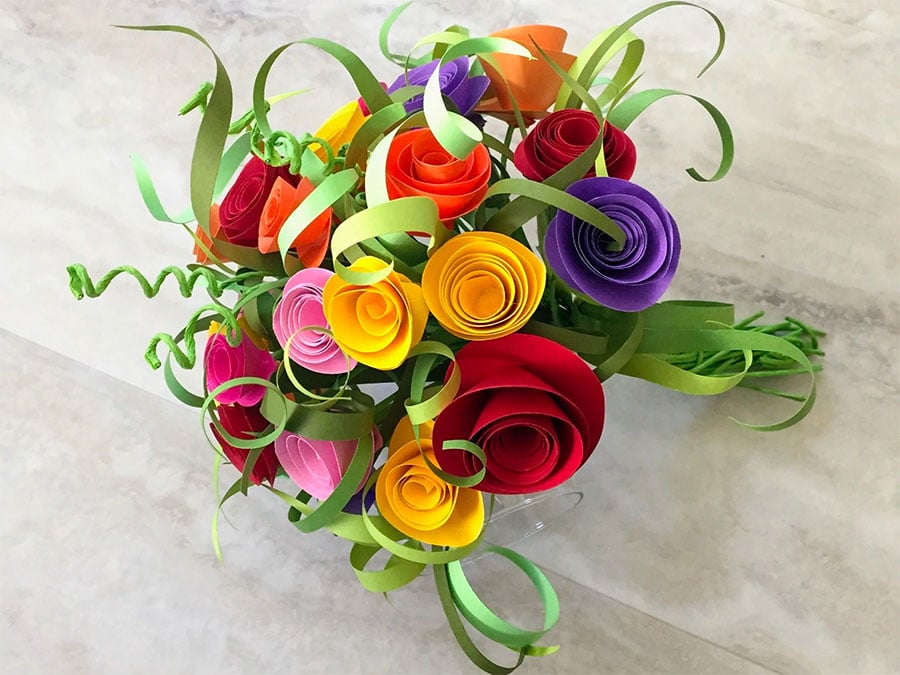 Photo by Cardstock Warehouse Paper Company
Sensational Succulents
Succulents are having a major moment. With their interesting shapes, textures, and colors, succulents are the new sweethearts of the wedding design industry. Mix in more traditional wedding flowers like roses, lilies, and greenery, or opt for neutral stems and grasses for a boho feel.
Fabulous Feathers
Are you a bride with a big personality? A feather bouquet might be for you! Your bridal party will surprise and delight your guests when they walk down the aisle with bouquets made of fabulous feathers. While opulent peacock feathers are the obvious choice, consider mixing in a variety of other feathers to create a color scheme that matches your wedding colors. Or, toss caution to the wind and have your bridesmaids carry bouquets made of brightly-colored feather boas!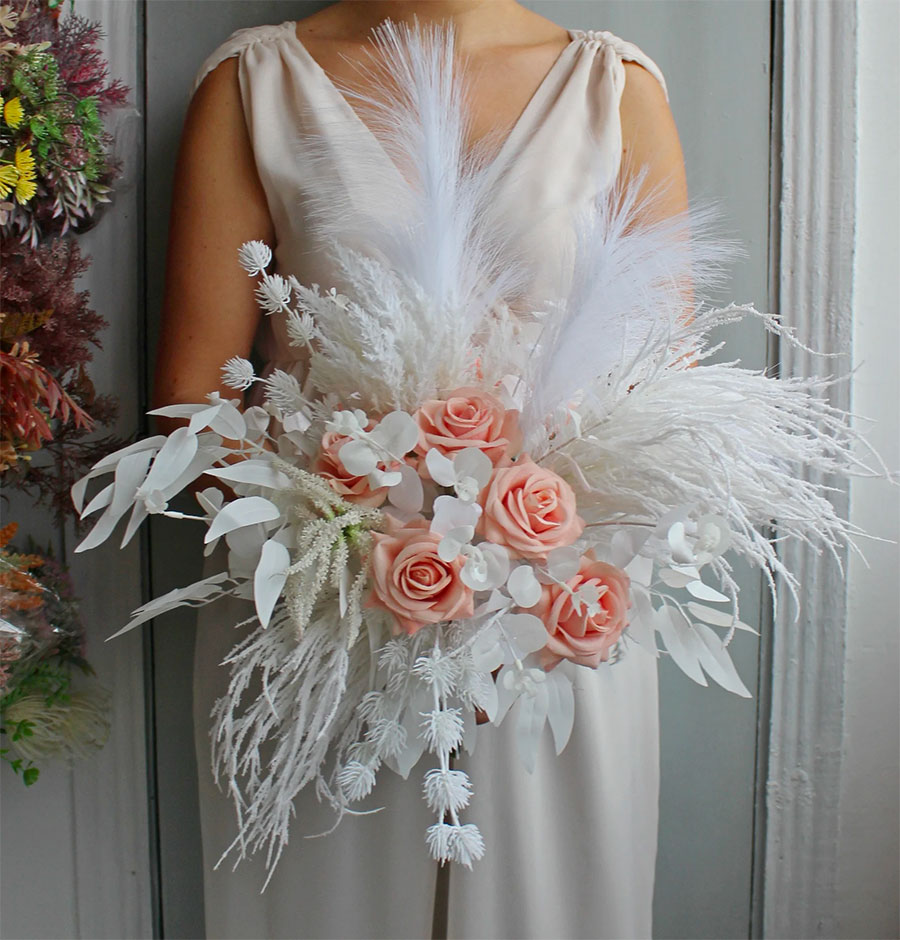 Photo by FlowerDreamsBoutique on Etsy
Candelabra Bouquet
Having a dusk, nighttime, or midnight ceremony? Your bridesmaids will light up your processional carrying candelabra "bouquets." Each member of the bridal party carries a candelabra bearing real, lit candles that will flicker and dance down the aisle. The effect is moody, romantic, and altogether awe-inspiring.
For safety's sake, choose lightweight candelabras that are easy to carry, and remember that real flames may be prohibited in certain event spaces!
Bold Balloons
If you and your spouse-to-be are all about non-traditional fun, might we suggest balloon bouquets? Your bridal party can carry a single balloon or a cluster of balloons, or even a literal balloon bouquet crafted by a balloon artist! This bouquet idea is out-of-the-box, whimsical, and colorful — perfect for the couple that can't wait to get the party started after they say "I do."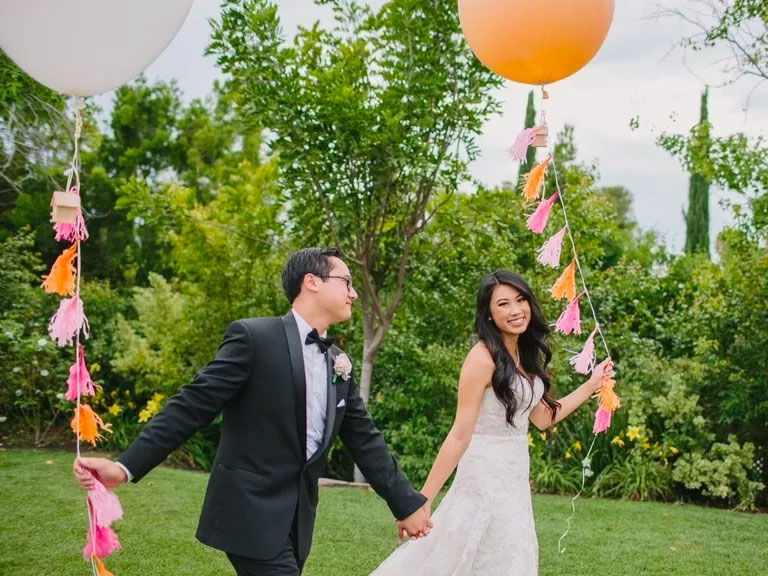 Sweet Treats
Speaking of whimsy, what about wedding flower alternatives that look good enough to eat? If your wedding theme has a touch of fun, or if your venue is a quirky spot like a fairground, a theater, or a ballpark, consider letting your bridesmaids carry cotton candy down the aisle! Spun sugar can be made in virtually any color (and flavor!) and can even be sculpted into unique shapes. The best part? Your spun sugar artist can stick around to create custom cotton candy for your guests during your reception!
Of course, the one drawback to carrying this notoriously sticky sweet down the aisle is the possibility of melting, so only choose this unique bridal bouquet option if your ceremony is indoors or in a slightly chillier climate!
Musical Bouquets
Shakespeare once wrote "If music be the food of love, play on." Have your wedding party make sweet melodies as they walk down the aisle with a musical bouquet! A tambourine, triangle, or even wind chimes can be decked out with flowers and carried as an alternative to a traditional bridesmaid bouquet. This idea is especially perfect for couples who share a love of music, or whose wedding ceremony will take place outdoors.
Fresh Fruit & Vegetable Bouquet
Now for a very different kind of edible bouquet: Fresh fruit and veggies! It may sound wacky, but using produce as wedding bouquet alternatives is a trendy way to add a fun, playful touch to your big day. Mix in a stem or two of classic wedding florals, like roses or lilies, to elevate the freshly-picked bunch, or tie it all together with straw for a rustic touch. This idea is fabulous for farm weddings, rustic-chic themes, and anyone with a green thumb!
Be sure to opt for in-season produce to get the best color and texture payoff: Think radishes, broccoli rabe and asparagus in spring; rhubarb, grapes and squash blossoms in summer; broccoli, eucalyptus and fennel in autumn, and mini squash, leeks and kale in winter.
Pet Escorts
Interested in a no-bouquet wedding? Can't imagine your big day without your fur babies in attendance? Get the best of both worlds by having your bridesmaids walk their furry friends down the aisle! Even the guests who may gasp at the idea of bridesmaids without bouquets will change their minds when they see your party walking Fido to the altar. Consider adding a few pet-friendly blooms to each dog's collar for an extra-special touch.
Cozy Fur Muffs
Winter weddings are undeniably dreamy — and often undeniably cold! Warm the hands of your bridesmaids (and the hearts of your guests) by choosing fur muffs over florals for your bridal bouquet alternatives. Simple white fur goes great with any color dress, but you could also opt for more natural colors for a rustic touch.
Ribbon Bouquet
Ribbons offer another beautiful and eco-friendly option for unique bridesmaid bouquets! Tied into a bevy of bows or shaped into everlasting flowers, ribbons are a versatile and elegant choice. Like paper or silk flowers, ribbon flowers and bouquets can be made in any color scheme, so let your creativity run wild!
5 Bridal Bouquet Alternatives
No matter what you choose for your wedding party flowers or flower alternatives, it goes without saying that as the bride, your bouquet should be the stand-out! If you didn't find your perfect bridal bouquet alternative in the bouquet ideas above, consider the following unique wedding bouquet ideas to make your own on your big day.
Symbolic Stems
In the Victorian Era, courting couples spoke the language of flowers. A red tulip given to a sweetheart meant, "I declare my love," while a daisy said, "I love you truly." Take a cue from the Victorians and incorporate some symbolic stems in your bridal bouquet!
While you and your spouse-to-be may not communicate through blooms, you likely have some flowers and plants that mean something to you and your relationship. Perhaps you have an apple tree in your backyard and would like to incorporate apple blossoms, or maybe you were presented with a bundle of carnations on your first date.
You can also choose herbs and flowers that are thought in folklore to attract certain benefits, like lavender for romance, sage for wealth, and dill for quiet children (seriously!)
Fresh Floral Accessories
Bold accessories built with florals are the latest trend for brides who want to elevate their bridal look with a touch of haute couture. Think massive flower crowns, succulent hair clips, climbing floral arm cuffs, and fresh floral necklaces. While you'll need to find a florist who specializes in these structural marvels, the extra effort will be worth the payoff when you hear the ooh's and ahh's of your guests as you walk down the aisle!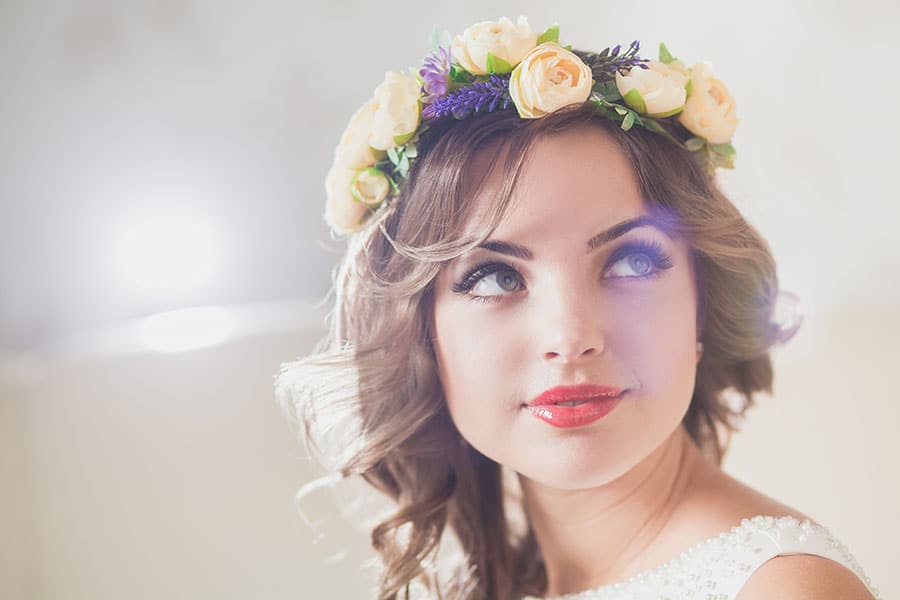 Vintage Fan
No bouquet, no problem: For hot summer weddings and brides with vintage vibes, a folding fan is a fabulous bouquet alternative! Choose a retro fan that looks as if it came straight from the Golden Age of Hollywood, or go for simple paper fans for a fun pop of color. Whatever variation of the bridal fan trend you opt for, you're bound to get style points for your unusual and playful choice!
Brooch Bouquet
A brooch bouquet is a classic bridal bouquet alternative, using vintage brooches and other jewelry in place of flowers. This is a wonderful option for non-traditional brides who would like their bouquets to have some sentimental value. Often, brides will gather brooches and baubles from the women in their life at their bridal shower to be added to their bouquet. Carrying a sparkling bouquet of "something old" from Mom, Grandma, and others can be hugely emotional and beautiful in more ways than one!
Lovely Lantern
Light up the aisle with this flower substitute! In this trend, brides and their bridesmaids carry lanterns bearing real or battery-powered candles, often decorated with some additional florals or flair. Like candelabra bouquets, this unique bouquet idea works best for an evening affair. This trend can also be especially striking if only the luminous bride carries a lantern, while her bridesmaids carry more traditional bouquets or another bouquet alternative.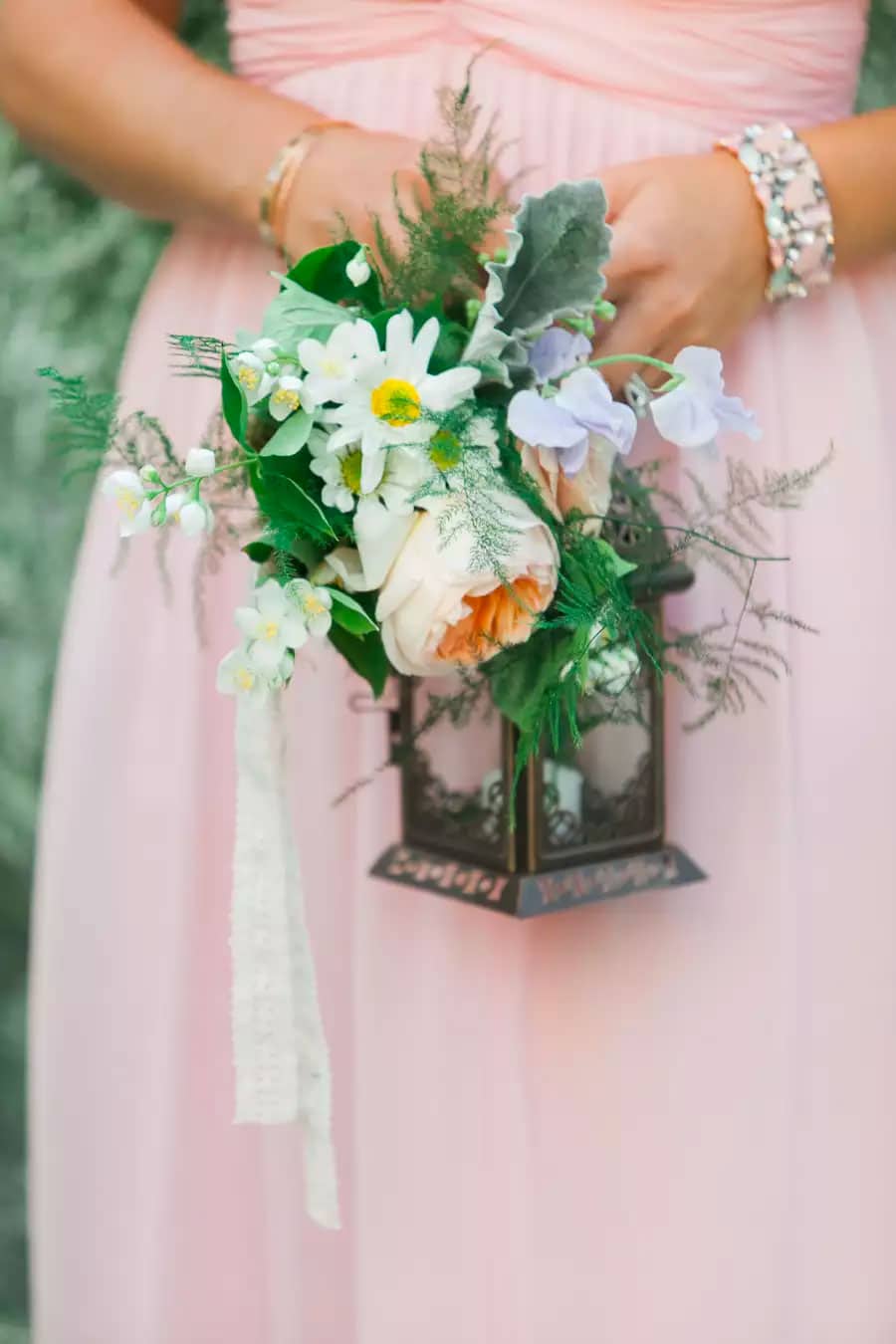 Make Your Wedding Memorable at the Heritage Center of Brooklyn Center
We specialize in truly unforgettable events at the Heritage Center, and we can't wait to help make your wedding memorable! Our expert wedding planners will work closely with you to ensure every detail of your extraordinary day is absolutely perfect. Contact us today to learn more about hosting your wedding at Heritage Center of Brooklyn Center. We can't wait to celebrate with you!