More often than not typical meeting snacks put you into a sugar coma. Break the cycle and learn which meeting snacks taste good and are good for your team too.
The promise of a great snack can motivate team members to click "Yes" instead of "Maybe" on their Google Calendar meeting invite. The best office snacks are delicious as well as nutritious — because healthy doesn't have to be boring! Check out some of our favorite snack ideas for work meetings below.
Breakfast Ideas for Work Meetings
Breakfast is the most important meal of the day but if your meeting is scheduled during the morning hours, attendees may arrive not having eaten at all. That means they'll be hungry, and hungry means inattentive. Sharpen their focus and satisfy their cravings with some healthy breakfast snacks for work meetings! The best office breakfast ideas will be:
Healthy:

While breakfast is often a decadent affair, nobody likes to start their workday feeling weighed down. Keep it light! 

Satiating:

Especially first thing in the morning, it's important that your healthy office snacks are also filling. Options with a great balance of protein, fat and carbs (like our breakfast snack ideas below) will help keep your teammates feeling satisfied until lunch. 

Fun:

Sorry, box o' bagels — the days of plain breakfast offerings are over! For the best possible breakfast meeting spread, choose food options that have an element of fun, like a build-your-own bar (see our Make-Your-Own Parfaits idea below) or novelty, like our unique Protein Balls.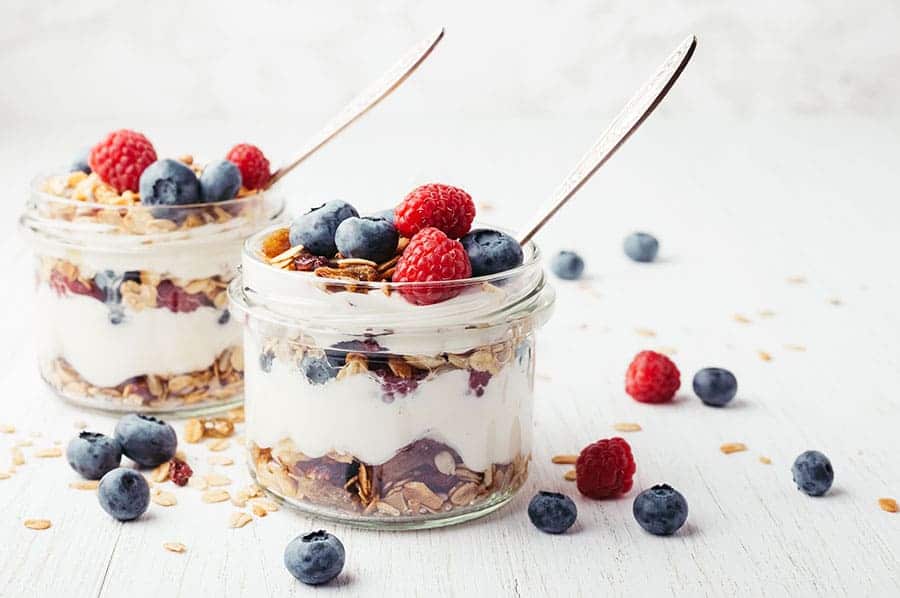 Make-Your-Own Parfaits
A make-your-own yogurt parfait bar is healthy, filling and perfect for a morning meeting! Your guests will enjoy getting to customize their own parfait with their choice of yogurts and toppings. Plus, yogurt topped with fruit, granola and other tasty tidbits is a well-balanced breakfast that sets you up for a successful workday. Typical items found on a make-your-own parfait bar include: 
Healthy Muffins
A delicious muffin can be the perfect healthy breakfast meeting food, especially if it's hearty and packed with good-for-you ingredients. Give meeting attendees a variety of healthy muffins to choose from, in addition to spreads like butter or non-dairy spread, cream cheese, jams and jellies, and don't forget beverages like coffee, tea, water and juice! Here are a few healthy muffins our culinary team loves to provide for breakfast meetings:
Orange Blossom

Lemon Poppy Seed

Apple Cinnamon

Banana Nut

Blueberry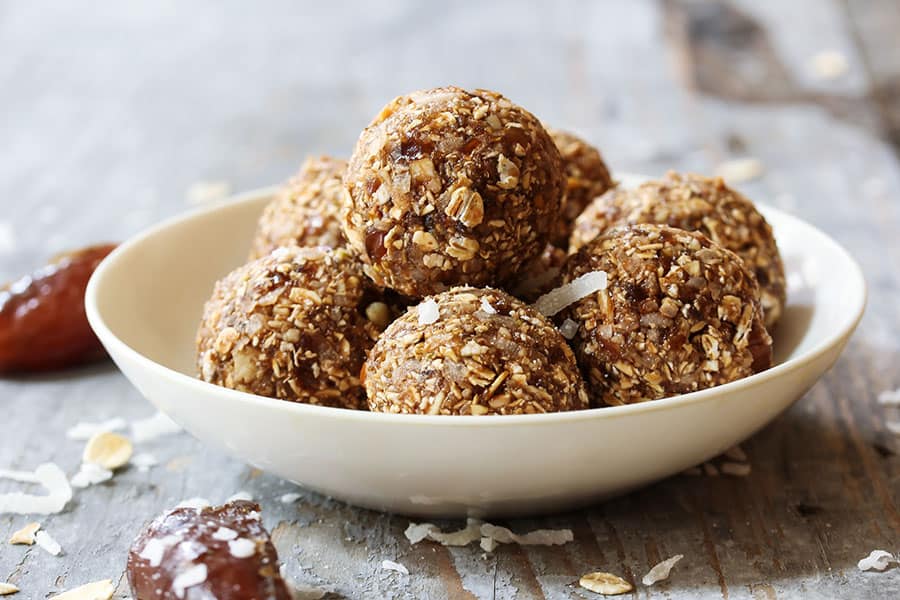 Protein Balls
Protein balls — or as we call them, Energy Bites — are super snackable, healthy little bites of deliciousness. Usually made from a blend of nuts or nut butters, fruits and oats, protein balls offer a boost of energy in the form of protein, healthy fats and carbs in perfect balance. They're a unique way to make sure the team stays full and focused! While you can get energy bites catered to your breakfast meeting by the Heritage Center's chefs, you can also experiment with making them at home by mixing and matching from the following ingredient categories:
Healthy fats:

Nuts, nut butters, coconut oil

Protein:

Protein powder, hemp seeds, chia seeds, flaxseed meal, black beans, chickpeas

Carbs:

Pitted dates, rolled oats, crispy rice cereal

Mix-ins & drizzles:

Honey, agave nectar, maple syrup, chopped nuts, chocolate chips, caramel or butterscotch chips, mini marshmallows, dried coconut, raisins, cinnamon, cocoa powder, matcha powder, espresso powder, vanilla extract, orange zest, chocolate drizzle, peanut butter drizzle
Afternoon Meeting Snack Ideas
It's a corporate meeting conundrum: Your meeting is in the afternoon, but not during the lunch hour. What snacks should you serve? 
Just like breakfast meetings, afternoon meetings need great snacks. The best food for office meetings at this time of day will be light, filling (but not too filling!) and delicious. You'll want to keep in mind that your guests may or may not have eaten lunch before attending, so your conference room snacks should hit the right balance with the perfect portion size and satisfaction. Below, you'll find some of our favorite afternoon business meeting snacks.
Hummus 
Hummus is a healthy and delicious dip made from blended and seasoned chickpeas and it's a great food for team meetings thanks to its versatility. Hummus can be seasoned with a variety of different spices and additional ingredients, like avocados, beets, edamame and even chocolate, and your options for dippables are endless! Here are some of our favorites: 
Pita bread or pita chips

Pretzels

Veggie chips

Fresh cut vegetables

Tortilla chips

Potato chips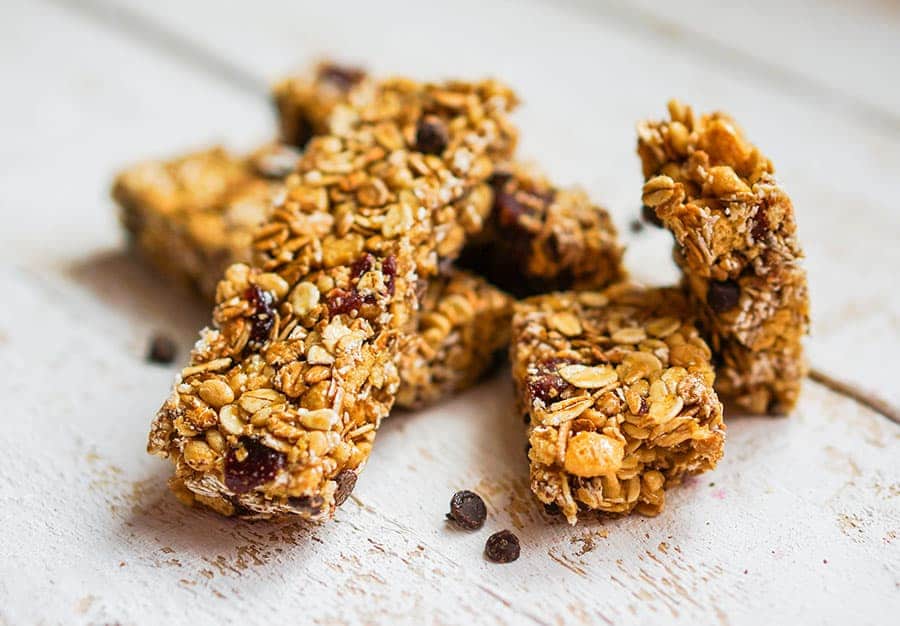 Granola Bars 
While store-bought granola bars can sometimes be little more than a candy bar in disguise, homemade or catered granola bars are a fantastic way to pack some healthy snacking into your afternoon meeting! When prepared with a balance of oats, nuts, fruit and berries, and lightly sweetened with a natural sweetener like maple syrup or honey, granola bars can be chock-full of energy and provide the satisfying crunch and chew we all want in an afternoon snack. 
Pro tip: Homemade granola bars are especially good snacks for work meetings because they don't feature their store-bought siblings' noisy packaging. Bye-bye, rustling wrappers interrupting your PowerPoint! Bet you didn't think about needing quiet snacks for meetings, eh?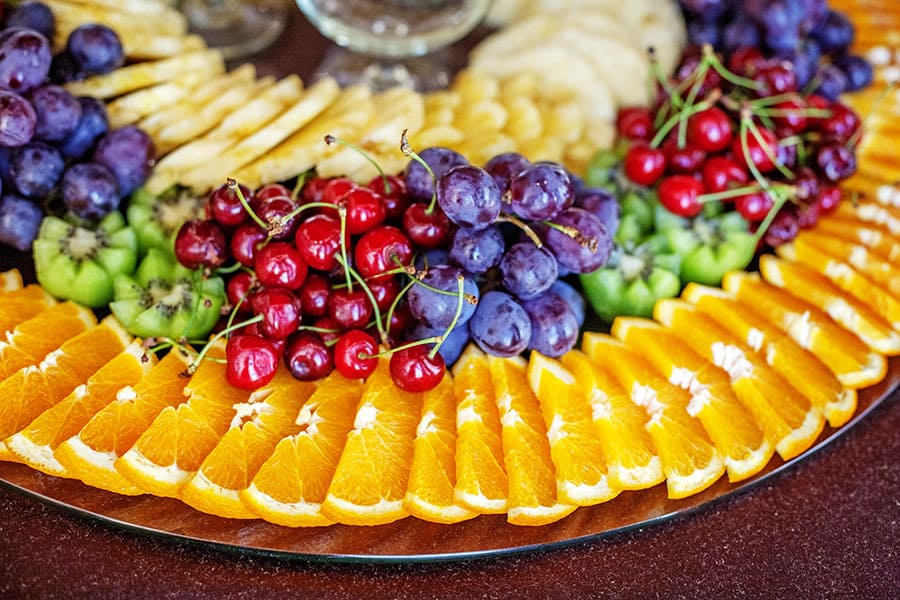 Fresh Fruit 
When it comes to healthy snack ideas for work, you can't beat fresh fruit! Fresh fruit holds an honored place in the pantheon of office snack ideas — since the dawn of the corporate meeting, there's hardly been a snack table without the ubiquitous banana, apple and orange! 
While fresh fruit may not be among the most inspired snacks to bring to a meeting, it is certainly among the healthiest. It's easy to overthink healthy snacks for work meetings, but one of the best snacks to bring to a work meeting has been sitting in your fruit bowl all along! Fresh fruit is a naturally vitamin-rich snack that provides the energy boost you need to get through the 3 PM slump. 
The best types of fruits for office meetings are the ones that are easily transportable and essentially come in their own natural packaging, like:
Apples

Bananas

Oranges

Peaches, plums or nectarines
Browse the Heritage Center of Brooklyn Center's Event Advice for More Great Office Tips
Hungry for more after reading all those great team snack ideas? Heritage Center has you covered! Check out our recent blogs to gobble up more event advice from our event planning experts! When you're ready to plan your next breakfast meeting, afternoon meeting or corporate event, the Heritage Center's event planners will be ready to help you make it extraordinary — and delicious! Our talented culinary team loves to create healthy and exciting menus for corporate meetings of all kinds. Contact us today to get started!