If you're new to corporate events, you may be asking yourself: What is the difference between "workshop" and "conference?" While you may think these two words to be essentially interchangeable, they are actually distinct types of events and have differentiators to be aware of when planning or attending them.
What Is The Difference Between "Workshop" and "Conference"
In this blog, we'll break down the differences between the most common types of corporate events, from seminars and conferences to workshops and symposiums. You'll learn about the size, duration, goals and other details of each event, plus see examples of each.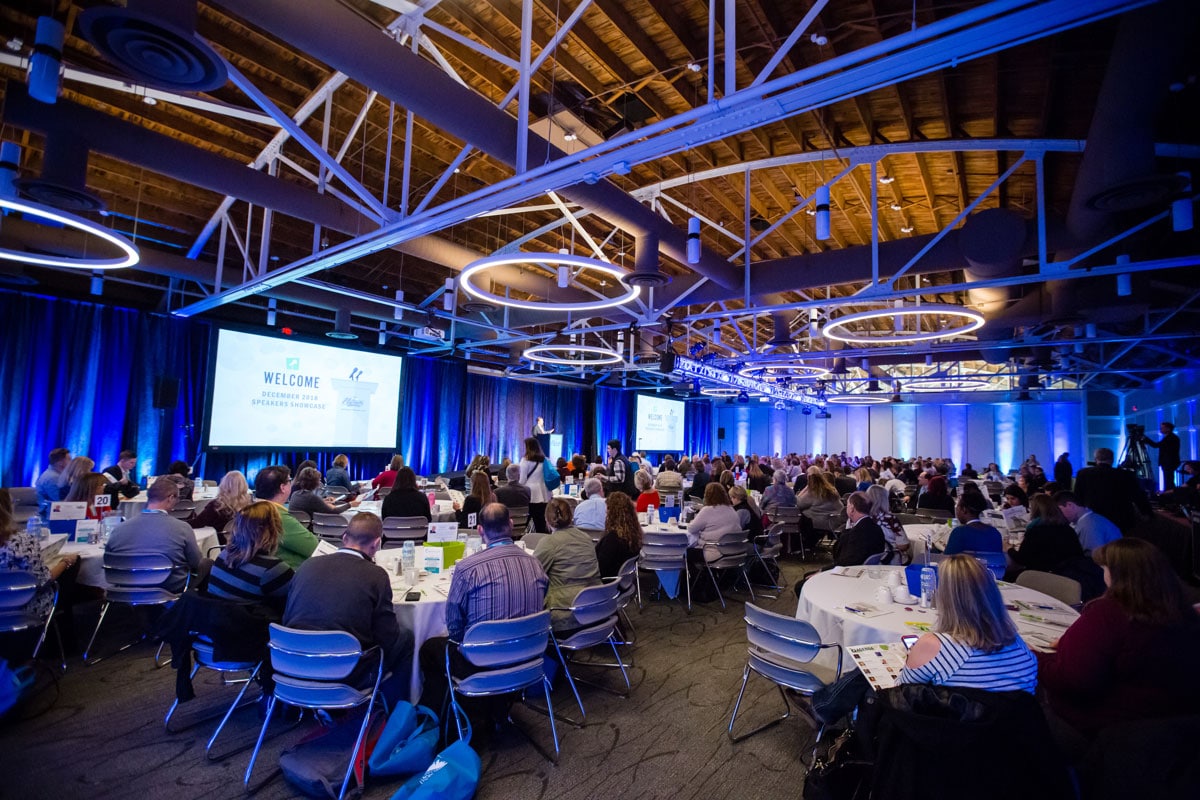 What is a Conference?
A conference is a large, formal meeting of people with shared interests, usually involving presentations, exhibitions, featured speakers, problem-solving sessions, and consultation sessions. Conferences are often used to bring together people who work within the same or similar industries, to connect buyers and sellers of certain types of products or services, or to network around a particular idea or theme. A conference theme will usually be broader than the topic of a workshop, which tends to focus on a more specific and hands-on topic.
Conferences tend to be longer events than shorter workshops and seminars. They can last several days or more and may have anywhere from 50 attendees to thousands of attendees. If the conference is large enough, you may find concurrent events in different locations throughout the conference venue, from smaller workshops to expert talks to networking sessions.
Here are some real-world examples of conferences: 
Retail Innovation Conference & Expo (RICE), which brings thousands of attendees in the retail industry to the McCormack Center in Chicago, IL for three days of exhibits, speakers and networking.
Comic-Con International: San Diego is the world's largest annual comic and pop culture conference, drawing record-setting crowds of over 160,000 attendees. 
Craft Brewers Conference & BrewExpo America, recently held in Minneapolis, delivers affordable brewing education and idea-sharing to craft brewers with the aim of improving brewery quality and performance.
South by Southwest (SXSW) is an annual conference and festival centered around film, music, interactive media and emerging technology with a variety of programming for each topic, including expert panels and speakers, a competitive film festival, parties, trade shows and more.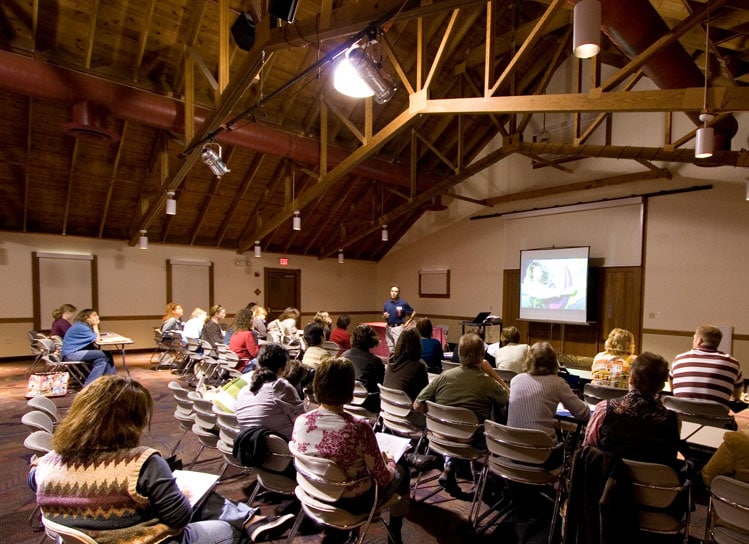 What is a Workshop?
A workshop is a shorter, smaller educational training-type event that is designed to enhance the skills of attendees from a particular industry or area of interest. Workshops are especially popular in industries where rapidly advancing technology or techniques force professionals to learn new skills or risk being made redundant. 
The key difference between a workshop and other corporate events like conferences is the hands-on element. Workshops give attendees the chance to practice their skills or learn new ones under the guidance and supervision of an expert. Workshops may involve group discussions, exercises, activities, and the practical applications of concepts learned. You might say workshops are about "doing" rather than "listening" or "networking."
It's important to remember that larger events like major conferences may also include workshops in their programming. For example, attendees might have the option of participating in a merchandising workshop during a retail industry conference. 
Here are some conceptual examples of what a workshop might look like for various industries and interests:
Social Media Marketing Workshop for professionals in the marketing industry looking to stay on the cutting edge of digital marketing solutions and best practices.
Starting a Small Business Workshop for individuals interested in starting their own business who would like to learn more about initial steps and walk away with an outline of a business plan.
Painting Light & Shadow in Watercolor, a workshop for both hobbyist and professional watercolor painters to hone their skills in a particular area of painting. 
HR Today: How to Have Hard Conversations, a training workshop for human resource professionals to learn about best practices for difficult discussions and practice their skills with others.
Other Types of Conference Events and Meetings
Of course, conferences and workshops are not the only types of corporate events you'll experience. Seminars and symposiums are both similar to conferences, but with a few key differences that we'll explore below.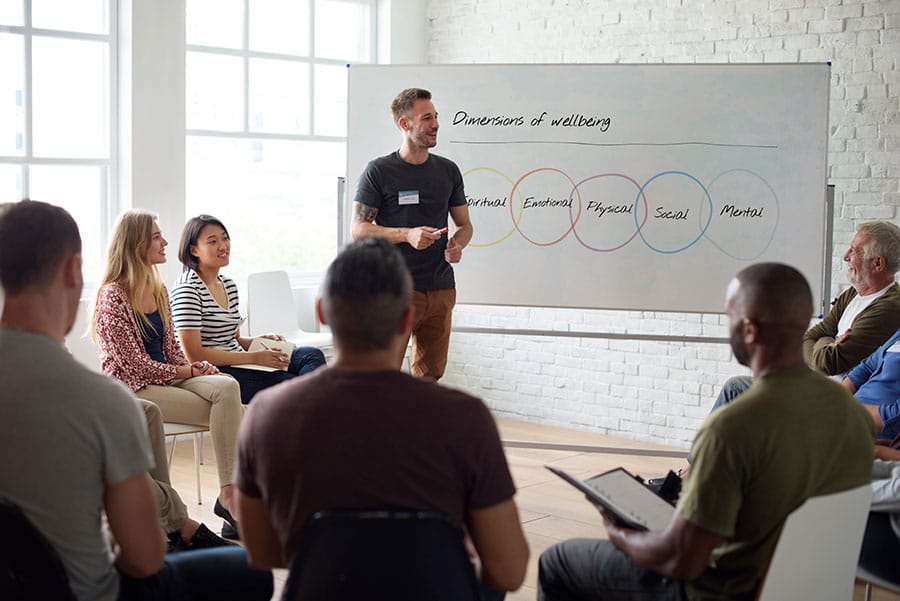 What is a Seminar?
A seminar is an academic event, usually organized by a university, college or other academic institution or professional organization, that focuses on education and discussion around a certain topic. They are often recurring, with a small group of attendees returning for each session. Attendees are expected to actively participate in the seminar by engaging in conversation on the event's topic, led by an academic who directs the discussion.
Here are some conceptual examples of seminar types and who they may benefit: 
Diversity & Inclusion in Business Seminar for business owners, managers, etc. who are interested in developing their understanding of diversity and inclusion best practices in the workplace. 
Retirement Planning Seminar for individuals interested in taking an active role in planning their own retirement. Discussions may center on participants' unique situations and the various financial options, or the seminar may have more workshop-style elements where participants create a plan to take home. 
Monthly Seminar for Young Feminists may attract attendees who identify as young feminists and who are interested in learning about of-the-moment feminist topics and engaging in spirited discussion.
How Long Do Seminars Last?
Unlike conferences and even workshops, seminars are quite short. They usually last only a few hours, with any very brief presentations or instructions scheduled for the beginning of the seminar followed by the discussion portion. 
Seminar vs Conference: Key Differences
The key differences between seminars and conferences come down to size, duration and programming:
Size: A seminar usually has a very small group of attendees, while conferences can range in size from small to very large. 
Duration: Seminars typically last no more than a single day, while conferences can range in duration from one to many days. 
Programming: A seminar will focus on one topic per session and may feature a short presentation prior to a more extensive discussion. Conferences typically offer a variety of programming options for attendees to choose from, including speakers, presentations, workshops, exhibitions and networking events.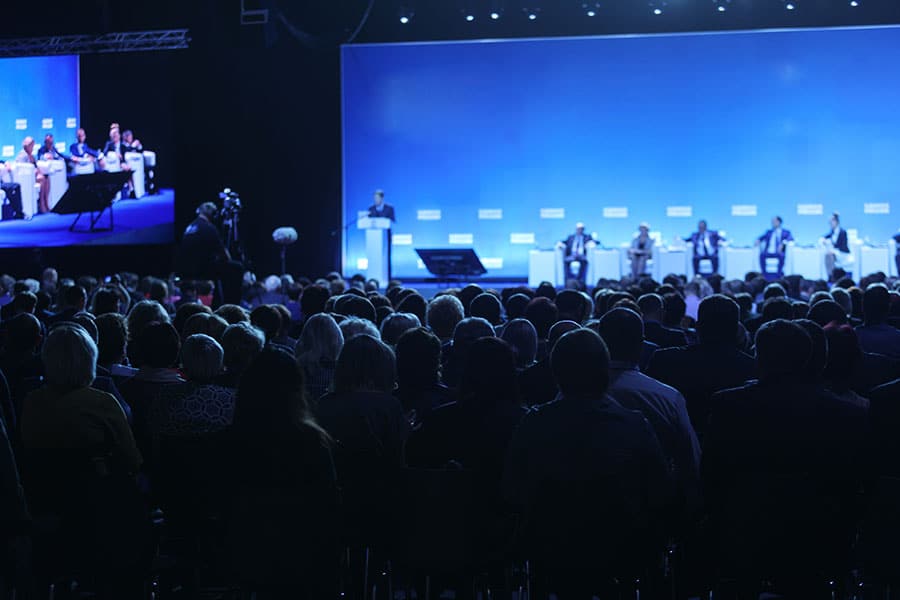 What is a Symposium?
Think of a symposium like a conference, but smaller. Symposiums gather a number of experts in a particular field or area of interest to discuss a topic. The word "symposium" may sometimes be used to describe an academic conference or even a university course that has an open discussion format.
Unlike workshops and some seminars, symposiums offer no practical activities and are focused on speakers and discussion. Symposiums are usually shorter events, lasting no more than a day, and may be quite formal due to the level of expertise featured.
Host your Next Corporate Event at the Heritage Center of Brooklyn Center
Whether you're planning an intimate seminar or a massive conference, Heritage Center's staff are the experts you need to make your next corporate event extraordinary! We've hosted every kind of corporate event under the sun, so you can trust that our planners are experienced and knowledgeable. No matter the size or duration of your event, the Heritage Center of Brooklyn Center will make the perfect backdrop! Contact us today to learn more about planning your corporate event at our historic venue.