Conferences are an ideal place for attendees to network on behalf of their company. In this blog, you'll learn how to introduce your company in a conference efficiently and effectively.
When representing the company you work for at a large event like a conference, it's important to provide your audience with all the information they need to walk away with a full picture of what your company is all about. Furthermore, you'll want to think about how to represent your team throughout the entire conference, from your booth to how you communicate with other attendees.
Read on to learn more about how to participate in a conference as a representative of your company.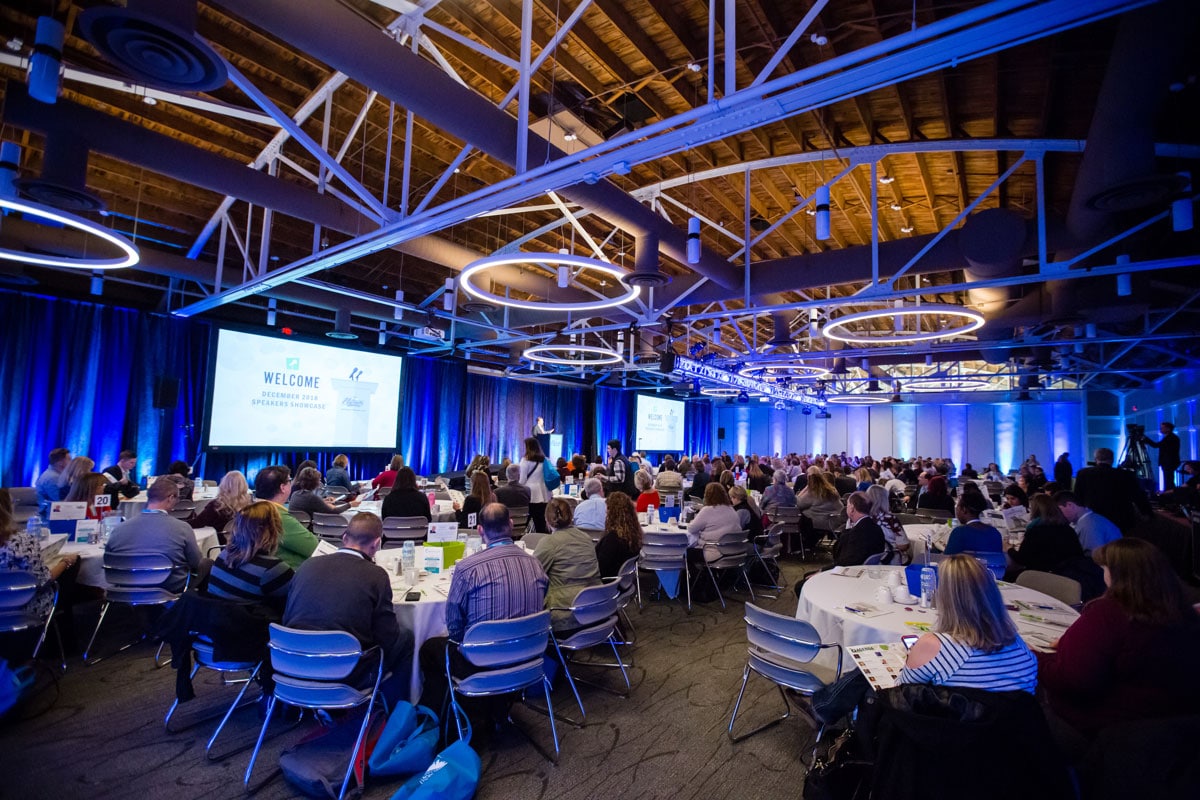 How to Introduce Your Company at a Conference
Before you even step foot inside a conference, you'll want to establish your goals for attending a conference in the first place. These could be as simple as brand development and establishing brand recognition in the marketplace, or they could be focused on a specific business goal, like driving sales leads or launching an exciting new product. Choosing how to introduce your company to a client often comes down to what you are trying to achieve.
Whatever your conference goals are, they should form the foundation of all your presentations, marketing materials, and interactions at the conference in one way or another. By keeping these in mind as you prepare to introduce your company at a conference, you'll be better able to represent company values and goals in the short- and long-term.
Whether you're making a one-on-one connection with a visitor to your conference booth or addressing a large audience at a presentation, your company introduction should generally touch on five main points:
Company Overview
Open with a broad overview of the company, including its history, industry and positioning in the marketplace, types of products or services offered, and any relevant recent accomplishments or awards. Think of this portion of your introduction as an "elevator pitch" for your company as a whole — you'll want to keep it short and to the point, while still providing the most important bits of information, i.e. who you are and what you do as a company. 

Company Mission & Values
If your company has a core mission or strongly-held values that are central to who you are as a brand and how you do business, you'll want to cover those next. This portion of an introduction is especially important for companies working on products or services that aim to better society in some way — think medical engineering, green technologies, or nonprofits — but can be equally as useful for companies in other industries that have a longstanding, defined sense of their identity as a brand. 

Featured Products or Services
Think back to the goals you established for attending a conference: Were you focused on pushing a new product or selling a specific service? Perhaps you wanted to reel in sales leads? Now is the time to highlight any products or services you'd like to feature in support of those goals. 
If there is a product you'd like to focus on, take some time to introduce the product and a brief description of what it does and how it could benefit your client. If you are selling a service, introduce that service and explain its relevance to your audience. Encourage your audience to visit your booth or otherwise reach out to you to learn more or to ask questions. In some instances, you may be demonstrating the product or offering the service at the conference itself; in that scenario, your final call to action should direct interested parties to that demo or to your booth.

Distribute Company Materials
Before your presentation or at your company booth, you'll want to distribute company materials that will be useful and informative to your audience. These can include company brochures, fact or sales sheets, product catalogs, or even something as simple as your business card with a QR code to the company website. 
Whatever you choose to have on-hand for marketing materials for your company, be sure you have enough to cover the duration of the conference. Work with your marketing or design team to ensure the materials represent your company well and support your goals for the conference. 

Call to Action
Finally, close out your company introduction with a call to action for your audience. Again, you'll want to connect your CTA back to your goals for the conference as a whole. What CTA will best support those goals? 
When speaking to a large group, this might look like encouraging them to visit your booth on the exhibition floor or check out a demonstration later in the conference. If you're speaking to a smaller group or one-on-one, your call to action might prompt your audience to join your company email list or reach out to you personally post-conference to discuss a project. 
Representing the Company You Work for at a Conference
Representing your company at a conference can be nerve-wracking. You may feel that you are as "on display" as your booth! The good news is that preparedness can go a long way toward being a comfortable, confident representative of your company. Making a good impression is key to being a top-quality ambassador for the brand. Here are some elements to consider before representing the company you work for at a conference: 
Know Your Material
Just as a professional actor must know their lines, a company representative must know their facts! Keep yourself up-to-date on your industry and your company's products and services. You should feel comfortable answering any questions during the conference and have a clear understanding of your company's unique value to the client. Again, if you have specific conference goals in mind like selling a certain product or service, you'll want to be well-versed in that product's key selling points.
Knowing your material is perhaps the most important preparation you'll do in advance of the conference, so be sure to take the time you need to feel ready! 

Keep Your Message Focused
In both your company introduction and any marketing materials you bring to the conference, it's important that your message is focused on a singular idea or goal. Whether that's brand awareness, a specific product or service, or another business goal is up to you and your leadership team, but it should be the backbone of all your communications throughout the conference. Think of your core message as your thesis statement for the entire event — what one point do you want to communicate to your audience, and how does that point support your business goals? Focusing your message not only makes it easier for your audience to remember your point, but it also makes it easier for them to remember your company as a whole. 

Stay Professional
Professionalism is important in any business interaction, but especially so at a conference. In general, you'll want to establish a professional dress code for your team and reinforce the idea that you are representing the company at all times. Even if you are on a lunch break, grabbing a post-presentation cocktail, or having dinner with your team, it's crucial that you do not say or do anything that would reflect poorly on the company. You never know who is listening! 
At your conference booth, be sure to keep things neat and clean. Ensure there is always at least one company representative at the booth at all times, and try not to eat, drink or leave trash or personal items at the booth. 

Network
As a representative for your company at a conference, you've been given an excellent opportunity to network with potential clients, employees, and peers in the industry. Take advantage of that opportunity by visiting other booths, making connections with every person who visits your booth, and distributing plenty of business cards and other company materials. 
If possible, try to stay at the hotel where the conference is held. This makes it easy to re-connect with new acquaintances and meet for coffee or lunch to develop those relationships. 

Follow Up
Your preparation, hard work, and professionalism at the conference can pay huge dividends for you and your company. After the conference, you and your team will want to dedicate a significant portion of time to follow up on any promising leads to come out of the conference. Your follow-up call or email should address the contact personally, reference your interaction at the conference, and reinforce your main message or goal one final time. If a contact showed interest in a specific product or service, now is the time to reel them in!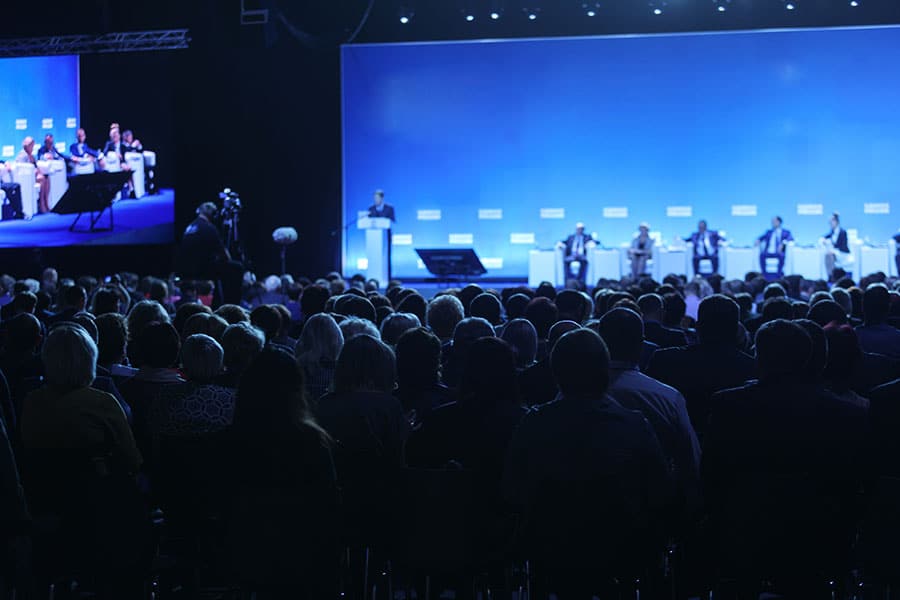 Find Conference Space in the Twin Cities
Hosting a conference in the Twin Cities area? We'd love to be your venue! The Heritage Center event planning team has executed successful conferences for a variety of industries in our versatile spaces. Contact us today to learn more about hosting your conference at Heritage Center of Brooklyn Center. We look forward to working with you!