Planning a government meeting can be a daunting and stressful experience. In addition to the typical meeting concerns, such as staying on task and keeping attendees engaged, many policies add another layer to planning meetings. In order to hold government meetings that are not only efficient but effective and compliant, consider the following tips when planning your next one.
Venue Choice
There are many things to consider when selecting a location to host your event. Ample parking, proximity to an airport, accessibility, size, and pricing are all important aspects. A venue that offers all-inclusive package deals (meeting room space, break out space, food, etc.) can make budgeting ahead of time much easier for government officials. These packages save you from extra fees popping up at the end and add the flexibility of space use without extra rental charges. Another factor to consider is a venue that offers government pricing year-round, demonstrating the interest in developing an ongoing relationship.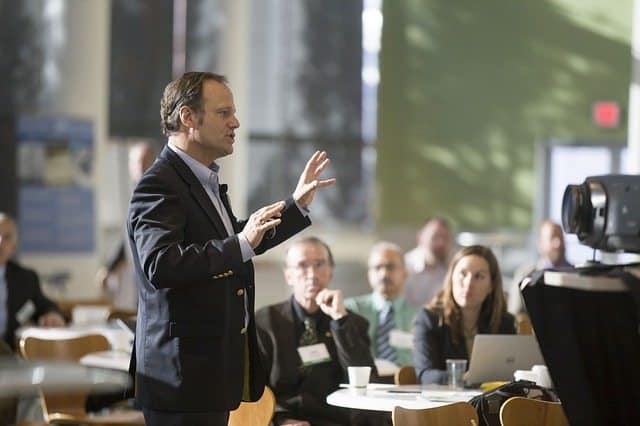 In addition to pricing, finding a venue that is on the GSA schedule and/or a member of IACC can make planning so much easier. Margo Palmer, a senior government sales manager for the National Conference Center advises, "[Government planners will] eliminate a lot of time, extensive processes and market research by choosing a venue already on the GSA." Venues on this list have gone through the process of getting listed – meaning it has laid the groundwork for the process of hosting federal events.
Meeting Organization
Organizing a meeting can take many shapes, but it is most important to state the purpose and direction at the beginning so everyone starts on the same page. Organizational Coaches and Consultants often recommend using P.O.P. – Purpose, Outcomes, Process – to structure your meeting.
To keep the meeting moving along and on task, consider the use of technology and visual aids. These tools can effectively divert conversation or attention if the meeting starts to go astray by giving the facilitator easy segways and redirects.
Attendance
A commonly overlooked factor in planning an efficient and effective meeting is understanding who will be in attendance. Make sure the attendees are adding real value to the meeting. Do you have extroverts and introverts? Utilize a variety of processes for engaging all types of thinkers and learners.
The Aftermath
One of the most important ways to make a meeting effective happens AFTER the meeting is over. Following up and holding people accountable is key to progress. This ensures that starting the next meeting with reports on the previous meeting's progress will be efficient and productive rather than an awkward display of forgetfulness. Sending out meeting minutes promptly will give attendees their tasks in writing. An email or phone call to gently remind everyone of their commitments will help keep tasks moving along. Sometimes following up with the entire group about what has been completed (positive reinforcement) can motivate others to stay on track.
With thorough planning ahead of time, a great venue choice, and good follow-up, your next government meeting will be a huge success without a lot of headaches or wasted time. Contact us to learn more about how we can help.