Music plays a critical role in creating the atmosphere of an event, and your wedding reception is no exception! The right wedding party entrance songs can create an unforgettable moment that sets the tone for the entire evening. Choosing the perfect playlist of entrance songs can be a daunting task for any bride or groom. With so many options available and so many factors to consider, it's easy to become overwhelmed. That's where we come in! 
The Heritage Center of Brooklyn Center has hosted many successful wedding receptions. We're here to offer our expert advice and guidance to help you choose the perfect entrance songs that will set the right tone for your wedding reception and get your guests excited to dance the night away. 
In this blog, we'll provide a comprehensive guide to choosing the perfect wedding party entrance songs, including tips on how to choose the right genre, what details and factors to consider, and lists of the best wedding party entrance songs by group. By the end of this blog, you'll feel confident about choosing the perfect entrance songs that will make your wedding reception unforgettable! 
The Heritage Center of Brooklyn Center has the perfect venue space for your Minnesota wedding reception!
Who Can Have A Wedding Reception Entrance Song?
Typically, for couples who choose to do entrances at their reception, wedding reception entrance songs are played for the bride and groom, bridesmaids, groomsmen, flower girls, and ring bearers. However, some couples may include other family members or special guests in the entrance procession and choose songs for them as well. 
At the end of the day, the decision on who can have a wedding reception entrance song is up to you and your preferences  — anyone at your wedding can have a big moment if you'd like them to! Here are the most common groups to have their own unique wedding reception entrance songs: 
Bride and groom

Bridesmaids

Groomsmen

Flower girl(s)

Ring bearer(s)

Parents of the bride & groom

Grandparents of the bride and groom

Ceremony ushers 

Officiant or minister

Special guests, such as close friends or family members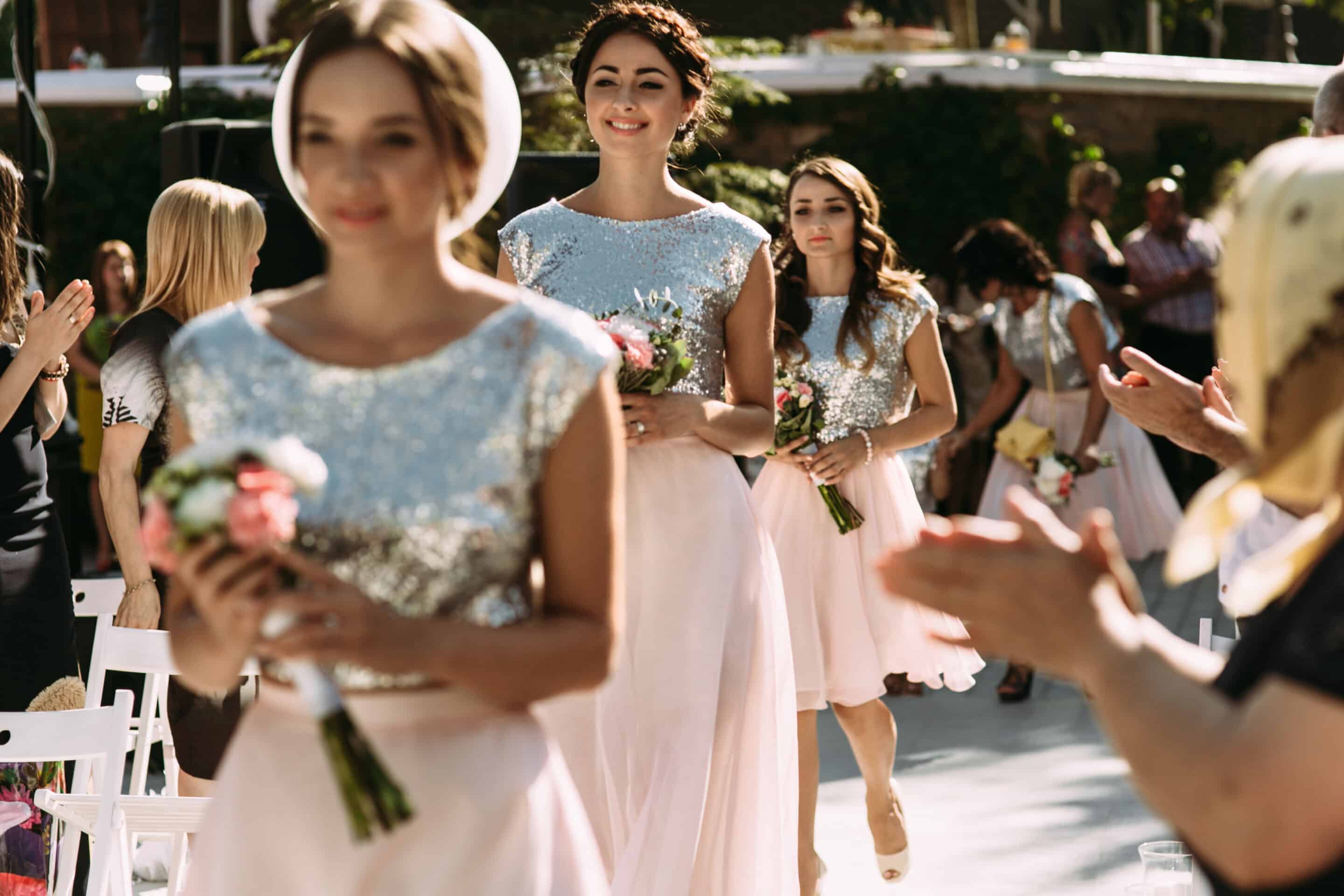 Bridesmaid Entrance Songs
In the immortal words of Shania Twain: Let's go, girls! As your bridesmaids enter your wedding reception, you'll want the song playing to be a fun, sing-a-long worthy number that reflects the personalities of the women in your group. Consider the artist, style and genre of the song, in addition to its lyrics and the appropriateness of the song for your guests. For bridal party entrance songs, energy is everything, so try to pick a song that matches the vibe you want to create for the rest of the evening. 
Your final choice of song should set an exciting mood for your bridesmaids' entrance and make these important women in your life feel on top of the world as they enter the reception. Here are some of our favorite fun wedding entrance songs: 
"Grrrls" by Lizzo

"Girls, Girls, Girls" by Motley Crue

"Wannabe" by Spice Girls

"Fancy" by Iggy Azalea ft. Charli XCX

"Like a Girl" by Lizzo

"Womanizer" by Britney Spears

"Formation" by Beyoncé

"Happy" by Pharrell Williams

"Man! I Feel Like a Woman!" by Shania Twain

"Girls Just Wanna Have Fun" by Cyndi Lauper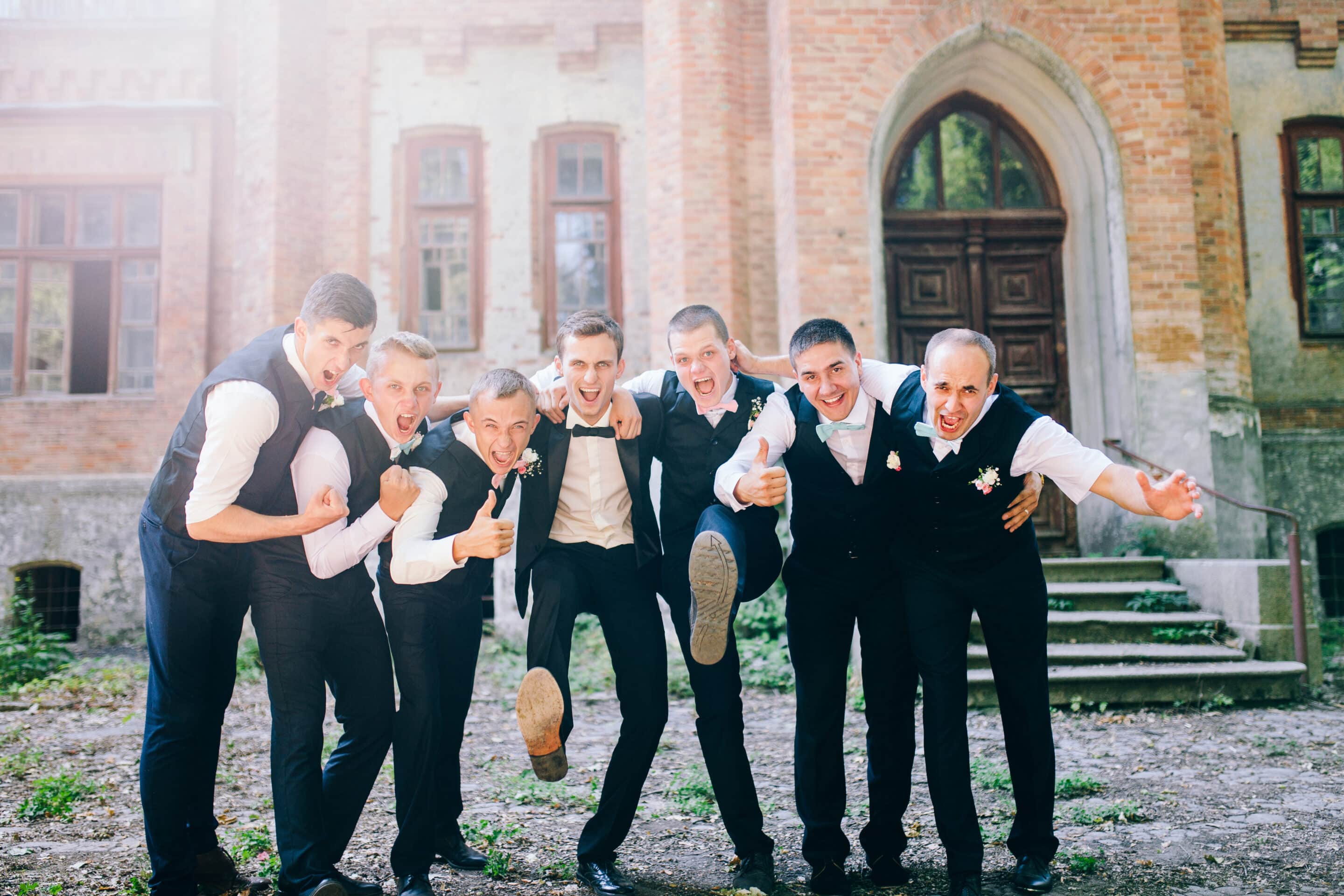 Groomsmen Entrance Songs
The boys are back in town! As with all entrance song choices, it's important to consider the tone and atmosphere that you want to create. You should think about the style and genre of music that will best represent your groomsmen, their unique personalities both as a group and as individuals, and the energy that you want to bring to the reception.
Ultimately, you'll want to choose a song that will make your groomsmen feel hyped and confident as they enter the reception, while also fitting with the overall vibe of your wedding day. Here are some of our top choices of wedding intro songs for groomsmen that cover a range of genres and energy levels: 
"Can't Hold Us" by Macklemore & Ryan Lewis feat. Ray Dalton

"Sweet Child o' Mine" by Guns N' Roses

"September" by Earth, Wind & Fire

"24K Magic" by Bruno Mars

"The Way You Make Me Feel" by Michael Jackson

"I Want You Back" by The Jackson 5

"Crazy Little Thing Called Love" by Queen

"Footloose" by Kenny Loggins

"The Boys Are Back in Town" by Thin Lizzy

"Thrift Shop" by Macklemore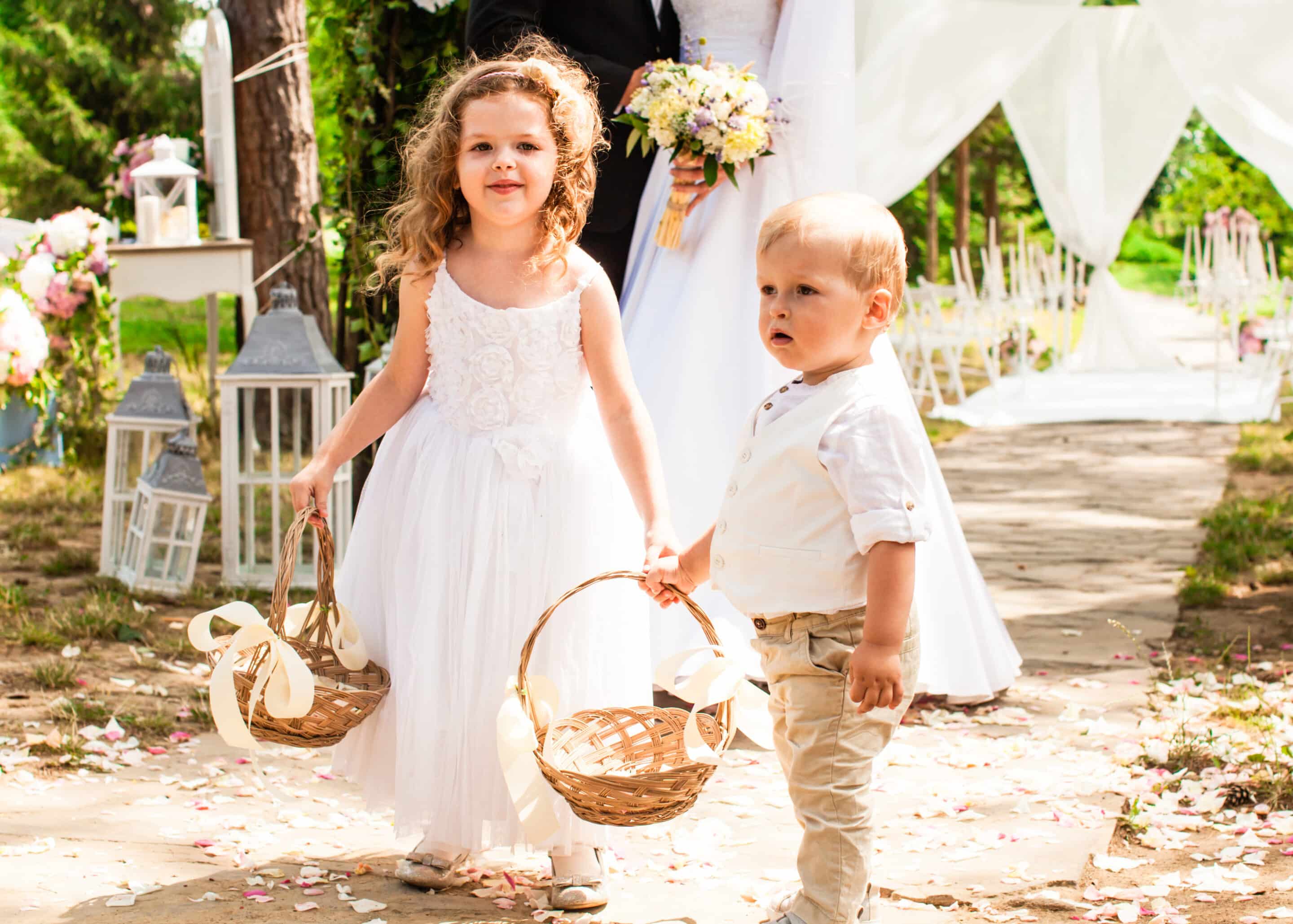 Usher & Other Wedding Party Intro Songs
For larger weddings and wedding parties, you may choose to have special entrances for your flower girl, ring bearer, ushers, parents, etc. A good rule of thumb for these additional entrances is to choose crowd-pleasing songs without any explicit lyrics, especially for introducing children or older adults in your wedding party. Classic, upbeat wedding reception songs are easy go-tos for these intro songs — here are some of our favorites: 
"I Got You Babe" by Sonny & Cher

"Walking on Sunshine" by Katrina & the Waves

"I Got You (I Feel Good)" by James Brown

"Celebration" by Kool & The Gang

"Shut Up and Dance" by Walk the Moon

"I'm a Believer" by The Monkees

"Happy Together" by The Turtles

"Dancing in the Street" by Martha & the Vandellas

"Sweet Caroline" by Neil Diamond

"I Will Always Love You" by Whitney Houston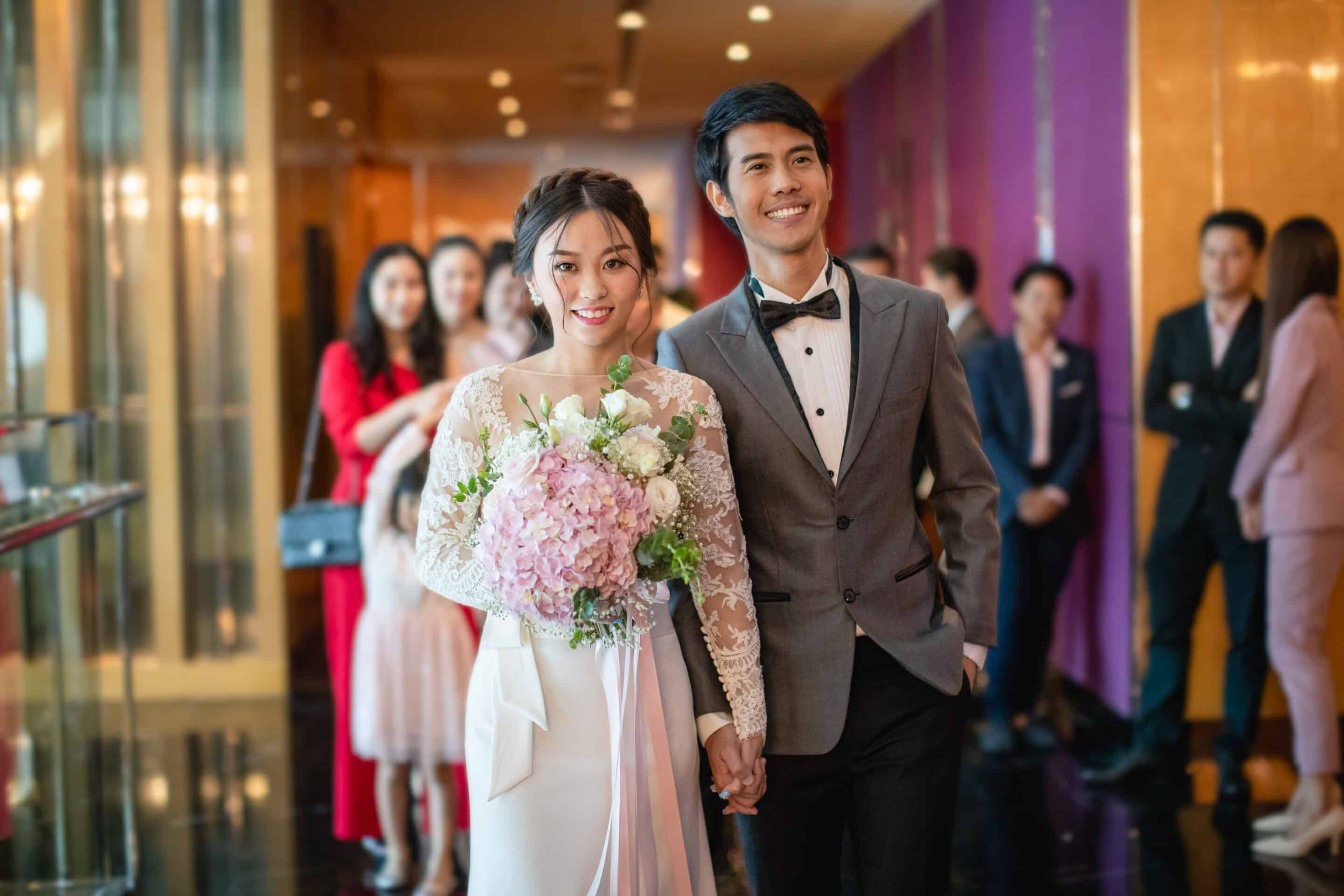 Bride And Groom Entrance Songs
It's your big moment! To choose the perfect entrance song for you and your new spouse, start by considering the overall mood of the reception, your personality as a couple, and any specific lyrics or themes that are meaningful to you. 
Your choice of genre will go a long way in setting the mood and vibe of your entrance and your reception as a whole — for example, pop music is upbeat and accessible to a large range of guests, so it will create a lively atmosphere, while classical or jazz music will create a more romantic, sophisticated tone. 
Here are some of our favorite bride and groom reception entrance songs that run the gamut of music genres: 
"Crazy in Love" by Beyoncé feat. Jay-Z

"Ain't No Mountain High Enough" by Marvin Gaye & Tammi Terrell

"You Are the Love of My Life" by Sam Cooke

"Can't Help Falling in Love" by Elvis Presley

"The Power of Love" by Huey Lewis & the News

"All of Me" by John Legend

"L-O-V-E" by Nat King Cole

"At Last" by Etta James

"Perfect" by Ed Sheeran

"I Choose You" by Ryann Darling

"Happy Together" by The Turtles

"Dancing in the Street" by Martha & the Vandellas

"Sweet Caroline" by Neil Diamond

"I Will Always Love You" by Whitney Houston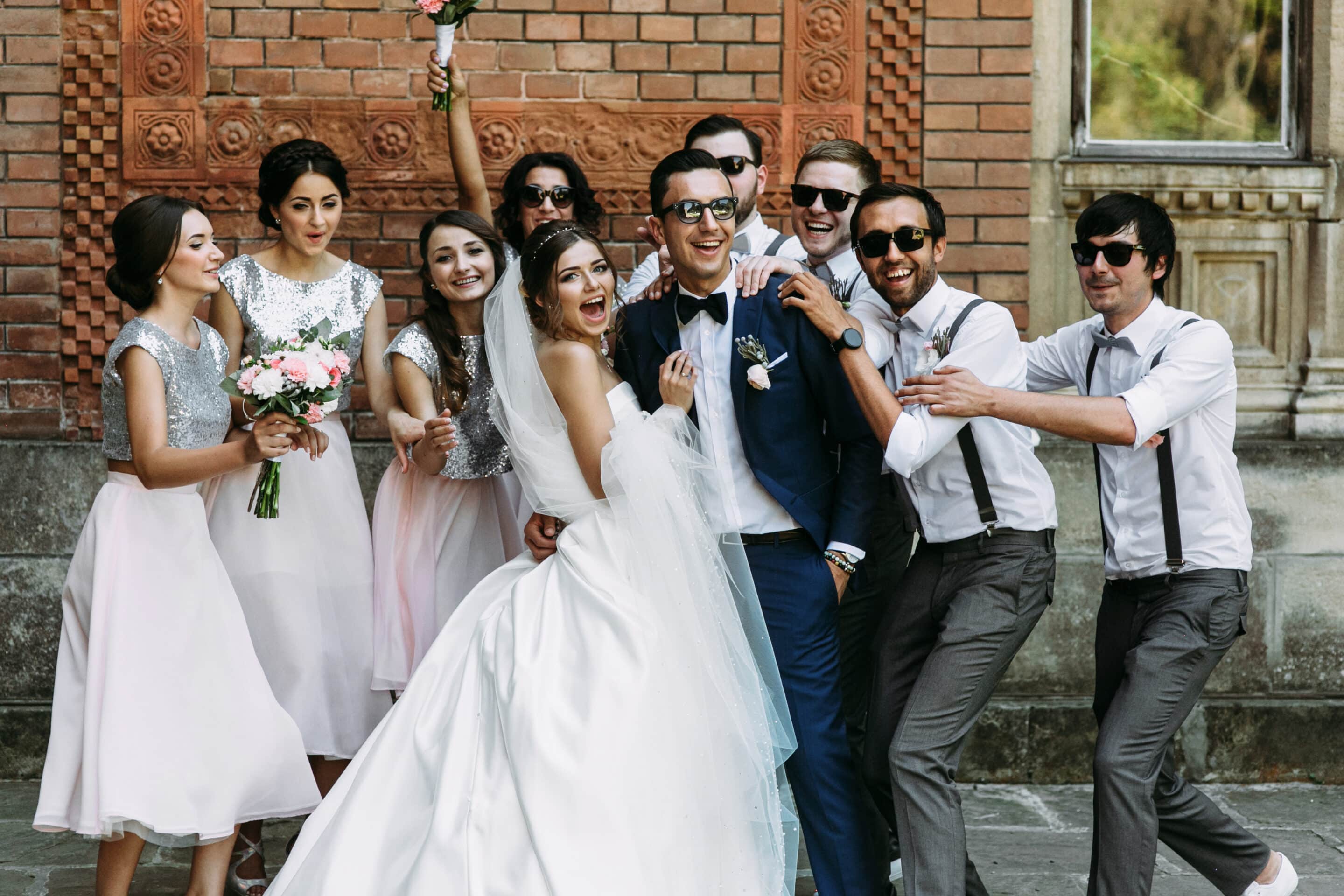 Fun Wedding Party Intro Songs
The following is a general list of songs that are just plain fun! While not necessarily meant for a specific portion in your wedding party, they could easily be applied to any group that will be making an entrance. You could also use these songs for your dollar dance, or add them to your general reception playlist to get the party started. 
"Uptown Funk" by Mark Ronson feat. Bruno Mars

"I Wanna Dance with Somebody (Who Loves Me)" by Whitney Houston

"Love Shack" by The B-52's

"Footloose" by Kenny Loggins

"Can't Stop the Feeling!" by Justin Timberlake

"September" by Earth, Wind & Fire

"Shake Your Body (Down to the Ground)" by The Jackson 5

"24K Magic" by Bruno Mars

"Mamma Mia" by ABBA

"I Believe in a Thing Called Love" by The Darkness
Picture your perfect wedding day at the Heritage Center of Brooklyn Center!
Things To Consider To Choose the Best Bridal Party Entrance Songs
While the ultimate deciding factor in your bridal party entrance songs should be your personal preferences and tastes, there are a few other things to consider when choosing your playlist that will help ensure everyone has a good time: 
Age appropriateness:

Don't forget to consider the age range of the wedding party and guests. Some songs may have lyrics or themes that are not appropriate for children or older family members, who may be offended by explicit lyrics.

Song length:

It's important to consider the length of the song chosen for each entrance, especially if there are multiple entrances. Longer songs may result in guests losing interest or becoming restless during the entrance.

Volume:

The volume of the music should be appropriate for the venue and the time of day. If the reception is in

a smaller venue

or takes place later in the evening, the volume should be kept lower to avoid disturbing nearby residents or guests who may have young children. Some venues will have noise restrictions regarding volume and duration of music, so be sure to

ask your wedding planner or venue manager

about any relevant limitations during your venue tour or planning process.

Genre & style:

Your personal taste as a couple and the overall tone of your wedding should factor in when choosing entrance songs. The songs should be a reflection of your unique personalities and fit the overall vibe of the wedding.

Meaningfulness:

Many couples choose songs that have a special meaning to them, whether it's a song from their first date or a song that holds fun memories for them and their wedding party.

Cultural & religious considerations:

If you, your spouse, or your families have cultural or religious backgrounds that are important to them, be sure to consider the appropriateness of your song choices through the lens of that background.

Timeless vs. trendy: You may feel compelled to choose songs that are popular and trendy at the time of your wedding, but it's also important to consider whether these songs will still be relevant and enjoyable years down the line. Choosing more classic songs may help ensure that the music will be crowd-pleasing and timeless, even years after the wedding.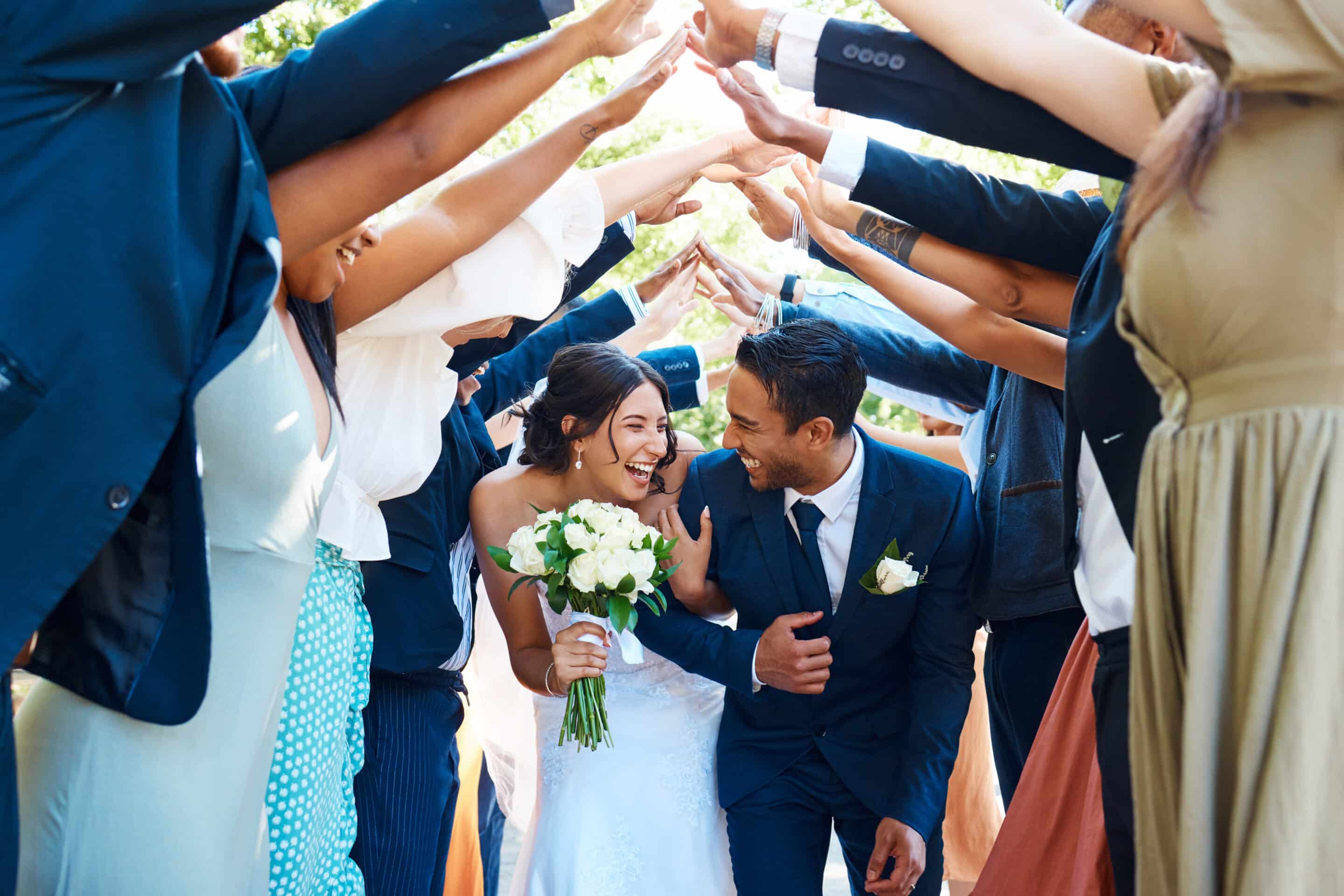 Have Fun At Your Wedding Reception At The Heritage Center Of Brooklyn Center
Host the wedding reception of a lifetime at The Heritage Center of Brooklyn Center! Our versatile spaces are perfect for groups of all sizes, and our dedicated planning staff is experienced at helping couples plan fun, memorable celebrations. Contact us today to connect with one of our planners and start envisioning your dream wedding reception!