Earle Brown has been the location of many beautiful memories over the years and Steph and Drew's wedding was no exception! Their day was surrounded by family and friends celebrating their love in the most perfect setting. Enjoy photos of their inspiring wedding featuring some of the best aspects of Earle Brown.

Garden City Ballroom
The wedding's decor highlighted the huge rafter ceiling in our Garden City Ballroom. Draped tulle and lights hung from the ceiling. Each table's centerpieces had roses with eucalyptus arrangements reminiscent of the gardens in the courtyard just outside. Their guests had plenty of room seated at round tables for most of the celebration and special reserved seats were in traditional rows to view the ceremony. It was the perfect accommodation and decorated beautifully!
The Courtyard Fountain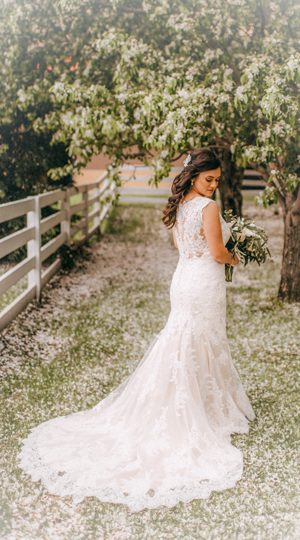 At Earle Brown, there are endless picture perfect outdoor landscapes. Drew and Steph took advantage of the huge fountain in The Courtyard for a stunning photo of the new husband and wife. More photo opportunities were taken in front of our historic buildings and even in the glass walkway between the venue and hotel. Drew and Steph found a flowering tree that provided a magical backdrop for close-ups and photos of the bride in her wedding gown. 
Family Over Everything
One aspect that made Steph and Drew's wedding unique was that their young children played a special role. Their daughter and son made the perfect flower girl and ring bearer! Each carried a handmade sign as they walked down the aisle. The venue, decor, and environment at Earle Brown would mean nothing if it wasn't for the people who enjoy it. Surrounded by their family, Drew and Steph vowed forever to each other in front of the people who mean the most to them!
We hope the joyful experience of Drew and Steph's wedding at Earle Brown stays with all who attended for a long time. It was certainly memorable for us! You, too, can have the wedding of your dreams by taking advantage of our Perfection by Design wedding services. Contact Earle Brown to learn more today!