Outdoor proposals add a memorable experience and a great opportunity for pictures for an engagement. Discover our favorite outdoor proposal ideas for your engagement below!
Read on to explore our top 15 outdoor proposal ideas to make your engagement truly spectacular.
Memorable Outdoor Proposal Ideas
Planning to propose soon? An outdoor proposal lends itself well to breathtaking photos and memories that will last a lifetime! With so many outdoor activities and settings to choose from, it's easy to find a fun and romantic way to pop the question. Here are our favorite memorably outdoor proposal ideas: 
Backyard Proposal
You don't have to go far to find the perfect proposal spot—there's one right in your own backyard! Whether you choose your own backyard or the backyard of a family or friend's home, this outdoor proposal idea is intimate and personal. It's also incredibly versatile; opt for elevated backyard proposal decorations like string lights, lanterns or candles and call in a string quartet and photographer, or keep it simple at a backyard barbecue or bonfire. There are a ton of great backyard proposal ideas to explore, from a dreamy night backyard proposal under the stars to surprising your loved one with a backyard filled with your closest family and friends ready for an impromptu celebration. Sometimes the best proposal idea is the one that's closest to home!
Hiking Proposal
If you and your sweetheart are avid hikers or outdoor enthusiasts, a hiking proposal may be just the idea you've been looking for! If you're thinking about proposing on a hike, consider planning a trek to a scenic spot they've always wanted to explore, or revisit the first trail you ever hiked together. If you're hiring a photographer to capture the moment, be sure to work out the logistics well in advance, like choosing the best shooting spot and ensuring they can drive (or take a brief, non-strenuous walk) to wherever that is.
Mountain Proposal
A proposal on a mountaintop may well be the pinnacle of outdoor proposals, and it's easy to see why: Your photos and memories will be spectacular! Like a hiking proposal, this idea is best for couples who are already interested in scaling a mountain—if your spouse-to-be isn't big on physical activity, you may want to look into less adventurous proposal ideas, or arrange a romantic gondola ride to the peak. While this romantic outdoor proposal idea also involves a degree of logistical planning, you'll find it's well worth it to hear your sweetheart say "Yes" against a stunning backdrop of sky and stone.
Winery Proposal
Wineries can be a deeply romantic place to pop the question, not least of all because they're sure to have something sparkling on hand to toast with afterward! Plan a tour of the winery and get down on one knee amid the sprawling vines, or have an intimate moment during a luxurious wine tasting. This proposal idea works especially well when incorporated into an existing romantic trip to California's wine country or France's many famous wine regions.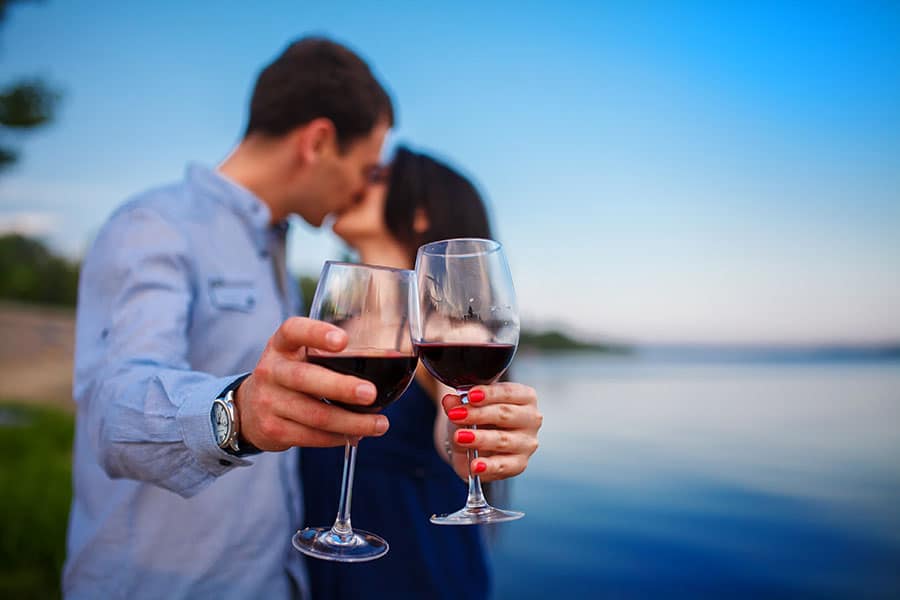 Lake Proposal
Hey, we're Minnesotans—you didn't think we could go a whole blog without mentioning a lake, did you? All kidding aside, lake proposals are great for couples who spend all week looking forward to a relaxing weekend at their cabin or lake home. If you have a lake that is special to you as a couple, or if you like the idea of rolling your proposal into a lakeside vacation, this is an easy and romantic proposal idea. Consider taking a lakeside stroll at sunset or taking a boat out to get the most visual bang for your buck.
Patio Proposal
For the couple that loves to hit the town, a patio proposal could be just the ticket. Your favorite outdoor patio at the brewery, favorite restaurant, or music venue can make for a fun and unexpected proposal spot. Just remember that it may not be private, so if you or your significant other is introverted or not interested in a public proposal, you may want to skip this idea and opt for something more intimate, like a backyard proposal.
Forest Proposal
Camping in your favorite forest or going leaf-peeping this autumn? Now's your chance to plan the perfect forest proposal! This is one outdoor proposal idea that needs virtually no set-up or decorations: Just let the natural splendor and beauty of your surroundings do what they do best!
You'll definitely want a photographer to capture the moment in this photogenic setting, so either work with your photog in advance to determine the best "hiding" spot to shoot the big moment or come up with a cover story to conceal why they're along for the adventure. Maybe you or your loved one are being "featured on an outdoors blog" or similar, hence the need for photos. Get creative—the spectacular photos will be worth the little white lie!
Downtown Proposal
Outdoor proposals can be more than rustic and woodsy. The downtown district of your favorite city is an outdoor proposal destination, too! For the couple who leans toward more urban leisure-time pursuits like dining, theatre, and other arts and culture events, a downtown proposal can be the perfect fit. Choose your favorite date spot, the place you had your first date or drink together, your old stomping grounds—whatever downtown location feels right for you and has the ideal balance of romance, fun, and significance.
Perhaps the best part about planning a downtown proposal is how easy it is to "hide" a photographer to capture the moment. Your partner will have no idea that the person sipping a latte one table over has actually been hired to photograph their engagement!
Pumpkin Patch Proposal
Oh my gourd—is there anything cuter than a fall proposal in a pumpkin patch? We don't think so! This is a quintessentially autumnal proposal idea that is as charming as it is simple. Your partner won't suspect your plans during your fun date to the pumpkin patch! Consider popping the question while on a cozy hay bale ride, over warm mugs of apple cider, or by arranging for them to find a pumpkin with "Will You Marry Me?" carved into it.
Orchard Proposal
Like proposing at a pumpkin patch, an apple orchard proposal simply screams autumn romance! We love the idea of a proposal under the boughs of an apple tree, especially if it's a tradition for you as a couple to go apple picking each year. You could hide the ring box in the arms of an apple tree for them to discover, or simply be on one knee when they turn around from plucking the perfect apple. This is a spontaneous-feeling proposal idea that requires virtually no budget for decoration or other fancy accouterments—just you, your love, and a ring!
Beach Proposal
Talk about incredible proposal photos! A beach proposal lends itself beautifully to stunning proposal and engagement photos to share with family and friends. If you and your significant other have a close connection to the ocean or a certain beach, even better! Great beach proposal ideas include sunset walks by the water or on the pier, seaside picnic proposals, and beach bonfire proposals, but there are myriad other ways to make this classic engagement setting your own. Regardless of the "how," be sure you also consider the "when"; if public proposals are not your idea of romantic, try to find out when the beach in question has the least crowds to ensure a more intimate moment.
Winter Snowfall Proposal
For a romantic proposal that seems as if it took place inside a magical snow globe, you simply can't do better than a winter snowfall proposal. You'll need to keep an eye on the weather for this proposal idea if you want active snowfall in your photos, and don't forget warm clothing! Whether you pop the question at a Christmas tree farm, at the top of the ski lift, during a family holiday celebration, or while building a snowman in your own backyard, the falling snow will make your special moment that much more memorable.
Stargazing Proposal
For hundreds of thousands of years, humans have been fascinated by the stars, finding them as romantic as they are enigmatic. What better way to propose to the person you love than beneath the eternal canopy of stars? Plan a stargazing date or attend a stargazing event at an area observatory. Bring cozy blankets, camping chairs, and the ring—once there's a diamond sparkling on their hand, the stars will pale in comparison!
Picnic Proposal
The perfect picnic can also make the perfect proposal! This is a low-effort, high-reward outdoor proposal that can be personalized to suit you and your loved one. Cater in food from the restaurant at which you had your first date, choose a theme that will delight your soon-to-be-spouse, or go totally simple with sparkling wine and a few favorite snacks. Pick a picnic spot that's scenic and significant to you, or a place you've always wanted to visit. No matter how you choose to customize your picnic proposal, it's sure to be a winner.
Make Your Wedding Memorable at the Heritage Center
Congratulations on your engagement! Now that you've had your dream proposal, it's time to plan your dream wedding. The event planning experts at the Heritage Center would love to help! We've worked with thousands of couples to create extraordinary weddings here on our historic grounds. Contact us today to learn more about our versatile event spaces and start planning your perfect wedding!