No matter what kind of event you're planning, you can be certain of one thing: Your guests are looking forward to the food! Sourcing the right catering services for your event can be tricky. From meetings to conferences, networking events, galas and more, each occasion calls for different types of catering options. On top of all that, the world is more health-conscious than ever, and guests will be looking for menu items that are healthy as well as delicious. Having healthy catering options to offer will help build guest satisfaction with your event, and prove to attendees that you've considered their needs with an impressive attention to detail.
From healthy breakfast platter choices to fresh lunch catering ideas for work events, we've compiled an event planner's guide to healthy food catering: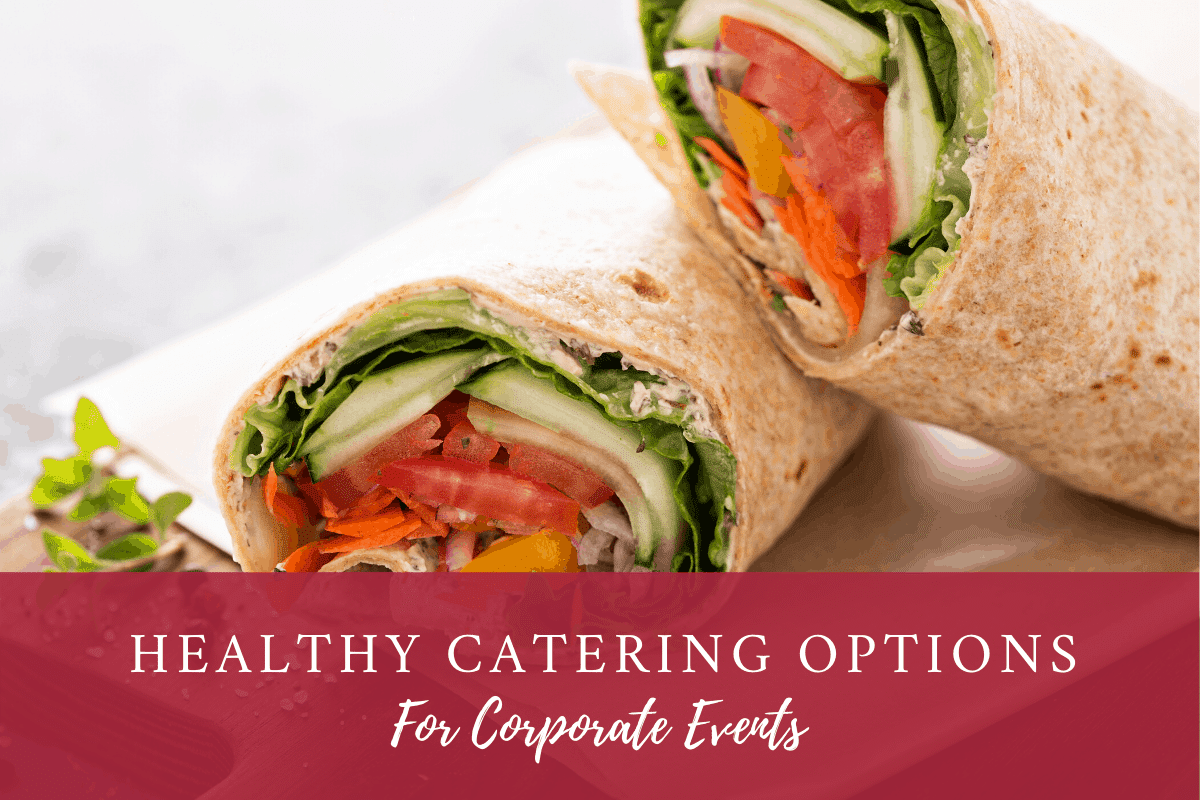 Tips for Planning a Healthy Catering Menu
First, some simple do's and don'ts of planning a healthy menu to get you started. 
DO: 
Consider the dietary requirements of your guests. 
Opt for healthier methods of cooking and preparation. Consider baked, poached, grilled, broiled, roasted and steamed dishes instead of those that are fried. 
Choose dishes prepared with minimal butter, cream and other heavy ingredients.
Keep an eye on the amount of fat, sugar and salt in each dish. 
Think about appropriate portion sizes for each dish. For example, desserts can be a small, sweet bite as opposed to a massive slab of cake or towering sundae.
Source the freshest produce and protein options available to you and your budget.
DON'T:
Eliminate guests' options. Select a healthy buffet, which allows guests to pick and choose their meal options and portions. 
Ignore flavor in favor of health. Tasty seasonings, spices, citrus and even sugar substitutes can offer big flavor for minimal calories. 
Forget about the power of presentation. We eat with our eyes first; a beautifully appointed meal station or buffet spread can go a long way in ensuring your guests' satisfaction with your healthy catering. 
Cut corners. While you don't need to spend a small fortune on your healthy catering services, you do need to treat your healthy menu selections with the same care as you would any other menu. Your guests will notice if you take the easy way out with wilted produce, mushy fruit and vegetarian options that are little more than a dry salad with croutons. So don't give them the chance: Look for the best possible healthy menu options your budget will allow! 
Healthy Breakfast Catering Ideas
Need conference breakfast ideas that are healthy and hearty? You're in luck! Breakfast meetings are a wonderful opportunity to offer healthy alternatives. A breakfast catering menu should include options that are both healthy and substantial, to kick off the morning and leave guests feeling full, but not stuffed. Here are some of our best breakfast catering ideas:
Pair a fresh fruit tray with a meat and cheese tray for the perfect balance of macros. 
Offer a variety of yogurts and healthy toppings like dried and fresh fruit and house-made granola. 
A selection of delectable mini pastries satisfies sweet tooths while keeping portions small.
Infused waters, freshly squeezed chilled juices, herbal teas and coffee are low calorie, high impact beverage options.
Breakfast Buffet Ideas
Healthy breakfast buffets are an easy way to make sure there's something for everyone on your menu. For cold breakfast buffet ideas, Earle Brown offers a build-your-own-yogurt bar with tons of healthy fixings like nuts, shredded coconut and fruits. If warm and hearty suits your guests better, we love a savory buffet featuring our light and healthy baked egg delight, an assortment of breakfast meats, fresh fruits and a selection of muffins and scones. Variety is the spice of life, and it spices up a breakfast buffet, too! 
Plated Breakfast Catering Ideas
For a sit-down breakfast meeting or more formal morning affair, plated breakfasts are mood-appropriate and easy to make healthy. You might choose hearty, comforting bowls of steel-cut oatmeal with berries and nuts, or opt for a beautifully presented yogurt, granola and berry parfait. In terms of healthy recipes for a group, savory plated options like an egg frittata with locally sourced vegetables are both budget friendly and body friendly!
Healthy Catered Lunch Ideas
If you're planning an afternoon event like a business lunch, you'll need to source a caterer that is well-versed in catering lunches to businesses. Corporate lunch catering requires menu options that are easy to serve to a group while also offering freshness, variety, and healthy choices. If that sounds like a full plate of considerations, don't worry! Business lunch catering doesn't have to be complicated, boring or unhealthy. From tasty cold lunch buffet ideas to sumptuous plated corporate lunch entrees, here are some of our favorite healthy catered lunch ideas:
Try a boxed lunch containing a healthy wrap, like Earle Brown's garden vegetarian roll-up, plus a side of fresh fruit.
Boxed lunches aren't just for sandwiches and wraps: A colorful salad, like our refreshing strawberry spinach salad, is a perfect mix of flavor and texture for a midday meeting meal.
Focus on protein for satiety and satisfaction. A light tuna salad sandwich made with a small amount of oil and plenty of zingy citrus will keep guests full but not weighed down.
Make veggies the star! A grilled vegetable sandwich or heaping medley of roasted vegetables can be equally as delicious and filling as any meat-based entree. To really up your veg game, add a flavorsome marinated vegan protein, like crispy baked tofu or grilled tempeh.
Never neglect sides: A kale broccoli slaw, small portion of pretzels, house-made protein bites, quinoa pilaf, honey roasted brussels sprouts and, of course, fresh fruits and vegetables all make wholesome additions to your company lunch catering menu.
Lunch Buffet Ideas
A caterer that is experienced in providing catering services for corporate events should have plenty of healthy lunch buffet ideas to share with you at your initial planning meeting. Earle Brown certainly does! We pride ourselves on our healthy catering services, and love offering exciting, nutritious buffet options. In fact, we've dedicated an entire buffet menu to healthy food and reasonable portion sizes. Our FIT Buffet menu for corporate meetings and events includes fresh, savory dishes like baked tilapia with pepper relish, honey garlic flank steak, avocado, lime and cilantro rice, and chocolate angel food cake with fresh berries. 
But you don't have to stick to FIT to find healthy catering menu ideas for buffets at Earle Brown. Dishes like herb roasted chicken breast with sun-dried tomato pesto, grilled salmon, rice pilaf and steamed asparagus are all wonderfully healthy buffet entrees. We've even specially designed hot and cold vegetarian recipes for buffet dining, like our vegetable strudel and our extensive selection of salads. That's the benefit of a buffet luncheon: It's easy to incorporate options for every dietary preference! 
Plated Lunch Options
Gone are the days of rubbery chicken drowning in an unidentifiable sauce. The new era of healthy business lunches has arrived! A plated lunch can take your corporate lunch to the next level, with healthy options like smoked thyme pork loin with a red pepper mango salsa, butternut squash ravioli with sage bisque, and julienne grilled chicken strips with a freshly roasted medley of vegetables. Served alongside a crisp salad and a healthy starch like Minnesotan wild rice, the sky is truly the limit when it comes to nutritious plated lunches! 
Nutritious Dinner
Service Options
Planning a healthy dinner menu for your corporate event or gala can be nerve-wracking. Everyone is looking forward to the food, after all! Luckily, there's no shortage of mouthwatering dinner options that will please your guests' palates and their wellness goals. Here are some of Earle Brown's favorite healthy and elegant entrees for a corporate dinner: 
Grilled boneless pork loin chop with roasted baby potatoes, green beans and a sweet and savory apple chutney.
Buttermilk and lemon brined chicken with a fluffy jasmine rice pilaf, roasted carrots and pan jus.
Broiled northern pike with a Minnesota wild rice blend, smoked bacon, brussels sprouts and a citrus butter.
Wild mushroom ravioli with peppery wilted arugula, tomatoes, asiago cheese and a white wine sauce.
Buffet Dinner Service Ideas
A dinner buffet lets every guest have their fill, which is a sure fire way to build goodwill among your event attendees! Of course, you want to make sure guests have the option to pile their plate with healthy dishes. Try some light beginning dishes like a Greek salad with crunchy fresh veggies and creamy feta, or fresh fruit tossed with a luscious mango puree. Then follow up with good-for-you entree selections like smoked turkey in apricot jus and smoked strip loin with roasted shallot demi glace. And there's no need to forgo a dessert station, just try lighter sweets in smaller portions, like vanilla cheesecake bites topped with fresh berries or an airy lemon meringue tart. 
Plated Dinner Service Ideas
Plated dinners are the peak of corporate event elegance, but that doesn't mean they have to be heavy and rich. When planning your plated dinner menu, remember that your guests will want a variety of options to suit their mood. Try giving guests a choice of 3-4 entrees, including at least one vegetarian or vegan selection, like a warming tofu and bean cassoulet. Be sure to include protein-centric meals, like braised chicken with roasted root vegetables, alongside more carb focused entrees, like vegetable strudel with a sweet corn butter sauce, to cover all your dietary requirement bases.
Healthy Snacks for Group Events
Who doesn't love a good snack? Don't reach for greasy potato chips or binge-able chocolates. There are plenty of healthy snacks for events that are as satisfying as they are wholesome. Try spicy chipotle peanuts or a variety of veggie-based dips, like hummus and pico de gallo, with fresh vegetable dippers and pita chips. If your group is craving sweets, opt for low-fat oatmeal cookie sandwiches or fruit with a sweet yogurt dip. Your guests will feel special and decadent, without needing a special allowance on their calorie count for the day! 
Healthy Desserts and Sweets
Every meal needs a sweet ending, but it doesn't have to be a fat and sugar bomb. At Earle Brown, we love berries in our desserts, from warming crisps to cool and creamy yogurt parfaits. We also offer FIT menu desserts, like our sweet and tart raspberry or lemon bars. If you consider chocolate an absolute must for desserts, try dark chocolate covered strawberries!