When it comes to event invitations, the email inbox is a battleground, and you're fighting for the attention of your potential guests! A stellar event invitation email should be a major part of your event marketing strategy, as they offer a simple path to a growing guest list. Let's take a look at how to write an invitation email for an event as well as some invitation email examples to help you craft the perfect announcement or invitation email for your event!
How To Write An Email For An Event
The style of your online event invitation will vary depending on the type of event you're hosting as well as the tone you'd like to set with your event invitation email. You'll want to consider both when looking for event invitations email templates or when beginning to draft your invitation. We'll cover the following types of invitations and events below:
Event Invitation Email Basics
Essential Components of an Event Invitation
Time, date, location, and duration of your event

Strong calls to action

Clean and clear delivery

A catchy subject line
Event Announcements
An event announcement is exactly what it sounds like: An announcement alerting your readers to an upcoming event. These announcements should include as many details as are currently available for the event, such as date, time and location, but may or may not include a link to RSVP or purchase tickets.
Event Announcement Subject Lines
Subject lines are the first exposure to your event that your potential guest receives: It's your first chance to grab their attention and ensure they open that email! A personalized subject line can help pique the interest of your reader, as can the inclusion of event details like the date or location. 
Here are some examples of event announcement email subject lines:
Just announced: [Event Name] is happening [Event Date] in [Event Location]!
Join us! An exciting event at [Event Location]
[Name], we want you to be the first to know about [Event Name]! 
Don't miss [Event Name]! Reserve your place today!

Mark your calendar for [Event Name], [Name]!
Event Invitations
Unlike an event announcement email, an event invitation email will always include a means for the recipient to RSVP, purchase tickets, or otherwise express their interest. At minimum, an event invitation should include the event's date, time and location, as well as any applicable dress code, theming, and host or beneficiary of the event. And don't forget: Even though it's a virtual invitation, your event invitation email should still be well-designed and interesting!
Event Invite Subject Lines
Event invitation subject lines should be relatively short, but compelling. They should capture the attention of your reader and encourage them to click into the body of the email. 
Here are some event invitation subject line examples to get you started:
Don't wait! Get your tickets to [Event Name] today! 
You're invited to [Event Name]. Get your tickets now! 
[Company/Host Name] presents: [Event Name]
Save the date for [Event name]! 
It's finally here: [Event Name]
16 Event Invitation Email Examples That Drive RSVPs
Now that you're familiar with the basics of event invitation emails and have seen some simple subject line examples, it's time to dive into the specifics of crafting an email for a corporate event invitation. The following event invitation examples and suggestions can be adapted and tailored for your event's unique focus and audience.
Conference Invitation Emails
Conferences often happen over several days, and often include multiple sessions or breakout groups throughout the event. As such, you'll want to make sure your conference invitation email clearly states the date and duration of your conference (For example, "A free, week-long event from Oct. 12-16,") as well as an overview of what topics or sessions might be covered. 
Take a look at this conference invitation email example below. You might consider using this sample as a conference invitation email template for your own event:
This conference announcement sample gets a lot of things right: It uses engaging language and images to pull the reader in, states early in the email body why a guest might want to attend the event, and includes all the necessary information before leaving the reader with a strong call to action and a link to reserve their place.
Trade Show Invitation Emails
For a trade show invitation, it's especially important to give potential guests an idea of the depth and breadth of exhibits featured at the event. If your showroom will be especially large or dynamic, be sure to say so! The below trade show invitation does an excellent job of illustrating all the show will have to offer, and the personal touches ("You're Invited As My Guest") will endear your reader to you and to the event.
Team Building Email Invitations
Team gathering invitation emails can and should reflect the tone you'd like to achieve with the overall event: Are you hoping for an upbeat, fun event focused mainly on casual socializing, or a more professional, skill-sharpening-type event? Whatever the answer, your email invitation should make it clear to your employees what kind of afternoon they're signing up for. The below team building invitation sample is a great example of an emailed invite for a casual social event with a workplace team:
Team Outing Invite Email
Unlike your average team building event, team outings inherently take employees out of the office. This provides a wonderful opportunity to show off the interesting offsite location you've chosen for the event. Much of this could be accomplished with the graphic design of your email template, but the language in the body of the email should reflect your excitement regarding the location and the activities you have planned for the event. 
As with a team building event, you'll want to set a clear tone with your invite. The below office team building invitation email sample demonstrates a perfect marriage of design and copy that would get any work team excited for the upcoming event:
Training Invitation Emails
Corporate training events get a bad rep for being boring snooze-fests. To drive RSVPs for your event, you'll want to make sure invitees are excited about the day's events—and that starts with a stellar invitation email. 
The following training invitation email nails the excitement factor in a variety of ways: It immediately highlights that the event is free, features experts and will help you further your career; it strikes a positive tone; it details what kind of events and activities will be available, and it concludes with engaging photos of past attendees enjoying their time at the event. This invitation email is a 10/10 — consider using it as an event email template for your own upcoming corporate training!
Lunch and Learn Invitation Emails
Who doesn't love a Lunch and Learn event? Food, fun and education is a winning combination, but your potential guests need to know why they should attend this event specifically. What is the topic of the "learn" portion? Is the lunch provided particularly exciting? Is your speaker a noted expert in their field? Answering these questions in your emailed invitation can go a long way in racking up those coveted RSVPs.

The below Lunch and Learn invitation email sample hits all the right notes. The design is bold and eye-catching, and framing the event as a "celebration" adds a joyful, personal touch. The reader immediately gets a feel for the mood of the event (community-focused, casual, potluck) and that it will dive deep into both the host company and the food, thanks to the inclusion of branded video content and cooking demonstrations. This invitation makes us wish we could go back in time and attend this event—so imagine the impact a similar invite could make for on your upcoming event's RSVP list!
Workshop Invitation Emails
Much like corporate trainings, the key to a successful workshop invitation is convincing your potential guest that your event is the must-attend professional development opportunity of the year. 
The below workshop invitation sample, while intentionally general, uses eye-catching design to its advantage. Impressive imagery and font choice entices the reader to learn more about the event, and key phrases like "biggest and most awaited training workshop in the University" and "new talks and seminars" help to seal the deal.
Seminar Invitation Emails
The word "seminar" may not bring excitement and engagement to mind, but that's where your outstanding seminar invitation comes in! You've put a significant amount of time and effort into planning an incredible seminar, and your emailed invitation should reflect that. 
In the below sample seminar invitation email, the organizer has chosen a format that supports the prestige and quality of their event. Most importantly, it states early (second paragraph) the thesis of the event: It will "combine technical input, personal effectiveness facilitation and practical, hands-on experience" to "ensure delegates go away with skills to enable them and their teams to perform to the peak of their abilities" and so on. 
By establishing the intention of the event early, potential attendees can make an educated decision on whether this event is for them. Remember, you don't just want any guest at your event: You want guests who are genuinely engaged in the topic of your seminar, who will benefit from the programming, and who are likely to walk away singing your praises! Getting the attention of those guests is key, and that's what the below sample email invite does so well.
Networking Invitation Emails
Networking events are a dime a dozen, so what makes yours stand out? That's what you'll want to bring to the forefront of your networking event invitation. Some things to consider: What type of people will your networking event bring together? Is it a multi-industry event, or specialized to one industry or area of expertise? Where is your event being held? What kind of entertainment will your event have? Will your event have a theme? Will you be offering food and beverages at your event, and if so, what kind? 
The prospect of networking opportunities often isn't enough to draw in potential attendees: You have to entice them to click that RSVP button with the exciting extras. The below invitation email sample puts those amenities front and center by listing the beer, wine and hors d'oeuvres first, then addressing the topic for the evening's networking. It gives the recipient the impression that this event will be laid back and enjoyable in addition to being an opportunity to network and learn.
Meet and Greet Invitation Emails
A meet and greet event is essentially a networking event by another name, so much of the same advice applies. However, a meet and greet event may include a more structured flow of events or networking, like a "speed dating" set-up or similar. If your event will include a certain style of introductions, your meet and greet invitation email should make that clear. Any networking event can be a little anxiety-inducing, even for seasoned industry professionals, so giving your email recipients an idea of what they can expect at your event will both boost your RSVP rate and earn you good practice points. 
The following event invitation example succeeds with a bold but readable design and the inclusion of the phrase "Bring your business cards!" This indicates to the audience that the event will rely on the traditional business-card-swap method of networking, setting up their expectations for the event as well as setting them at ease.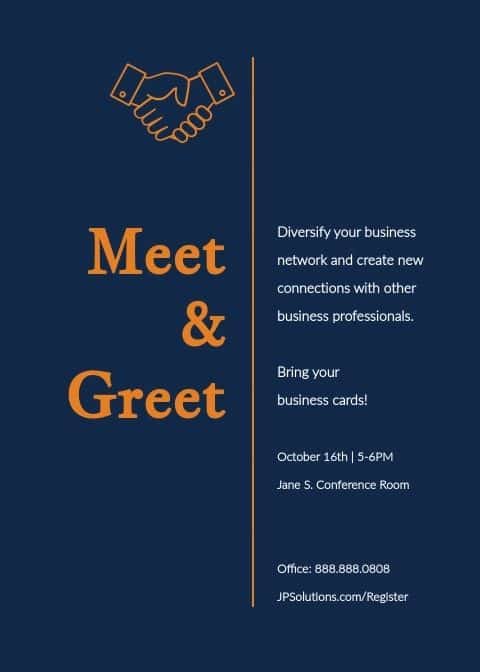 Online Event Email Invitations
Now more than ever, online events are hot. As such, the competition for your potential guests' attention is stiff. To make your online event or webinar invitation email stand out, you'll need to sell your event's topic or focus in an exciting, engaging way, and make it as simple as possible for attendees to RSVP. The inclusion of an embedded RSVP button in your invitation email is a must, but you might also consider including a function that automatically places the event on your attendees' Google Calendar or similar. This way, your online event remains front of mind for your guests, even after they've closed your email invitation.
Below, you'll find a professional invitation email that hits all the right notes for an online event. It opens with an engaging header image highlighting keynote speakers and continues with the necessary information for the event like date, time, and what an attendee can expect to learn. 
Most importantly, it also includes an incentive for interested parties to register ASAP, and an embedded RSVP button that replaces a generic call to action with the more exciting "Save Your Seat Today!"
Webinar Invitation Emails
Webinars are the new frontier in professional development, and companies are quickly jumping on the bandwagon. To make your webinar invitation email truly shine, consider highlighting the interest in your event early and often. An event that seems popular with others naturally garners more interest from potential attendees, so leverage your growing RSVP list to your advantage! Again, it's important to communicate to your audience what they can expect from your webinar, both in terms of experience and take-away knowledge. 
The below sample invitation illustrates both suggestions well. The striking design helps draw the reader in, while key phrases like "Our webinar filled up so fast," "second time slot," and "your free place" amplify the value of the event.
Welcome Party Invitation Emails
What's more festive than a welcome party? Whether you're new to the neighborhood and hoping to stir up some local interest in your business or welcoming new hires into the fold, a welcome party invitation email should express your company's excitement for the upcoming event. 
Typically, an email invitation for a corporate welcome party will strike a positive, even playful tone, and communicate to your potential attendees what entertainment, activities, food, beverage and more they can expect at your event. 
While the example email below is a basic welcome invitation email (that is, not an invitation to a welcome party, but rather an invitation to engage with the platform to which the recipient has newly subscribed,) it can still function as an email template for upcoming events in the welcome party vein. It employs a fun and smile-inducing graphic, affirming and results-based language, and a strong call to action to ensure recipients click that "Start Meditating" (or in your case, "RSVP") button.
You're Invited To Host An Event At Earle Brown
That's right, you're invited! See what we did there? If you're ready to plan your next corporate event, Earle Brown's expert event planners stand ready to help make it extraordinary. With a versatile space for every size event on our scenic, historic grounds, Earle Brown is the perfect venue for your next business event. Contact us today for more information!