Engagement season is an exciting time! Learn how you can prepare for getting engaged and all that comes after in our latest blog.
If you've noticed a sudden wave of social media posts showing off your friends' engagements, you're not crazy—it's engagement season! Whether you're wondering if this is your year you'll be getting engaged or are planning a proposal of your own, read on to learn everything you need to know about engagement season.
When is Engagement Season?
When do most people get engaged? The statistics indicate the question is most often popped during the holiday months, between Thanksgiving and Valentine's Day—AKA "engagement season." December is the most popular month to get engaged, and while there's no solid consensus on the most popular day to get engaged, Valentine's Day, Christmas Day, Christmas Eve, and New Year's Eve tend to rotate through the top spots.
Steps on How to Prepare for a Proposal and Getting Engaged
If you're about to get engaged, you likely have a lot of questions on your mind: When do people get engaged, generally? When is the best time to propose? How do I choose a place to propose? How do I choose a ring?
Preparing for a proposal may seem stressful, but we have a few helpful steps to get you ready to pop the question:  
Get on the Same Page About Your Relationship
Before you even consider popping the question, you should make sure you and your partner are on the same page about your relationship. This is more than just an agreement that marriage is in your future; you should also be sure you align on other major decisions like children, finances, where to live, etc. Having these serious conversations prior to a proposal helps ensure you're setting yourselves up for a successful lifetime together.
Start Saving Up Money for an Engagement and Wedding
Engagements and weddings can be costly affairs, from the cost of the ring to the venue, floral, entertainment and more. A good rule of thumb is to start saving for your engagement and wedding well in advance of the proposal itself. You and your significant other may have a shared savings account that you both contribute to, or you may privately set aside funds for your dream wedding. Either way, it's important to research average costs and start saving early for wedding-related expenses, so you're not caught off-guard by the bill when the big day comes. 
Choose and Buy Engagement Ring
Selecting the perfect engagement ring should be a priority in your proposal planning process, but there are a few things you'll need to consider before heading to the jeweler. Have you set a budget for your ring purchase? Do you know your partner's ring size? What about their ring preferences, like their favorite diamond shapes, metal colors or setting styles? 
Your engagement prep should include finding the answers to these questions. You may decide to ring shop (or pre-shop) with your partner to ensure you have a solid idea of what they're looking for in a dream engagement ring. Even if you want the ring to be a complete surprise, you should ask your partner about their preferences well in advance and keep a few photos of their favorite rings on-hand for reference when you go shopping solo.
Consider Talking to Your Partner's Parents Before a Proposal
In some families, it is traditional for the proposing partner to talk to their significant other's parents or other family members prior to asking the big question. Talk to your partner about their family's traditions around engagements and marriage to determine if there are any that are particularly important to them. 
If you decide to talk to your partner's parents prior to your proposal, try to have the conversation in person and share your candid feelings about your partner. If you cannot meet with their parents face to face, consider a video call or other, more personal means of sharing your intentions with them.
Plan and Personalize the Proposal
Now you're facing the biggest challenge of all: How to plan the perfect proposal. The bottom line is that every proposal is inherently unique to the couple in question, and the best proposals are deeply personal and heartfelt. If you're approaching your proposal planning from a place of love for your partner, it's hard to go wrong! 
Whether you propose at home, during your holiday celebrations, or in a place that is special to you as a couple, it's important that you choose a proposal location that you'll be happy to recall for years to come. You'll also want to consider incorporating personalized elements like shared hobbies or interests, pets, memories from your relationship, and other details to really elevate your proposal. Some engagements also include friends, family or others—more on that below.
Who to Consider Being a Part of the Proposal
If your partner has always dreamed of a proposal that features their family and friends, you'll want to consider who to invite to the proposal and how they should be incorporated. Some memorable proposal ideas include flash mobs, scavenger hunts, or surprising your loved one with their loved ones while on a special date or vacation. You may also consider hiring a photographer to secretly capture the proposal, or to take engagement photos immediately following the proposal. 
Whoever you invite to be a part of the proposal, you should be 100% certain that your partner would be happy to see them during their special moment—for those whose dream proposal is an intimate affair, having to suddenly deal with a gaggle of friends and family could be a nightmare!
What Else to Consider When You're About to Get Engaged
The to-do list doesn't disappear after the ring is on their finger! Once you're engaged, you'll have a whole new slate of things to consider. While you'll undoubtedly field questions like "When's the wedding?!" only moments after getting engaged, you don't need to have an answer just yet—but you will want to have a general idea of the following:
Who to Call After Getting Engaged: If family and friends weren't present for the engagement, consider who to call afterward and in what order. You'll also want to advise your excited loved ones on your social media preferences. If you don't want Aunt Margaret announcing your news for you on Facebook, be sure to kindly but firmly tell everyone you call to hold off on any social media posts about your engagement until you have done so yourself.  
Engagement Photos: If you and your partner are interested in an engagement shoot, reach out to your top-choice photographers ASAP. You'll want to book your session promptly, usually within a few months of the engagement itself, and schedules fill up fast, so don't wait!
Desired Length of Engagement: While the old rule of thumb was a year-long engagement prior to a wedding, these days, anything goes! Very short engagements, extended engagements, and anything in between is just fine, as long as it suits you as a couple. Still, having a general idea of when you'd like to get married is helpful, especially when it comes to answering all the questions that will be coming your way. Even a ballpark estimate like "We'd like to be married some time in 2024," or "Within the next year" can help guide the pace of your planning.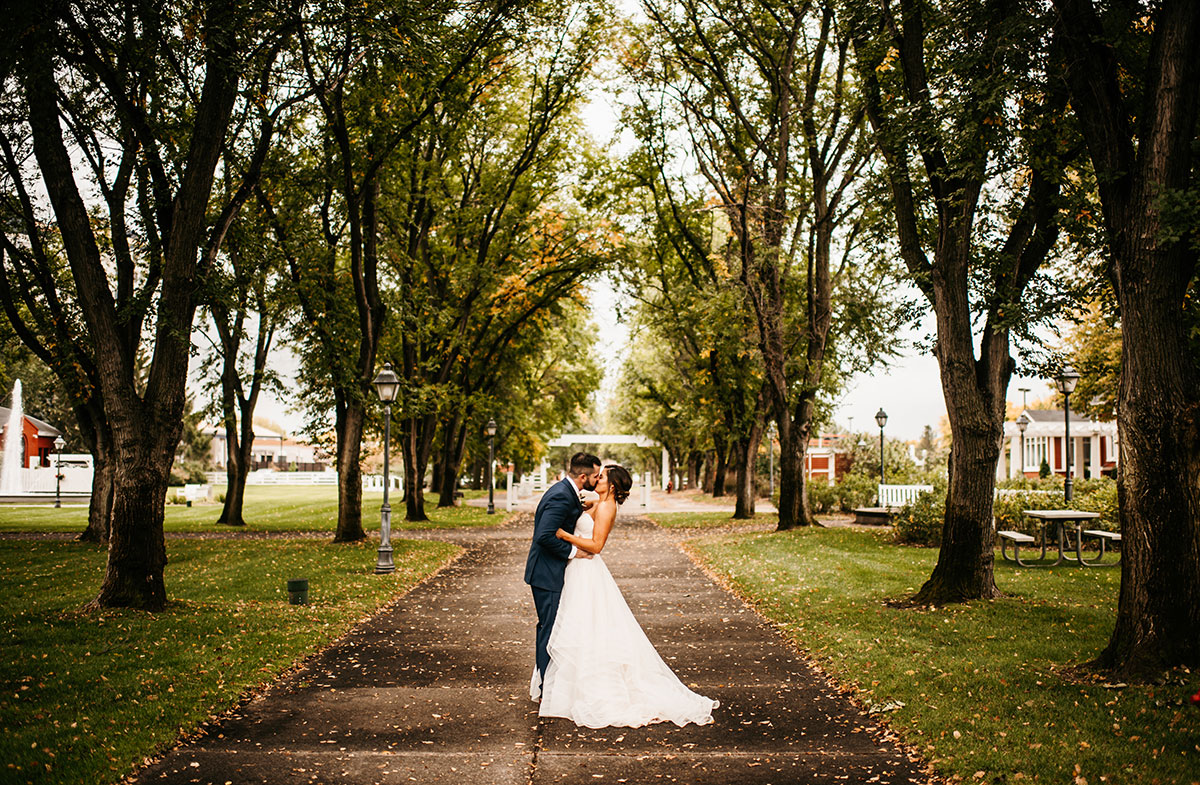 Plan Your Dream Wedding at the Heritage Center of Brooklyn Center
Congratulations on your engagement! If you're beginning your search for the perfect wedding venue, we invite you to look no further than the Heritage Center of Brooklyn Center! Our expert planners would love to give you a tour of our historic grounds and speak with you about your vision for your dream wedding. Contact us today to connect with one of our planners!