Planning a successful corporate conference can feel like navigating a complex maze of details and decisions. If you're knee-deep in conference planning, you're well aware that orchestrating a great event requires a well-thought-out strategy. That's why we've put together this comprehensive conference planning guide and sample conference planning timeline to serve as your go-to resources! 
In this blog, we'll walk you through each crucial step, offering insights, tips, and a clear checklist to keep you on track and transform your conference into a resounding success.
Ready to create an unforgettable conference experience that leaves a lasting imprint on both your attendees and your organization's reputation? Read on!
Conference Planning Timeline
Planning a conference requires careful consideration and meticulous organization. A well-structured conference planning timeline can be a lifesaver throughout this process, ensuring no detail is overlooked. From the pre-conference planning phase to the post-event follow-up, each stage plays a crucial role in creating a successful event that leaves a lasting impression on your attendees.
Pre-Conference Phase: Months 12-6 Before The Event
The earliest stages of conference planning typically begin around one year to 6 months prior to the event, depending on the size of your conference and its goals. In the pre-conference phase, you and your team will be laying the groundwork for a seamless event execution, using brainstorming sessions and goal-setting to define the core objectives of the conference. 
Assembling a strong, effective organizing committee is essential at this point. You'll want to make sure you're bringing together individuals with diverse skills to tackle the various aspects of event planning. Equally important is budget allocation and sponsorship outreach, both of which will help you secure the finances necessary to turn your vision into reality.
Mid-Conference Phase: Months 6-3 Before The Event
About three to six months before your event, the mid-conference planning phase kicks into high gear. Now is the time to finalize your conference theme and agenda, shaping the narrative that will inform your event's content and programming. 
If your conference schedule includes keynote speakers, workshop presenters, or other expert presentations, the mid-conference planning phase is the time to secure their availability for your event. Captivating, informative speakers and programming are vital to ensuring your conference is a memorable and worthwhile one for your guests. 
Likewise, dynamic marketing and promotional efforts should be put into motion at this phase to generate buzz and attract attendees. You'll want to leverage various channels, like social media, email campaigns, and industry partnerships to ensure news of your event spreads as far and wide as possible. 
Preparing A Conference: Months 3-1 Before The Event
With the conference only a few months away, your focus will undoubtedly shift towards the finer details that will make your event experience seamless and satisfying. During this final preparation phase, registration and ticketing systems should go live so that prospective attendees can secure their spot at your conference.
But this phase isn't just about ensuring attendee access: Now is also the time to be collaborating with vendors and suppliers to make sure that every logistical element, from venue arrangements to catering, aligns with your vision and is being addressed. Detailed planning takes center stage, encompassing everything from creating schedules and assigning roles to anticipating potential challenges and devising contingency plans.
Hosting The Conference: Day 1 To Event Conclusion
Your much-anticipated conference is here, and your meticulous planning is about to pay off! Day-of responsibilities often feel like a juggling act, but with months of solid planning behind you, you should feel assured that you can handle anything that's thrown your way. 
The registration and guest check-in process will set the tone for a smooth event, ensuring your attendees feel welcomed, comfortable, and  well-informed. Seamless transitions from session to session will go a long way towards keeping the momentum going and preventing any disruptions to the flow of your event. Be sure to have technical support on standby to promptly address any issues, like troubleshooting problems with your AV equipment or double-checking the stability of your virtual streaming platforms. 
Throughout it all, attendee support should remain a priority, with your team providing assistance and information to guests as necessary to guarantee a positive experience for everyone. 
Post-Conference Follow-Up: After The Event
Your conference has concluded, but your work isn't done: It's time to implement your post-event follow up strategy. The post-conference follow-up phase involves valuable tasks that contribute to the event's lasting impact and the success of future events. 
Gathering feedback from attendees can provide valuable insights into what was successful throughout your conference and where there might be areas for improvement. This data is essential for assessing the event's success against initial goals and metrics. The easiest way to capture this vital guest feedback is to send a follow-up email, survey, or other digital means of collecting feedback, so responses can be easily aggregated and analyzed. 
It's also good event hosting etiquette to send thank-yous to attendees, sponsors, vendors, speakers and others who made your event a success. Expressing gratitude not only acknowledges their contribution, but also strengthens those relationships for future collaborations. This phase builds a foundation for enhancing future conferences based on lessons learned and feedback received, helping to make your next event even more successful than the last.
How To Plan A Conference In 12 Steps
To help you achieve all your goals for your next conference, we've broken down the essential elements of seamless conference planning into just 12 steps. For your convenience, we've divided these steps into planning, hosting, and post-conference phases, but it's important to remember that each phase and step therein is co-dependent on all the others. By adhering to these 12 steps to planning a conference, you can create a cohesive, engaging event for your attendees. 
Planning Phase
Define Your Conference Goals And Objectives
As briefly mentioned above, the first step in planning a successful corporate conference is to define clear, concise goals for your event. By understanding your desired outcomes, you and your planning team can better tailor your conference's theme, programming and other crucial elements to your target audience. When you align your conference's goals with your audience's needs and interests, it enhances engagement — making your event that much more meaningful and valuable to your guests. 
Other details, like the date selected for your event, can have a surprisingly large impact on event turnout and engagement. Be sure to compare your first-choice of date against holidays, major industry events, and local schools' summer or winter vacation periods. Choosing a date that is free from major potential scheduling conflicts helps to position your conference to attract maximum participation and attention from your target audience.
Select And Secure The Ideal Venue
Choosing the right venue is a critical step in your conference preparation process, and a hugely impactful one. The right venue can contribute to the overall success of your conference by providing the necessary facilities, capabilities and ambiance to create your desired attendee experience. 
Whether it's a state-of-the-art conference center or a more unique location, your choice of venue will set  the tone for the event and contribute to attendee engagement. Be sure to compare any potential venue choices to your expected number of attendees to ensure the space can accommodate your guests without issue. 
Formulate A Realistic Budget
Nobody enjoys talking about money, but a realistic and well-structured budget is the foundation of a truly successful event. Your venue will likely represent your largest budget item, followed by various elements like catering, technology, and marketing. By strategically allocating your funds across these budget items, you can ensure your conference remains financially viable while delivering a smooth, memorable experience.
Assemble A Competent Organizing Team
Behind every successful corporate conference is a skilled and dedicated planning team. Each member plays an important role in organizing a conference, but some key roles might include event coordinator, logistics manager, content or programming curator, and on-site coordinator. An oft-underestimated role is that of a marketing specialist, who can drive visibility, attendance and engagement through pre-event promotions and social media campaigns. 
When choosing your planning team, be sure to assign roles and responsibilities based on each individual's specific strengths and skill sets to ensure an optimized balance of talents across the team. 
Create A Detailed Conference Agenda
Crafting a comprehensive conference agenda will help to keep your event flowing smoothly and can help you visualize your attendees' experience. It's important to strike a balance between keynote talks, interactive workshops, networking sessions and other programming to keep participants engaged. Your conference agenda can help guests decide which programming to attend, allowing them to make the best use of their time, gain insightful knowledge, and make valuable connections, so they'll walk away feeling your conference was a well-rounded and worthwhile experience. 
Identify And Secure Speakers And Presenters
The speakers and presenters you choose can make or break your attendees' overall feelings about your event. Seek out diverse perspectives that resonate with your audience and align with your event's theme and goals. Choose speakers that will present fresh insights, encourage meaningful discussions, and broaden your attendees' horizons. By securing dynamic expert speakers, you not only enhance the quality of your conference's content, but also contribute to the overall success and reputation of your event.
Hosting Phase
Attendee Registration And Check-in
First impressions are vital when it comes to successful conferences, and there's nothing worse than arriving at an event and finding yourself stuck in a frustrating, convoluted registration or check-in process. 
Conference event planning techniques to circumvent this roadblock to success include offering multiple check-in counters, using technology such as QR codes for fast check-in, and having well-trained staff on hand to assist attendees. Streamlining this initial step ensures participants start their conference experience on a positive note and remain excited for what's to come.
Ensure Smooth Session Transitions
Smooth transitions between conference sessions are essential to maintaining momentum and attendee engagement. Conference event planners can facilitate seamless session transitions by allocating buffer time in the schedule between sessions to allow attendees to move between rooms, and by using clear signage to guide participants. Session moderators play a crucial role in maintaining flow by introducing speakers, managing Q&A sessions, and ensuring sessions stay on track, resulting in a more cohesive and organized experience for speakers and guests alike.
Technical And Attendee Support
No matter how well you've planned for every contingency, technical glitches can still occur, putting a damper on your event and slowing the momentum you've worked hard to achieve. To avoid disruptions, it's important to have technical support staff accessible throughout the event, ready to quickly address any issues. 
Additionally, providing attendee support ensures participants have a clear, reliable point of contact for questions, directions, and assistance. A help desk or information booth can go a long way in enhancing attendee satisfaction and providing a positive overall experience.
Engage Attendees With Networking Opportunities
Virtually every corporate event has an element of networking, making it a cornerstone of conference planning. To foster connections among attendees, consider incorporating icebreaker activities during your opening sessions, cocktail hours, or other well-attended portions of your conference. 
Consider hosting structured networking sessions or roundtable discussions centered around relevant topics to encourage meaningful interactions. These activities help introduce conference attendees to one another, facilitate knowledge sharing, and create lasting connections, enriching the conference experience for all participants.
Post-Conference Phase
Gather And Analyze Attendee Feedback
After your corporate conference concludes, you might be tempted to take some vacation just to recover from all the effort and excitement, but wait — you're not quite at the finish line just yet! 
If you'd like to get the most out of your conference planning experience, it's essential to gather post-event feedback from attendees. Their valuable input can help you and your planning team fine-tune your strategies, content, and logistics for future events to better meet participants' expectations and preferences. Feedback not only informs these improvements, but also fosters a sense of engagement and partnership with attendees, helping them to feel their voices are heard and valued.
Evaluate Event Success Against Goals
How do you evaluate the success of your corporate conference when all is said and done? By measuring it against the goals you set during the planning phase! 
Data analysis plays a pivotal role in evaluating your event's success, as it allows organizers to quantify key performance indicators like attendance numbers, attendee satisfaction, and engagement metrics. By objectively assessing whether the conference achieved its intended outcomes, event planners can gain insights that guide future decisions and help ensure every subsequent event is even more effective and aligned with your objectives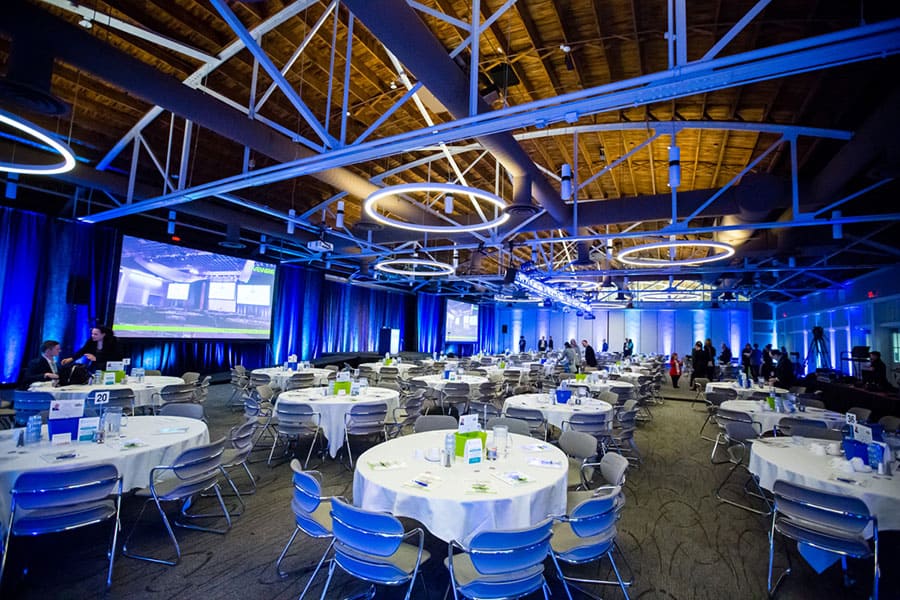 The Crucial Role Of The Conference Venue
The influence of your conference venue over the overall success of the event cannot be overstated. Accessibility, ambiance, facilities, and location all contribute to your attendees' overall experience and your event's reputation. 
A well-chosen venue enhances participants' comfort, convenience, and engagement. Choosing an accessible, well-equipped venue sets the stage for seamless logistics, while atmospheric ambiance can generate a positive energy that supports your event's goals. The venue's geographic location can impact attendance, attracting participants due to its proximity to transportation hubs or popular destinations. Ultimately, your venue is the canvas upon which your conference is rendered, and its quality directly influences the lasting impression attendees take home.
Host Your Conference At The Heritage Center Of Brooklyn Center
At the Heritage Center of Brooklyn Center, we're experts in planning and hosting successful corporate conferences of all sizes, durations and scopes. Whether you need a large exhibition space to house your many engaging presentations or a variety of meeting spaces for your exciting breakout sessions, the Heritage Center has the space, amenities and experience to make this conference your best ever. Contact us today to learn more about hosting your next conference at our historic event venue!