Conference breakout sessions are an opportunity for team building and continued learning. Discover conference breakout session ideas for your next conference in our blog below!
Breakout sessions break up a long conference day and gather participants into smaller groups to focus on various session topics. By incorporating fun, interactive conference breakout sessions into your conference schedule, you can keep things interesting for your participants and better engage them in your conference topics.
What is Needed for a Conference Breakout Session?
Very little is necessary to conduct a seamless and successful conference breakout session. The main requirements are dedicated event space—usually smaller conference rooms or other event spaces for the group to "break out" into—tables and seating for those spaces, and any tech that the group leader or participants may need. This includes charging stations for laptops and smartphones, sound equipment, projection screens, etc. 
Why Should You Have Conference Breakout Sessions?
Conference breakout sessions can help keep the flow of your event exciting and engaging to your attendees, but they can also provide a variety of other benefits, like opportunities to:
Learn, polish, or share skills & knowledge
Discuss new topics or common issues
Brainstorm new ideas & solutions
Explore ideas in a more casual, less structured format
Regain and refocus attendees' attention
Improve attendee engagement
Provide time & space to dive deeper into topics
Tailor content to a specific audience within the larger group of attendees
Conference Breakout Session Ideas
Breakout sessions work best when they are interactive, goal- or idea-focused, and driven by collaboration. To start ideating the best team breakout session ideas for your next event, explore our favorite breakout session examples below.
Think Tank
Number of People: 15-30
Length: 30-45 minutes
Think tank-style breakout sessions bring together experts on a topic or industry to discuss specific ideas or concerns and brainstorm creative solutions. In a conference setting, the think tank method of brainstorming is especially productive when the breakout group or groups each focus on a challenge or idea presented by the conference thus far. You may also split attendees into groups based on their industry or role therein to further specialize their conversations. 
Offers/Needs Exchange
Number of People: 20-30
Length: 30-40 minutes
A Wants/Needs Exchange can be a great way to facilitate conversation and networking among conference attendees who may not otherwise get a chance to connect. Create a Wants/Needs board in a common area and encourage guests to add to it with skills or knowledge they are either seeking or possess. Provide space for conversation after connections are made and let the discussions flow! This style of breakout group offers participants the space and time to practice promoting themselves and thinking about their skill set in new ways.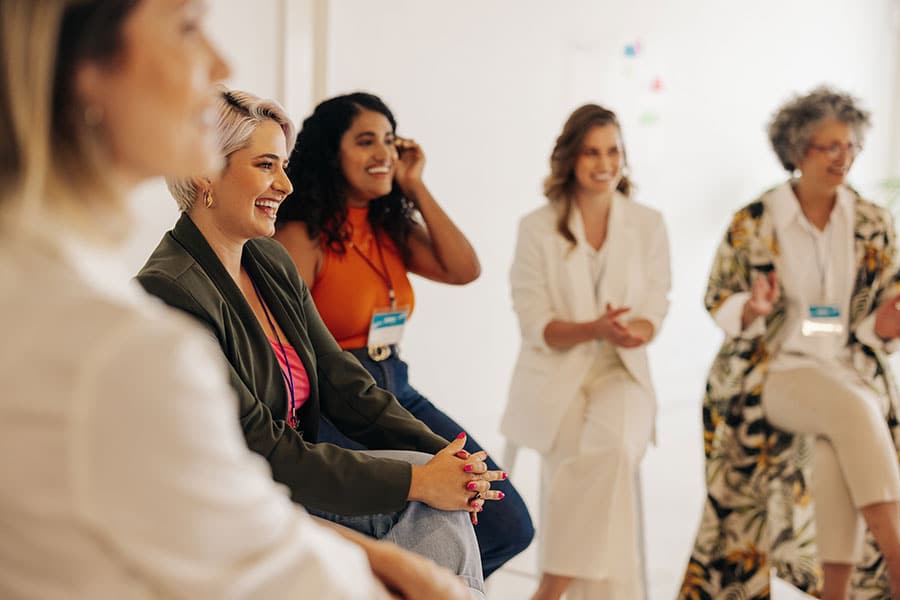 Speed Networking
Number of People: Any
Length: 15-30 minutes
Speed networking is a great method of encouraging conference guests to forge valuable new connections. As the name implies, speed networking is similar to speed dating, but instead of finding a date, participants find new professional relationships. Speed networking helps develop essential skills and can spark relationships that may lead to new opportunities in the future. 
To set up your breakout room for speed networking, place two- or three-seater tables throughout the room to encourage small, one-on-one conversations. At the start, each table should have two participants, but only one will move when the "round" of networking ends. Set a timer for five to seven minutes and let participants introduce themselves to one another and begin conversations. When time is up, the non-stationary participant at each table moves on to the next. You may want to provide open-ended conversation starters at each table to ensure good discussion. 
Mind Mapping
Number of People: Any
Length: 30-45 minutes
Mind mapping is a valuable tool for organizing one's thoughts and ideas in a visual format. In this breakout session, participants are provided with instructions (or led by a facilitator) on how to create a mind map. Attendees are then asked to make their own mind map featuring their thoughts on a certain topic or challenge. After about 15 minutes of mind mapping, participants may be asked to share their map with the group and provide insightful feedback.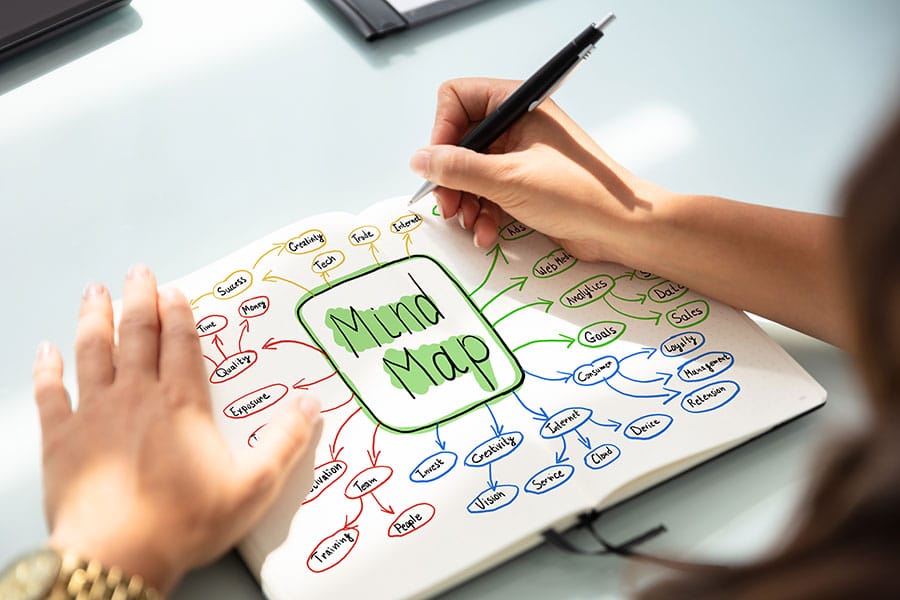 Lightning Talks
Number of People: Any
Length: 30-45 minutes
Lightning talks are a great tool for sharing ideas and changing up the pace of your overall conference day. Lightning talks are typically short, focused, and interesting presentations on any topic — in fact, they are often most successful when they are not focused on the main idea of the conference. This allows participants to take a break from engaging with the "big idea" of the day while still developing related soft skills.
To host a lightning talks session, invite attendees to prepare a short presentation on a topic of their choice in advance of the conference. Ideally, attendees should choose a topic that they are passionate about; it does not necessarily have to be work- or industry-related. Some lightning talk topic ideas include: 
How to Ask for a Raise
Meal Prep for Busy Parents
Creating a Work-Life Balance
Public Speaking Hacks 
Getting the Most Out of Employee Benefits
Improv-Inspired
Number of People: 20-30
Length: 30-40 minutes
This style of team breakout session utilizes a dialog-building technique made famous by improv actors and comedians: "Yes, And . . ." Improv performers are taught to never say "No" when a fellow actor makes a statement in a scene because it disrupts the flow of ideas and breaks the audience's immersion in the scene. Instead, they must agree with the statement made or idea presented and move on in that fashion, exemplified by the phrase "Yes, and . . ." This encourages adding on to ideas rather than tearing them down.
This concept can also be put to use in breakout team-building activities or interactive breakout sessions. In a "Yes, And . . ." session, participants are encouraged to meet suggestions and ideas from others with acceptance ("Yes!") followed by a conversation-extending "and" to continue communication and reduce any feelings of judgment. Here's an example of what this method looks like in practice: 
JACK: Maybe this issue could be solved with more consistent communication between our teams.
JILL: Yes, and to facilitate that, it might be useful to have a framework in place to keep those communications solutions-focused.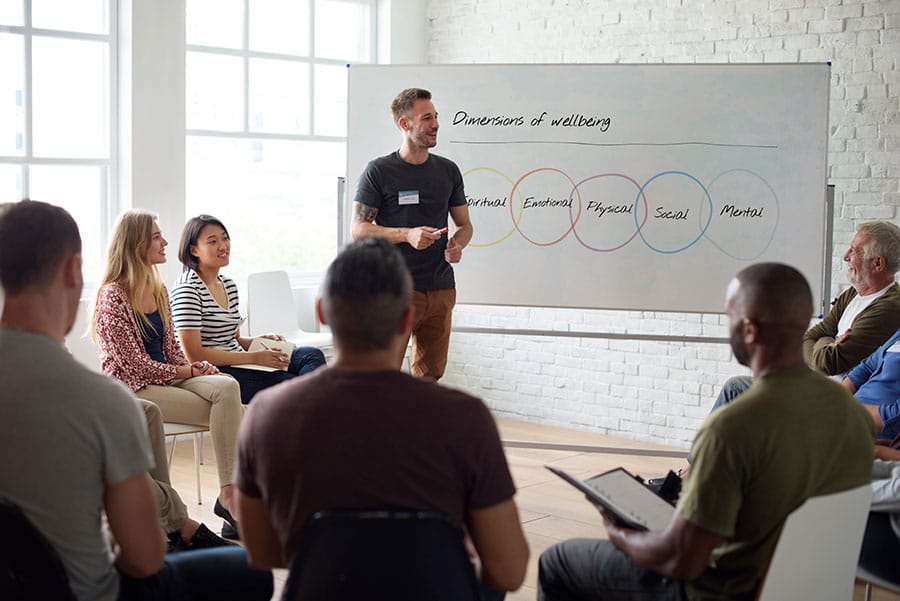 Goal-Setting Scrums
Number of People: 20-30
Length: 30-45 minutes
Conferences often inspire participants to think about the future of their industry and their role within it. Set aside time in your busy conference schedule to break out into goal-setting scrums to tap into that future-focused energy. 
Host a discussion, then have participants create a list of personal and/or professional goals for the next year, five years, or ten years. Be sure to ask participants to define what success looks like for each goal. Defining specific objectives rather than vague goals (i.e. "Create a sustainable, fulfilling work-life balance" instead of "Feel less stressed") helps to improve the attendee's chances of actually achieving their vision of success.
Ask Me Anything (AMA)
Number of People: 20-30
Length: 30-60 minutes
Time is at a premium during conferences, and often, there are simply not enough hours in the day to cover every topic or area of interest your attendees may have. Combat this by utilizing the Q&A format popularized by Reddit, "Ask Me Anything." AMA breakout sessions are centered on sharing the experience of experts in areas that may not be covered by the main conference agenda. 
To create an AMA session, one or more experts are featured on a panel and asked questions by participants that are specific to their job, experience, knowledge, etc. This is an awesome opportunity for attendees to ask highly specific or off-topic questions and receive expert answers.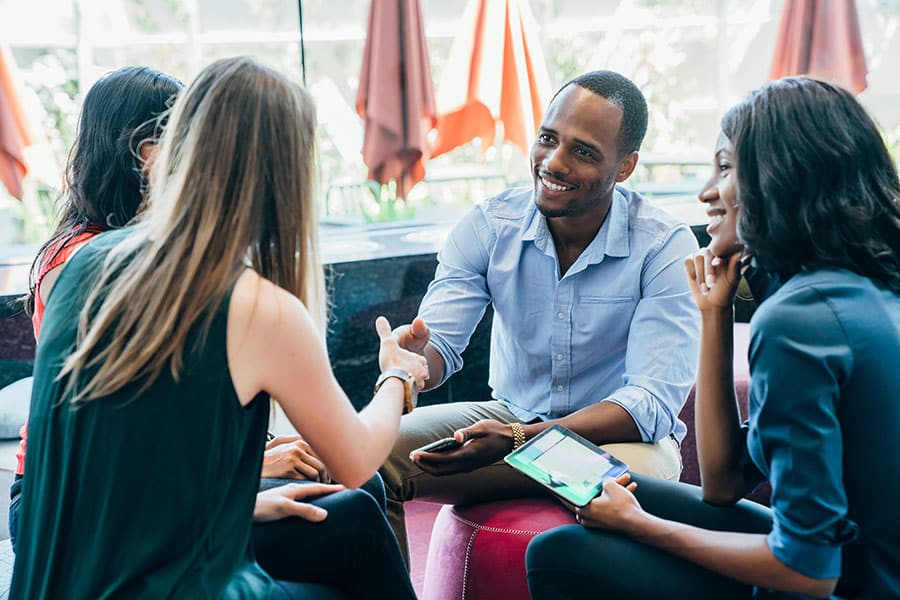 Game Break
Number of People: 20-45
Length: 30-45 minutes
We all need to blow off a little steam from time to time, especially during a long day (or multiple days) of professional learning and networking. Luckily, breakout rooms don't have to be all business! Consider setting up a game room as part of your breakout session time and encouraging attendees to have fun playing video games or board games together. Competition-based video games are especially great for loosening up participants—think Mario Kart, Super Smash Bros., Fall Guys, etc. 
Hosting a game break gives your attendees a "recess" from absorbing all that valuable industry knowledge and provides space and time for them to have fun and connect to one another as people, not just professionals. 
Meditation Session
Number of People: 20-30
Length: 15-30 minutes
Help your conference guests clear their minds and focus inward with a meditation or mindfulness session. Led by an instructor or video, participants can follow a guided meditation or exercise focused on quieting the mind and soothing anxiety, stress, and other mental "noise." Alternatively, this space can be free of instruction to allow guests to take time away from conference activities at their own pace and in their own style. Consider setting up your breakout room with dimmed lighting, soft music, and comfortable seating. 
Conferences are often overwhelming environments, especially for attendees who may have sensory sensitivities, so it's important to provide a quiet, peaceful environment for guests to slow down and decompress. Even if your meditation session is a mere 15 minutes, this departure from the hustle and bustle of your conference will demonstrate to attendees that you truly care about their well-being.
Host Your Conference and Breakout Sessions at the Heritage Center
Now that you have some great breakout room ideas under your belt, it's time to get your next conference on the books! The Heritage Center of Brooklyn Center is experienced in hosting corporate events of all sizes and scopes, from intimate workshops to industry-wide conferences. Contact us today to learn more about our historic venue and start planning your next extraordinary event.