Cocktail parties during conferences or other corporate events are great opportunities to network with current and future clients. In our latest blog, we'll share everything there is to learn about how to plan and host a memorable cocktail party.
On the surface, hosting a cocktail party is a relatively simple task: Add one part guests to one part drinks, stir to combine, and enjoy! But you may be wondering about the finer details of how to host a cocktail party, or are finding yourself looking for corporate cocktail party ideas. Think of this blog like an open bar pouring the best cocktail party tips all night long! 
What Is A Cocktail Party?
A cocktail party, cocktail event or cocktail reception are all terms used to describe a party at which cocktails are served, often alongside light appetizers or hors d'oeuvres. They've been around since the early 1900s, and really took off around the mid 20th century. In the corporate world, cocktail parties are organized for the purpose of social or business networking, and can sometimes be called a "mixer."
How To Plan A Cocktail Party In 5 Easy Steps
Planning a cocktail party can be as simple or as complicated as you'd like—the degree of complexity is dictated by the size and scope of your event. A large, themed cocktail party with many specialty drinks and food options, live entertainment and detailed decor will take much more planning than a simple, elegant cocktail party for a smaller group with fewer menu options. You'll want to send out your cocktail party invitations 2-3 weeks in advance of your event, so work backwards from there to determine your planning timeline. 
Very basically, the process of how to throw a cocktail party can be broken down into five main steps:
Set A Budget & Theme
When planning any event, including cocktail events, the first step should always be setting a budget. This number will provide context for the rest of your planning and decision-making. As you consider your budget, be sure to factor in the number of expected guests, whether you plan on having an open bar or a limited cocktail menu, whether you'll be serving food, if you'll need any additional services or event rentals, etc. A general outline of your event requirements will help you build a realistic budget. 
Next, it's time to choose a cocktail party theme! A company cocktail party can be a drab affair without some kind of unifying theme to tie it all together. Nearly any great party theme can also be applied to a work cocktail party, from the Roaring '20s to Mardi Gras to the classic elegance of a black-tie. Choose a theme that aligns well with your goals for the event, whether that's professional networking or fun unwinding after a long day at a conference. 
Choose A Venue
Choosing the right venue is an important step in setting the tone for your cocktail party. If you are planning a cocktail party as part of a longer conference or event, start by assessing the available venues in and around that event. Your guests will appreciate not having to go far to get a cocktail in their hands! 
If your cocktail party is a one-off event, like a team bonding event or pre-awards show reception, your venue options can open up. In general, smaller event spaces are more appropriate for cocktail-type events. A small group in a cavernous event space can be awkward! Ultimately, you'll want to choose a venue that is centrally located for most guests, can accommodate your group size comfortably, and has the ambience and tone you're looking to set.
Select A Date & Time
This step may seem like a no-brainer, but there's more to setting a date and time for your cocktail party than meets the eye! You'll want to select a date that works around events like other conferences or corporate events, holidays, and busy times of year in your industry. If your cocktail party is part of a larger conference, try to find a time slot with the fewest possible conflicts to maximize your potential attendance.
What time should a cocktail party start? In general, cocktail parties start at around 6 PM and last 2-3 hours at most. You can adjust your start time forward or back as needed to accommodate conflicts, or to avoid serving enough food to constitute a dinner meal. If you're hosting a cocktail party as part of a larger conference, you'll also want to avoid scheduling your event during  any other cocktail parties happening at the same conference.
Create A Guest List
Your guest list is another core component of building a successful cocktail event. When planning your guest list, consider your goals for this event: Are you gathering together leaders from a certain industry to network and brainstorm? Or will your cocktail party be open to all attendees of a wider event, which encompasses many different industries? Will your cocktail party be formal and professional, or informal and casual? All of these questions may influence the content of your guest list, as they inform the "who" as well as the "why." 
The size of your guest list will directly impact the cost of your event, so keep your budget in mind as you plan. Likewise, an exceptionally large guest list may make it hard to find an appropriate venue or meaningful networking time, while a very small guest list may limit the diversity of networking opportunities and conversation topics. 
Prepare A Food & Drinks Menu
When considering what to serve at a cocktail party, ask yourself the following questions: 
How much do you want to spend on food and beverage for your event in total? 
Are you hosting an open bar or a limited cocktail menu? 
Would you like any specialty or themed cocktails at your event? 
Will you serve food?
If yes, what type(s) of food would you like to serve, and in what quantities? 
Will you serve food throughout the event, like passed hors d'oeuvres or buffet-style offerings, or will food be served only for a limited portion of the event?
Do your guests have any food allergies or dietary restrictions?
Once you know the answers to these questions, you'll be in a good position to start selecting specific menu items and options. In general, an open bar will be a more expensive option, but it is a crowd-pleaser that is best for larger groups. A limited cocktail menu encourages guests to get out of their comfort zones and try new drinks; it also provides cost savings by requiring fewer ingredients. Talk to your venue manager, catering manager or bar manager about food and beverage packages and pricing to get a better idea of what your budget will allow.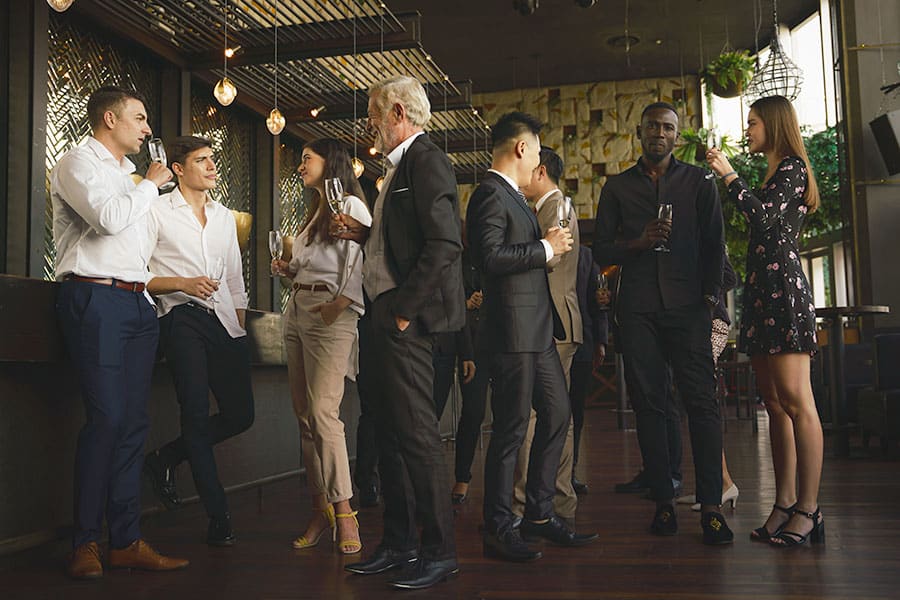 3 Tips On How To Host A Cocktail Party
To ensure that you feel as confident as possible when the clock strikes 6 PM and your cocktail party hosting duties have begun, be sure to check these additional tips on successful cocktail party hosting well in advance. While not essential parts of the planning process like setting a date or choosing a venue, these tips will help you host a fun, memorable cocktail party that guests will truly enjoy. 
Have An Event Theme For Decorations
Remember our first tip, where we advised you to pick a cocktail party theme early in the process? This is why! Your cocktail party theme can and should inform everything from the color of the table linens to the names of your specialty drinks. Take inspiration from your theme for your party decorations and overall aesthetic, like your color palette and table settings. Be sure to allocate plenty of time during your cocktail party setup for decorations, just in case there are mishaps.
Make Entertainment Fun But Not Distracting
Having entertainment is important to your guests' enjoyment of your event, but it's also important to make sure it doesn't distract from the socializing aspect of the cocktail party. Great corporate cocktail party entertainment ideas include low-key live music like a string quartet, pianist or jazz band, eye-catching displays like a champagne tower or roaming tables, or any cocktail party activity that guests can participate in without investing too much of their time or attention, like a silent auction or raffle. 
Make Guests Feel Comfortable
When all is said and done, the most important part of planning a cocktail party (or any corporate event) is ensuring your guests feel comfortable. You can accomplish this by thinking about your event through your guests' POV while planning and proactively accommodating their needs. 
Setting up your cocktail party venue with an intuitive, comfortable flow from bar to food to mingling areas is a great place to start. You can also provide clear signage, make ingredient lists readily available, and have plenty of napkins, plates and silverware available in easy-to-reach spots. Be sure to also have NA cocktails and alcohol-free beverages like sodas, coffee and tea available for those who do not wish to imbibe.
Host Your Business Cocktail Party At The Heritage Center Of Brooklyn Center
Planning a corporate cocktail party in the near future? Work with the event planning experts at the Heritage Center of Brooklyn Center to make it your best event yet! Our versatile event spaces and gourmet, customizable food and beverage menus are ideal for any business cocktail party or mixer. Contact us today to learn more about hosting your next event at the Heritage Center of Brooklyn Center!