Many event planners and soon-to-be-married couples rank food and drink as high priorities for their events—but if you're not careful, catering prices can get the better of you.
It's important to go into planning your event having done plenty of research on catering costs so that you understand the market and have a realistic budget in mind. Choosing the right type of catering for your event and crowd size is critical to keeping your overall catering cost manageable.
Read on for our breakdown of the factors that impact catering pricing, the types of catering, and the average catering cost per person for each of those types. 
What Impacts the Cost of Catering?
The term "catering" tends to be used to cover both the food and beverage aspects of an event, though alcohol is not always included in catering packages and may require an additional fee. Catering can be "in-house," which means the venue has its own kitchen and staff to provide the food for your event, or provided by third-party vendors who will cook at your venue or deliver and serve food at your venue. 
Multiple factors will impact your catering cost per person (sometimes referred to as "per head" or "per plate"), including: 
Event Date
Peak-season events — usually the summer months and major holidays, like Christmas and New Year's Eve — will typically cost more than "off-season" events. The same is true for weekend events vs. weekday events. Essentially, you are paying a premium for the privilege of the caterer's time and services on that high-demand date. If you are looking for ways to save money on your catering expenses (and likely other expenses, like venue rental,) consider planning a weekday event in the months of May-August. 
Size of Event
The size of your event is perhaps the largest factor that determines your overall cost of catering. The fewer guests requiring food, the less you will ultimately pay. Party caterers typically price out their services on a "per plate" basis — i.e., multiple the number of guests by the caterer's cost per plate for your menu or package, and that is your base cost for catering that event. The price may increase or decrease depending on additional expenses like alcohol/drinks packages, menu enhancements or add-ons, etc. 
Type of Cuisine and Food
The style of food you choose for your event may also have an impact on your total costs. Catering a lush, gourmet meal complete with lobster tail, Wagyu beef and caviar will be significantly more expensive than choosing a simple menu of less-costly dishes like roast chicken and mashed potatoes. Some ingredients may also cost your caterer extra to procure, such as fresh sushi-grade fish or imported fruits. 
Service Style & Quality
In addition to the type and quality of food you choose for your event catering, the style and quality of catering service you'd like to offer guests also affects your costs. For example, a plated, multi-course meal with white-glove waitstaff service will cost much more than a self-service buffet line. A good rule of thumb is that the more "hands-on" the waitstaff at your event will have to be — white-glove butler-style service, serving from the buffet line or food stations, etc. — the pricier that style of service will be. A buffet for 100 guests costs less than full-service catering for 100 people, but more than food truck catering for the same number, and so on.
While the style of service is not synonymous with the quality of the food or customer service you'll receive from a caterer, it is important to consider all aspects of your guests' experience and your desired event atmosphere when choosing your catering. 
Market Inflation
Market inflation is hugely influential on catering costs for events, but it's also hugely unpredictable. The cost of catering for 50 people in Summer 2022 looks quite different from a catering bill for 50 in Summer 2012, thanks to inflation, a struggling labor market, and other factors. The COVID-19 pandemic hit the supply chain hard, which means lots of caterers have been forced to up their prices. 
Even the price of gas can impact your catering costs. Think of it as simple supply and demand, applied to everything required to cook your event menu. Those planes, trains and trucks that deliver ingredients to your caterer need gas, and if gas is expensive, the price of those ingredients will rise in order to ensure everyone gets paid at the end of the day.
Different Types of Catering
There are a variety of catering styles that are popular for wedding receptions, corporate events and other events, including:
Full-Service Catering
Full-service catering is exactly what it sounds like: Comprehensive catering services for your event, usually in the form of plated (sometimes called "seated") meals served by waitstaff. Full-service catering packages usually include multiple courses and may or may not include alcoholic beverages, depending on the caterer. Full-service catering is especially popular for formal events like corporate galas and upscale wedding receptions.
Some venues, including the Heritage Center, have their own in-house, full-service catering for their events, while others have a list of preferred caterers and other vendors from which to choose.
Average Price Per Person: $35 – $80
Events: Formal corporate dinners and galas, wedding receptions, formal awards ceremonies, charity dinners, etc.
Buffet Catering
In buffet-style catering, guests are served on a buffet line, taking as much or as little of the multiple dishes on offer as they would like. They may serve themselves or be served by waitstaff. Buffet catering is ideal for menus that incorporate many different styles or regions of cuisine. It is also particularly popular for events with a large volume of guests, as it is most often less expensive than plated meals. Buffets are considered less formal than full-service catering (plated meals) but more formal than a passed hors d'ouerves reception or food truck catering.
Average Price Per Person: $35 – $70
Events: Corporate dinners and galas, wedding receptions, awards ceremonies, charity dinners, etc.
Food Stations Catering
Similar to buffet-style catering, food stations offer guests the freedom to choose from a variety of stations offering different types of food and/or styles of cuisine. The food stations are attended by wait staff who serve guests, and may involve some degree of to-order service, such as an omelette station, crepe station, or carving station.
Like a buffet, food stations are great for showcasing multiple different types of cuisine. Some events choose to add food stations to another style of catering to round out their offerings — think an ice cream sundae station at a plated dinner reception, or roast beef and cold seafood stations alongside a buffet dinner at a gala.
Average Price Per Person: $40 – $65
Events: Corporate dinners and galas, wedding receptions, awards ceremonies, charity dinners, etc.
Box Lunch Catering
Box lunch catering is a casual and convenient way to serve any volume of guests at an event. They typically include a cold entree like a sandwich or salad and one or more sides, such as a bag of chips and a piece of fruit. More upscale (and therefore more expensive) catered box lunches may include hot dishes like soup or upgraded sides and/or desserts.
Box lunches are, as the name suggests, particularly popular for lunchtime events like corporate seminars and picnics. Box lunches are ideal for daytime corporate events and more casual events like workshops, and are probably not the right choice for most weddings.
Average Price Per Person: $20 – $25
Events: Corporate lunches and picnics, employee appreciation events, conventions, seminars, workshops
Food Truck Catering
Food trucks are trending! This out-of-the-box catering style has become increasingly popular over recent years, combining the self-service convenience of buffet or food station dining with the lower price point of box lunch catering. In this style of catering, one or more food trucks will be hired to arrive at your event and serve guests. You may choose to have guests pay out of pocket for their orders, or pay a flat rate to treat guests to an all-you-care-to-enjoy experience.
This is a fun way to bring lots of different cuisine offerings to your event, and can be a great choice for hip, trendy wedding receptions and fun corporate events.
Average Price Per Person: $20 – $40
Events: Corporate lunches, employee appreciation events, conventions, seminars, workshops, casual or outdoor wedding receptions
Catering Prices Based On Group Size
To give you a better idea of the cost differential between the various types of event catering and your group size, we've put together a helpful chart. Here you'll find the average cost of catering for 30 guests, 50 guests, 100 guests, 150 guests and 200 guests for each type of catering.
Note that price points are ultimately decided by each individual caterer, so use this chart only as a starting point to contextualize your budget and guide your later catering decisions.
| Number of People | Full-Service Catering | Buffet Catering | Food Stations Catering | Box Lunch Catering | Food Truck Catering |
| --- | --- | --- | --- | --- | --- |
| 30 people | $1,725 | $1,575 | $1,575 | $675 | $900 |
| 50 people | $2,875 | $2,625 | $2,625 | $1,125 | $1,500 |
| 100 people | $5,750 | $5,250 | $5,250 | $2,250 | $3,000 |
| 150 people | $8,625 | $7,875 | $7,875 | $3,375 | $4,500 |
| 200 people | $11,500 | $10,500 | $10,500 | $4,500 | $6,000 |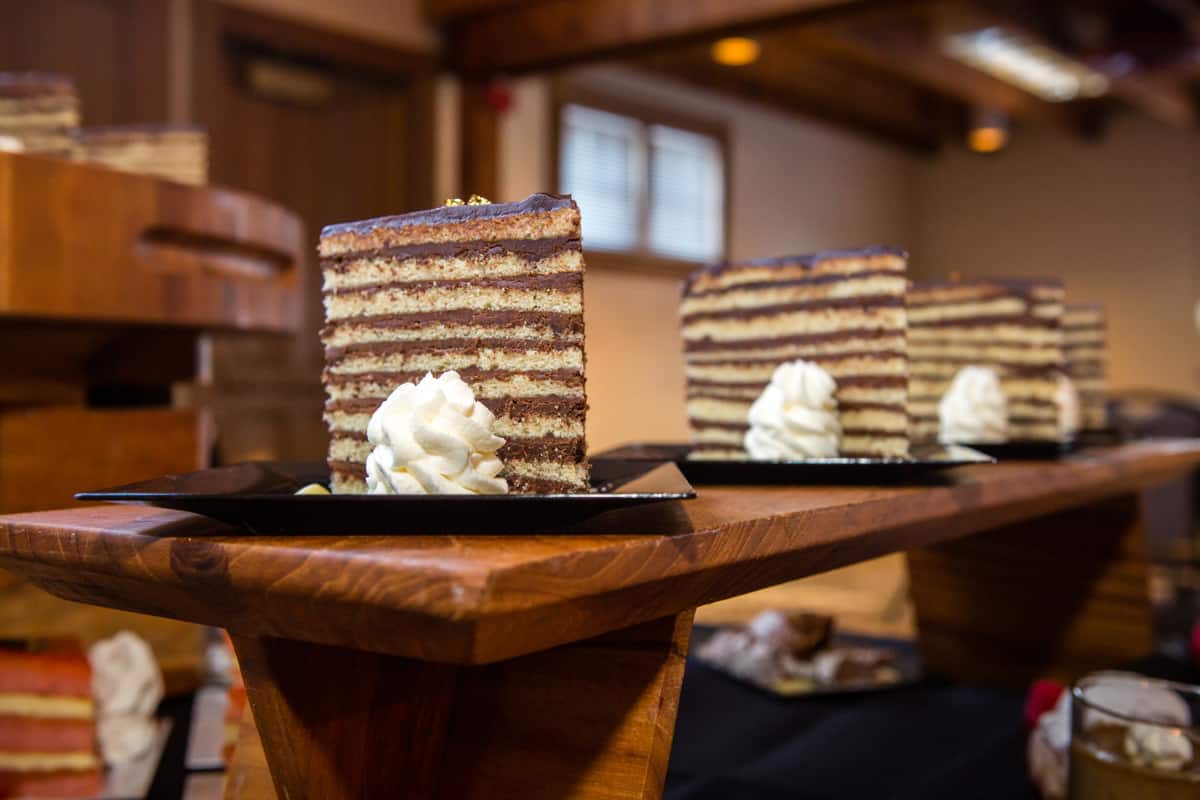 Host Your Next Event at the Heritage Center of Brooklyn Center
Ready to start planning some menus? We're ready to help! The world-class culinary team at the Heritage Center is experienced in catering all types and sizes of events, and we'd be thrilled to put together something special for your corporate event or wedding. Contact us today to learn more about hosting an event at our historic venue!