Summer is nearly here, and we're all eager to get outside and start enjoying the weather—perhaps no one more so than engaged couples ready to take their engagement photos!
If you've been waiting on warm temps and blue skies to schedule your engagement shoot, the wait is almost over. Minnesota is rich with incredible natural sites and striking skylines to make your engagement photos truly special. Whether you're leaning toward a romantic barefoot shoot in the forest or a fun and festive afternoon at your favorite brewery, there's a Minnesota locale to meet your needs!
Here are our top 6 favorite places to take summer engagement photos in Minnesota:
Minnehaha Falls
4801 S Minnehaha Drive, Minneapolis, MN 55417
This classic Twin Cities destination for nature lovers makes for a stunning backdrop to engagement photos, especially in summertime! Between the dramatic falls, foliage, trails and pavilions, you'll have plenty of options. It's worth it to make the trek to get closer to the falls themselves to get a romantic, mist-kissed shot!
Hansen Tree Farm
7440 Alpine Dr, Anoka, MN 55303
A Christmas tree farm in summer? Yes! Hansen Tree Farm is the ideal spot for an outdoorsy couple who wants a rustic background in a more controlled environment than the great Northern wilderness at large. Set up a picnic at golden hour and get ready for engagement photo magic.
Minneapolis Sculpture Garden
725 Vineland Place, Minneapolis, MN 55403
The Minneapolis Sculpture Garden might take the cake as the most quintessentially Minnesotan engagement photo spot! This option is great for art lovers, quirky couples and any pair with a great sense of humor or strong ties to Minnesotan culture. Enjoy bright blue skies, acres and acres of manicured lawn, and iconic sculptures like Spoonbridge and Cherry and LOVE as your engagement photo backdrops!
Downtown Stillwater
108 Main St S, Stillwater, MN 55082
If you're looking for small-town charm, look no further than downtown Stillwater! Stroll the cobblestone streets, sit along the river and watch the boats drift, or share an ice cream cone—whatever you choose to do during your engagement shoot, historic downtown Stillwater will make you look as if you've just walked off the set of a Hallmark movie!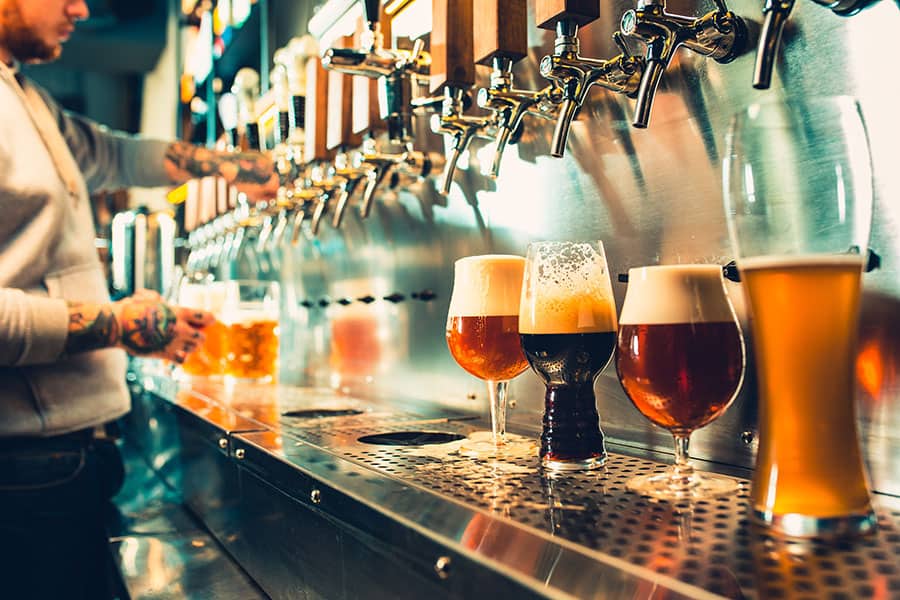 Your Favorite Brewery
Grab a pint or two and raise a glass to your love! Most breweries will allow photography, especially if you buy a beer—but be sure to call first, just in case. Bonus points if your favorite local brewery also has ample outdoor space and/or fun props to pose with, like cornhole or a board games cache.
Gunthrie Theater
818 S 2nd St, Minneapolis, MN 55415
Whether you're theatre-lovers or simply loving the views of Minneapolis from on high, the Gunthrie Theater has myriad opportunities for truly magical engagement photos. The Amber Room will put a creative, colorful spin on your love, and the various balconies and lobbies offer lots of variety. Take advantage of the great summer weather and the nearby hills, bridges and parks, too! (Note that photo session opportunities may be limited due to COVID; always check with your photoshoot location before making any arrangements.)
Bonus! Around the farm…
Have an extra engagement session idea, on us: Why not take your photos at the historic Heritage Center? From our iconic red barn buildings and white picket fences to our meticulously manicured grounds and elegant fountains, there's no shortage of incredible backdrops around the farm! Contact us to discuss the possibilities for your extraordinary engagement photos.