From Beatles tribute bands to game shows to circus acts, the right corporate event entertainment can make your conference, banquet or holiday party one they'll never forget. The Twin Cities area is brimming with talented performers with years of experience catering to corporate events.
When choosing the right corporate event entertainer, you'll want to ask yourself a few questions to make sure you end up with a unique, decidedly un-boring evening of entertainment. Consider: What act or entertainer will best suit your event's goal, theme or mood? Which performer will be the most engaging and fun for your guests? Is the performer's act suitable for a corporate environment? 
There's a wide world of wildly creative corporate event entertainment options out there, and we've rounded up some of our favorites. Read on to learn more about some of the best entertainment for corporate events the Twin Cities (and beyond!) have to offer. 
Aerial Bartenders
Looking for a surefire way to impress your guests? Try offering them a specialty cocktail poured by elegant high-flying hostesses. Aerial bartenders can elevate the evening by combining an awe-inspiring circus art with everyone's favorite part of attending an event: the bar!
Photo courtesy of Enticing Entertainment.
Photo Booth
Everybody loves a photo booth, especially when there's props involved! One company even offers a retro-inspired Photo Camper, which rolls into your event complete with a commercial bubble machine and AC/heat inside. Optional add-ons are endless, including instant image sharing via text and custom branding including your logo or message on every image.
Photo courtesy of The Traveling Photo Booth.
Corporate Comedian
Have some good, clean fun with a comedian at your next event! Comedians like Minneapolis-based John DeBoer specialize in sets suitable for all audiences, and tailor their performance to each event.
Photo courtesy of John DeBoer.
Magician
Banish the notion that magicians are just for kids: These days, magicians are event planners' darlings, combining traditional magic tricks with comedy to create exciting shows for adult audiences. Whether performing walk-around magic during your cocktail party or a stage show extravaganza, performers like MagicBrad are well-versed in "infotainment," offering high-quality entertainment to surprise and delight while seamlessly matching the tone and goals of your event.
Photo courtesy of MagicBrad.
Casino Party
Step right up and try your luck at poker, blackjack and more! Companies like Black Tie Casino Parties bring the Vegas experience to your event, providing the game tables, dealers, cash cubes and even masters of ceremonies. Everyone will leave your event feeling lucky – and maybe a bit heavier in the wallet, too!
Photo courtesy of Black Tie Casino Parties
Cover Band
Get your groove on with a cover band! There's nothing like live music to loosen up a crowd. Whether you're into 80's hair bands, 70's disco or early 2000's pop-rock, there's a cover band out there to suit your company's personality. Get ready to sing along and maybe even bust a move!
Photo courtesy of Your Dad's Band
Dueling Pianos
Combining the hits you love with live banter and incredible musical prowess, a dueling pianos act is an engaging option for your next event. Longtime duo Deuces Wild! even offers a specialized act just for corporate gigs that is totally tailored to your event.
Photo courtesy of Deuces Wild!.
It's a classy blast from the past! Taking their cue from the fabulous parties of the Roaring 20's, singers and musicians in dapper dress will add vintage flair and fun to your event, bringing your guests all the way back to the Golden Age of entertainment. Groups like Gatsby Gang Jazz Band can even incorporate swingin' covers of modern hits to keep your group singing (and dancing) along.
Photo courtesy of Gatsby Gang Jazz Band
Give your guests a party favor they'll actually keep: A live caricature artist at your event will bring out the character in everyone. Some artists, like Minneapolis-based Caricatures by Lisa, can even customize their work to include your branding, logos and more.
Photo courtesy of Caricatures by Lisa
Imagine a large-scale art piece coming together in real-time as you wine and dine your guests at your next event. Minneapolis-based Graffiti USA dreamed of just that, and made it happen with some of the area's finest talents. Live graffiti artists can create branded murals and photo backdrops, interactive artwork and more in just a matter of hours. Can you say "Insta-worthy?"
Photo courtesy of Graffiti USA
Hula Dancers
It's an island vibe at your corporate event, where the living is good and the tiki drinks are flowing! These luau dancers are skilled in the art of Polynesian hula dance, and will set a creative and relaxed mood for the evening with their displays of grace and control.
Photo courtesy of Insphyre Performance
Tribute Show
Who's your dream performer for a corporate event? Maybe you wish you could travel back in time to see The Beatles or Elvis. What about Billy Joel or Elton John? Or perhaps you'd like to turn your event into a little slice of Broadway! Whatever your pleasure, there's a tribute performer or show for your event.
Photo courtesy of G.L. Berg Entertainment.
Stage Hypnotist
Are you a hypnotism believer or skeptic? Either way, you and your guests will be thrilled by a hypnotist's show, where anything can happen! Hypnotists like Minneapolis-based Lizzy use a group of volunteers from your guests and make them the star of the tasteful, hilarious show.
Photo courtesy of G.L. Berg Entertainment
Roaming Musicians
Add a touch of elegance and ambience to your gathering with a roaming musician. One or several musicians playing handheld instruments, like violins, can mix and mingle while playing gorgeous classical melodies that will entrance and impress each and every guest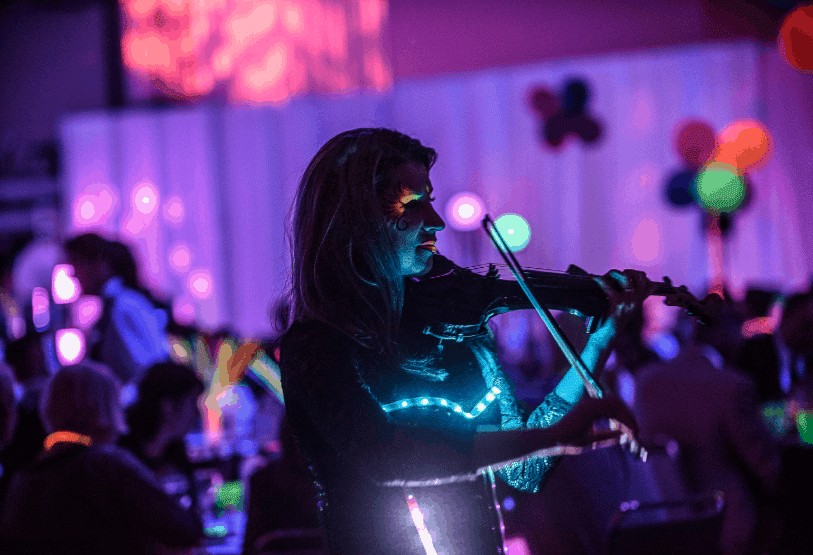 Photo courtesy of Enticing Entertainment.
Celebrity Impressionist
90 minutes, dozens of characters: A celebrity impressionist will pull out all the stops for your event. Performers like Bethany Owen chat and sing in the voices of Cher, Madonna, Joan Rivers, Sharon Osbourne and many, many more, making for a true treat for your guests.
Photo courtesy of Blue Moon Talent.
LED Drummers
High energy, funky and totally surprising: These brightly-lit drummers will bring incredible percussive sound and an edgy flair to your next corporate event. Some companies, like Industrial Rhythm, even offer creative CEO/speaker introductions, surprise waiter routines, customized logo drumstick and team building/audience interactions.
Photo courtesy of Industrial Revolution.
Game Shows
Come on down! Invite a quippy host armed with your favorite game show antics to your next event and let the hilarity unfold. Groups like Twin Cities-based Sassy Lassy bring games in the vein of Family Feud, The Price is Right, Minute to Win It and other team-building trivia and activities right to your event. Are you ready to play?
Photo courtesy of Sassy Lassy
Murder Mystery
Why have a regular dinner at your event when you could put murder and mystery on the menu? Madcap characters perform interactive comedy along the classic murder mystery narrative throughout the evening, making you and your guests characters in the devious plot!
Photo courtesy of Jest Murder Mystery Co.
Living Statues
Is that … alive? Only one way to find out! Encourage guests to pose with these incredible living statues, who may choose to change poses on a moment's notice to everyone's surprise and delight! Some companies will even customize their "statues" to honor a beloved boss, employee of the month, or CEO.
Photo courtesy of Mannequin in Motion
Escape Room
This is one entertainment offering that won't have your guests looking for an escape — from your event, at least! Colleagues and new friends (Thanks, networking!) can get to know one another and work together to bust out of one of Breakout Route's mobile escape rooms. Do you have what it takes?
Photo courtesy of Breakout Route
Need more? We've got you covered. Check out our recommendations for finding the right speaker for your conference, exciting your group with engaging workshop activities, and a list of some of our local partners. 
Want personalized suggestions for entertainment options for corporate events? Contact us and set up a meeting with one of our talented coordinators, who can help you plan every detail of your event.