It's hard to beat a fall wedding. Between the perfectly crisp weather, gorgeous foliage, and bounty of cozy autumnal scents, tastes and textures, this time of year is practically a wedding theme unto itself! 
Of course, most couples want to give nature a little boost by choosing their own signature color palette for their big day. But you don't have to stick with the traditional oranges and reds—there's a whole world of color out there, and so many shades that are incredible combinations for your fall wedding! 
By making an unexpected choice in color palette, you're guaranteeing your wedding is a truly personal, unforgettable event. Here's a collection of some of our favorite, off-the-beaten-path fall wedding color palettes:
Bold Berries
A natural pairing with the warm red tones of fall, a palette of rich berries, deep mauves and violets, and some pops of crimson and barely-there-blush simply makes sense for your autumnal nuptials! Bring these hues into your big day via your florals, linens and even your desserts—who doesn't love a sumptuous berry-filled wedding cake? Send your guests home with tart, tasty raspberry macarons for a sweet ending to your perfect day.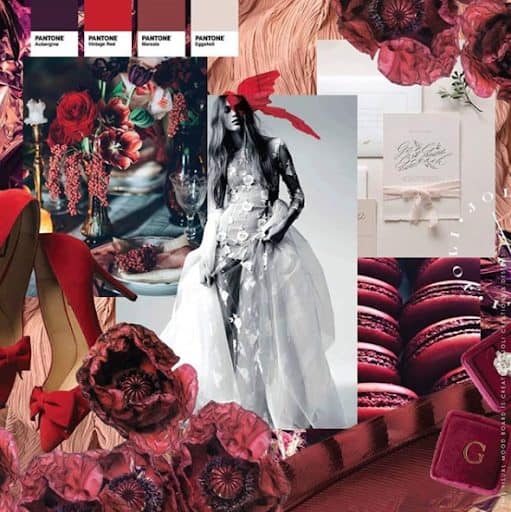 Caramel & Apricot
This color pairing has us feeling warm all over! Wrap your guests in the coziness of fall with a color palette of rich caramel and apricot. Because of their tonal similarities, these two hues complement each other while also offering a surprising, subtle contrast. Florals in these shades are a must, of course, as are copper-kissed place settings. Offer guests at your outdoor ceremony warm plaid blankets in these colors, then pour mugs of apple cider at your happy hour to really complete the mood!
Cerulean & Pink
Unusual doesn't have to mean in-elegant! Brighten up your fall wedding day in style with cerulean and pink. We love how playful the unexpected splash of cerulean looks against all the natural fall color. Pink, being a sister to reds and oranges, fits right in, tying the palette together with fun and romance. Complement these two with a wash of clementine, and you're well on your way to a totally unique, absolutely sophisticated wedding day!
Pumpkin Spice Latte
This yummy palette is far from #basic! Who would've thought that everyone's favorite autumn beverage also makes for a stunning wedding color scheme? Pull from classic fall colors like pumpkin, cinnamon and roasty browns to get started with this delicious theme. Top it off with a dollop of off-white, cream or lightest brown for an elegant touch, or add a sprinkling of apple red or sparkling gold to put a grande twist of fun on the whole affair.
Sunshine & Sage
Hello, sunshine! Here's another bright and beautiful wedding palette that defies autumn wedding expectations. Pair yellow (not mustard or gold, but true yellow!) with dreamy, verdant sage for a color scheme that is as radiant and joyful as your love. If sunflowers are available from your florist, they're an absolute must! Top off your bridal party with flower crowns and be sure your signature cocktail includes something bubbly—just like you!
Seaside & Maroon
Autumn at sea: A moody, romantic take on red, white and blue. Pair maroon, oceanic hues of blue (no candy-colored baby blues or true, Crayola blues here!) and linen, and prepare to start smelling the fresh sea air. Think frothy, gauzy fabrics that ripple in the breeze and reedy wildflowers that add height to your bouquet. This palette is perfect for an outdoorsy couple that wants to incorporate their love of nature in an elegant, unexpected way!
Evergreen & Blush
Having a fall wedding, but missing that touch of green? Make your own fairytale forest with a color palette of evergreen and blush! Jewel-toned greens pop against a backdrop of fall foliage, while blush adds the romanticism your big day deserves. If you're already looking forward to the holiday season, this color palette can subtly allude to those themes—perfect for a would-be winter bride who can't stand the thought of a fully indoor wedding!
Rustic Retro
Let's get groovy! For the vintage-loving couple, try this palette of brown, orange and hunter green. This is a great example of how traditional, seasonal colors can take on an entirely new personality with the right touches. Bringing in patterned backdrops, fun details like striped straws and era-specific fashion, and getting creative with floral arrangement height, shape and variety can make all the difference. Encourage your guests to wear their dancing shoes, set up a photo booth, and get to getting down!
Muted Gold & Greens
Everything you touch is golden when you choose this dreamy theme. Matte, muted gold pairs with the greens of your choice—we like soft touches of moss, lamb's ear and pistachio—for an earthy, boho feel. This palette is complemented by accents of lace, clear crystal, candlelight and a variety of textures. A perfect example? Rustic woven placemats nestled beneath heavy, mustard-yellow plates and cut-crystal goblets.
Copper & Clay
Give autumn a modern facelift with this trendy pairing. Copper—feel free to incorporate both metallic and matte hues—combines with shades of clay, rust and a pop of turquoise to create an utterly unique palette. Dress the men in dark grey or brown suits, lean in to the warm colors of fall in your florals, and don't forget that something blue—Tiffany blue, that is! Hammer your theming home by serving Moscow mules at your happy hour (their iconic copper mugs will fit right in!) with turquoise blue straws.
Color Us Excited!
Feeling inspired? Us too! At Earle Brown Heritage Center, we love helping couples plan, design and execute their dream wedding day. Our expert planners believe every wedding should be unique, personalized and extraordinary—just like your love. We can't wait to hear from you, so contact us today to discuss your future wedding plans!